Almost Half of North Carolina Counties Shut Down Polling Places Used for Early Voting
North Carolina will have nearly 20 percent fewer early voting locations during the 2018 elections than it did in 2014, and almost half the state's counties are shutting down polling places for early voting, ProPublica reported on Monday. As a result, residents will have travel farther to cast a ballot, which could decrease voter turnout.
The closures stem in part from a law passed in June, which mandated that all early voting sites operate on a 7 a.m. to 7 p.m. schedule. Republican backers of the bill said the standardized voting laws would streamline the process of casting a ballot and minimize confusion.
"The purpose of the uniformity is to make it easier and more convenient and more accessible for the voter to participate," state Representative David Lewis, who backed the bill, told ProPublica.
But local election officials from both parties regard the new measures as a burden that make it more difficult to vote, even if the altered practices mean that polls will be open for early voting almost 24,000 more hours.
"We know our county. We know when most people go to vote early," Steve Stone, the Republican chair of the Robeson County Board of Elections, told ProPublica. "The 12-hour, 7-a.m.-to-7-p.m. requirement just ties our hands when coming up with a catered approach that fits our county best."
Other election officials echoed Stone's sentiments, with at least one calling it part of a broader effort to hurt voters.
"I do not see it as an isolated event but rather a part of a larger voter suppression effort," Democratic member of the Bladen County Board of Elections Al Daniels said.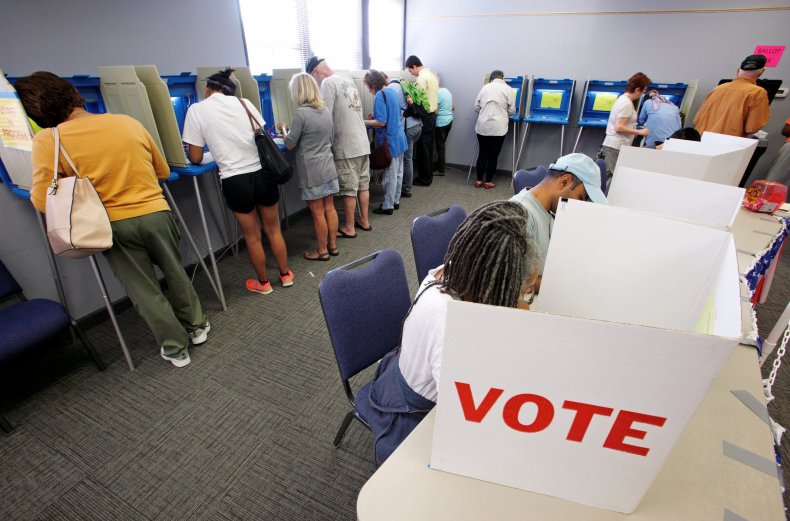 Both chambers of the state's Congress are currently controlled by Republicans, and North Carolina's conservative legislators have sought to alter voting procedures in recent years. Many of the proposals have involved policies that would make casting a ballot more difficult, particularly for minorities.
Cuts to early voting during the 2016 election affected African-American voters. Black residents cast 8.7 percent fewer early ballots in 2016 than they did in 2012, according to NBC News.
In 2016, the U.S. Court of Appeals for the 4th Circuit ruled that the state's voter ID requirements, reduction of early voting and registration procedures were unconstitutional. Judge Diana Gribbon Motz explained the judges' unanimous decision, writing that "the new provisions target African Americans with almost surgical precision" and "impose cures for problems that did not exist." The Supreme Court rejected an appeal to reinstate the contentious law.
Over the years, local and state governments have limited voting hours, The Atlantic reported.
In June, Republican leaders placed a voter ID measure on the November ballot, allowing the populace to choose whether the state constitution should require prospective voters to show photo identification before participating in elections, HuffPost reported.