Almost Half of University of South Carolina's Greek Houses Under Quarantine for Coronavirus
Nearly half of the University of South Carolina's Greek houses were recently placed under quarantine after being exposed to the new coronavirus.
On Tuesday, Bob Caslen, the university's president, wrote a letter to students and faculty stating that nine of 20 residences in the school's Greek village "have now been placed in quarantine after residents of those houses tested positive for the coronavirus."
The letter did not release the name of the specific fraternities or sororities that were placed under quarantine.
In addition, Caslen's letter notes that 15 students were given interim suspensions and four student organizations were charged with student conduct "and/or local ordinance violations for hosting unauthorized parties or large gatherings, or for not abiding by quarantine."
"Our total number of active cases is larger than we expected at this point, and some student behavior off campus is both disappointing and unacceptable. We are confronting these realities and taking action," Caslen wrote in his letter.
The letter comes shortly after the city of Columbia's fire department shut down a large pool party near the university's campus.
According to WLTX news in Columbia, South Carolina, Columbia Fire Chief Aubrey Jenkins drove by the Apartments at Palmetto Compress, after the city issued a complaint about the pool party. Jenkins told the news site that upon arrival at around 6 p.m. local time, he saw at least 200 people at the party, not wearing masks or following social distancing measures.
"That was just a perfect storm to spread the virus. If someone in the crowd had it, it was just a perfect storm," Jenkins told WLTX news.
The party was shut down shortly after as Jenkins told the news site that in addition to violating the city's mask ordinance, the crowd appeared to be over capacity.
Across the University of South Carolina campus, there are currently at least 553 active cases of the coronavirus among students, as well as four employees, according to the school's COVID-19 dashboard.
Newsweek reached out to the university for comment but did not receive a response in time for publication.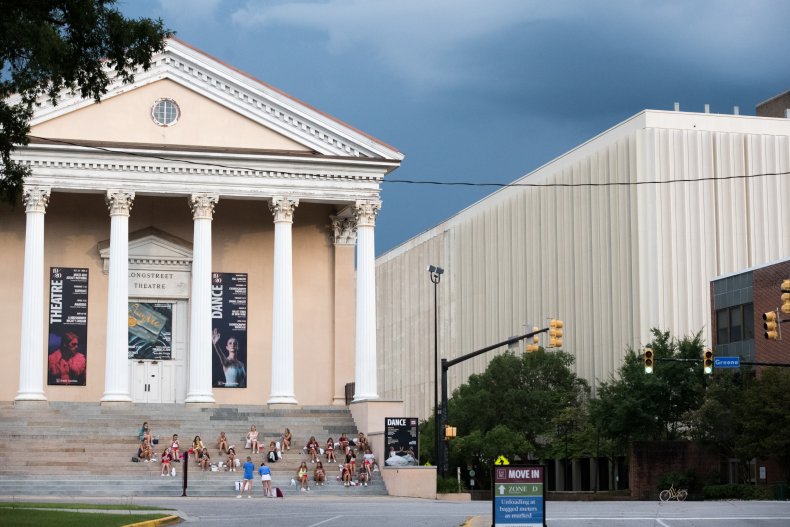 The University of South Carolina joins several other colleges across the U.S. that have been affected by the virus, as they attempt to reopen for in-person classes.
A similar situation took place at Syracuse University when 23 students were given interim suspensions for attending a large gathering on campus, with many not following social distancing measures or wearing masks.
The University of Alabama has also been severely affected by the virus, as over 1,000 students have tested positive within the first two weeks of the school reopening.