Close to a third of the 250 guests at a wedding in the French city of Le Mans have contracted the coronavirus, even though organizers and local officials said it was held in accordance with safety guidelines.
Belgium's The Brussels Times reported on Tuesday that 76 attendees of the wedding had been infected. A municipal official in Le Mans said the event, which was held outdoors, had followed all the local coronavirus precautions in effect when it took place August 8.
However, the newspaper reported that face coverings were not mandated in the region at the time. Masks became required in the northwestern region on August 22, and it's unclear whether many or any of the participants were wearing face coverings. But just over two weeks after the wedding was held, the 76 cases of the novel virus were confirmed.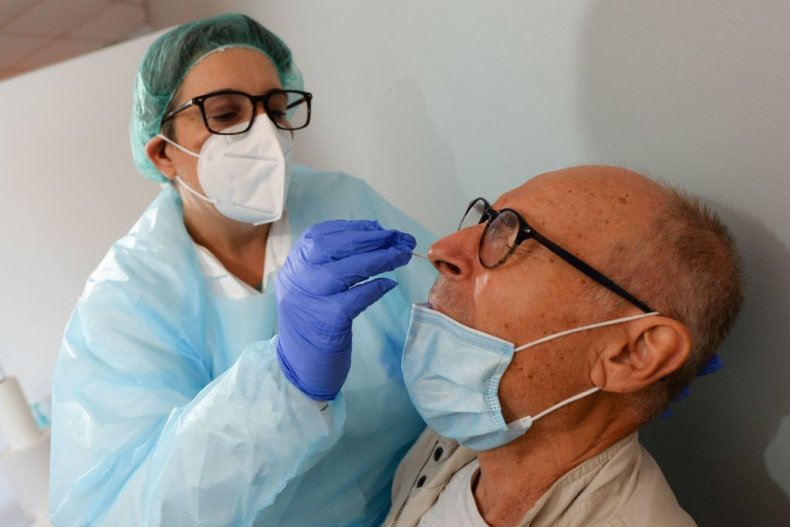 The new infections came as France has seen an uptick in reported cases over the past few weeks. New infections initially peaked in the nation at the end of March and the beginning of April, before declining dramatically. But as the country has emerged from its lockdown, infections have risen once again—with the current seven-day average of new cases at 3,689 per day, according to a New York Times tracker.
"It is true that the virus has been spreading faster in France over the last five weeks. We are facing critical situations in certain defined areas. Nonetheless, one cannot talk about a second wave at this stage since the global situation these days is very different from what we experienced last February," the French health ministry told Newsweek in a statement.
"First, the virus is presently spreading four times faster among young people—under 40—than among elderly persons—over the age of 65. Now, young people are at lower risk of complications. Secondly, we have an increased testing capacity. But we need to maintain vigilance as the situation remains unstable," the ministry explained.
In total, the European country has seen nearly 245,000 virus infections and more than 30,500 deaths. Those hospitalized with COVID-19 in intensive care units have risen in August as well, after dropping from April through July.
The news about the French wedding comes after a similar story was reported in the U.S. On August 7, just one day before the wedding in France, a wedding with about 65 attendees took place at an indoor venue at the Big Moose Inn in Millinocket, Maine. Of those who attended, 24 later tested positive for the virus, while 29 others were infected by those who attended—or 53 in total.
One person, who did not attend the wedding but was later infected by someone who had, has died, Maine health officials announced over the weekend.
"Social gatherings such as weddings and receptions pose an elevated risk for virus transmission," Maine's Centers for Disease Control and Prevention said in a press release sent to Newsweek. "The possibility of COVID-19 transmission increases as the number of attendees increases, even when some attendees are indoors and others are outdoors."
The coronavirus pandemic has now infected more than 23.6 million people worldwide since it emerged late last year. More than 813,000 people have died globally from COVID-19.
This story has been updated with a statement from France's health ministry.