Almost Two Thirds of Voters Back Joe Biden's Corporate Tax Rise Plans: Poll
President Joe Biden's proposed corporate tax raise to fund his ambitious $2 trillion infrastructure plan has the support of almost two thirds of voters, a new poll has revealed.
The White House unveiled the $2 trillion American Jobs Plan last week, to rebuild the country's crumbling infrastructure, restore manufacturing and create good paying jobs in order for the U.S. to continue to be a leader in innovation and stand up to China's growing global influence.
But Biden's tax plans have drawn criticism from the Republican party, as well as some moderate Congressional Democrats. Many opposing lawmakers took particular issue with the president's suggestion that the top corporate tax rate should be raised from 21 percent to 28 percent in order to cover the cost of the package. Some politicians are concerned that the 7 percent tax raise could make the U.S. less competitive for businesses.
A Morning Consult/Politico poll released on Wednesday found that voters were mainly in favor of the proposals. It found that 65 percent of registered voters support increasing corporate taxes over the next 15 years to fund the president's plan, while 21 percent said they somewhat or strongly oppose it.
The poll, conducted between 2-4 April among 1,989 registered voters, also found that Democrats were hugely in favor of the plan, with 85 percent supporting it. Eleven percent had no opinion on the matter while only 4 percent opposed it.
The poll showed that Republican voters were nearly split: 42 percent supported the plan, while 47 percent were against it.
When those polled were asked whether the government should improve America's infrastructure via higher corporate taxes or do so without, 53 percent of voters backed the first option while 29 percent supported the second.
Without the mentioning of tax changes, three out of five voters said they support Biden's infrastructure plan.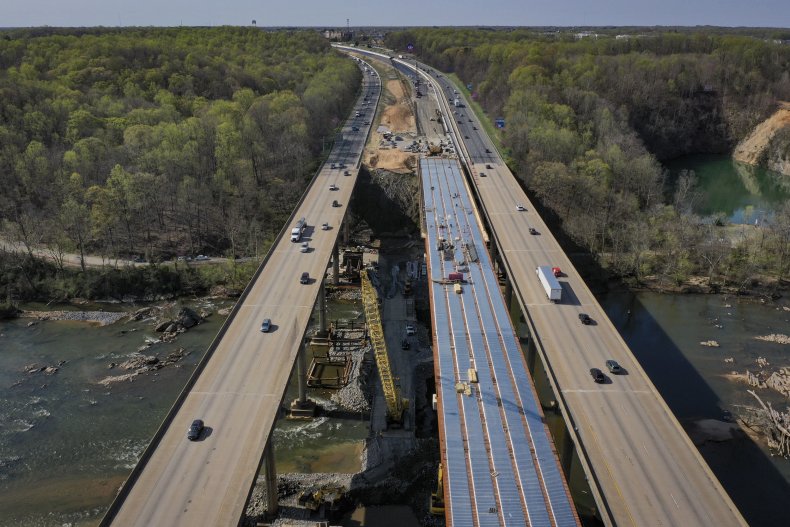 Prominent conservatives such as Senate Minority Leader Mitch McConnell have argued against Biden's plan because of its spending goals. The Republican has already said there will be no GOP support in Congress for increasing corporate tax rates to fund the president's overhaul.
Progressives on the other hand, such as New York Rep. Alexandria Ocasio-Cortez, suggested that additional funds are necessary to truly realize the bill's intended impacts.
GOP chairwoman Ronna McDaniel said on Twitter on Wednesday that Biden wasn't "telling the truth" about the infrastructure bill.
"His $2 trillion tax hikes will kill hundreds of thousands of jobs, and many of his Green New Deal-style programs are predicted to destroy more jobs than they create," she said.
Transportation Secretary Pete Buttigieg on 4 March defended the plan.
In a somewhat surprising move, Amazon CEO Jeff Bezos said in a statement on Tuesday that the company is "supportive of a rise in the corporate tax rate."
"We support the Biden Administration's focus on making bold investments in American infrastructure," Bezos said. "Both Democrats and Republicans have supported infrastructure in the past, and it's the right time to work together to make this happen. We recognize this investment will require concessions from all sides—both on the specifics of what's included as well as how it gets paid for."
Ridehailing app Lyft's president John Zimmer is another prominent figure in business who had come out in favor of the tax hike.
However, other business leaders fear that a tax increase may stifle recovery from the pandemic.