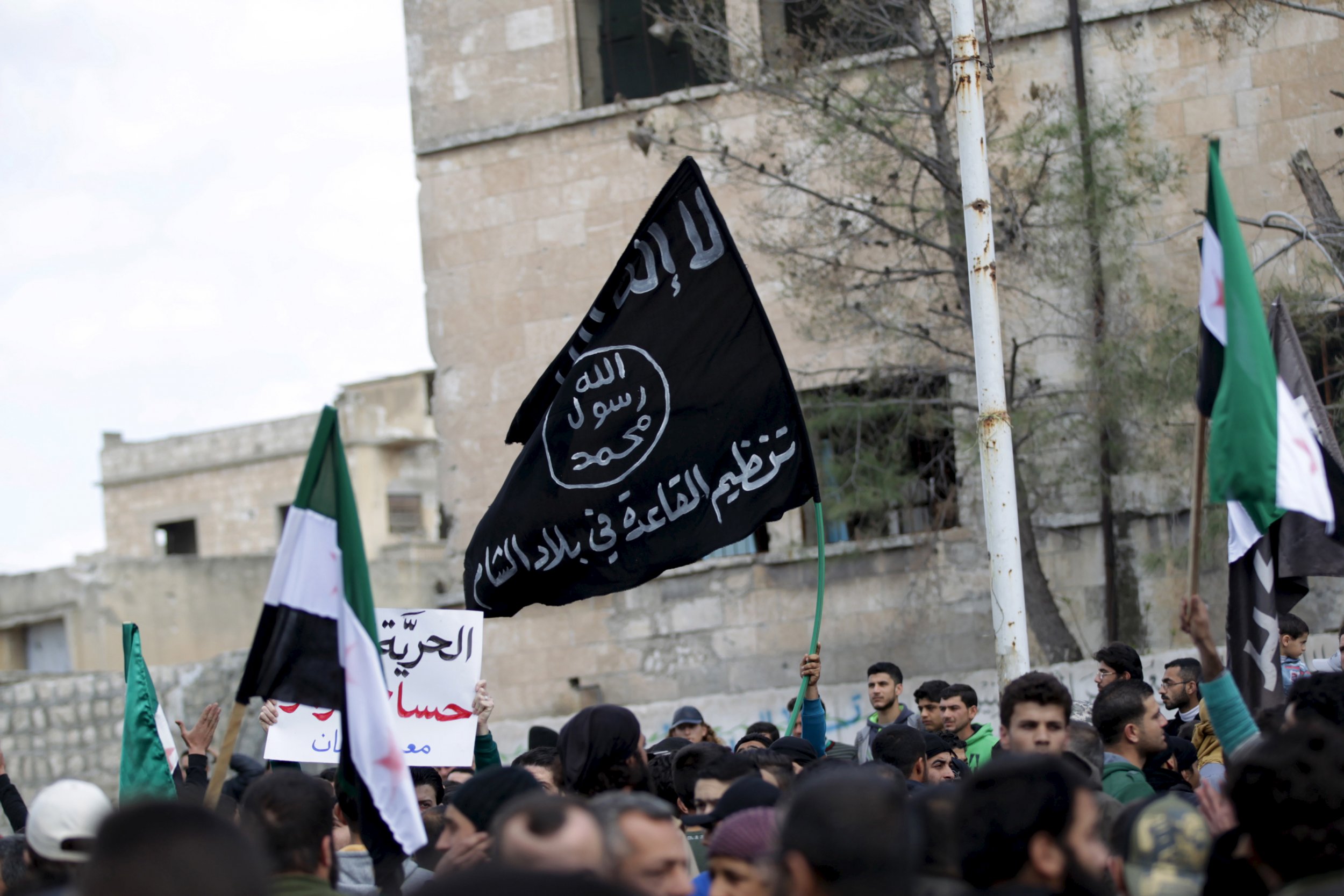 Al-Qaeda called on Muslims to take revenge against the U.S. Friday after accusing Washington of destroying a mosque and killing civilians in an airstrike on a town held by Syrian rebels linked to the Sunni Muslim militant group.
In an article published by al-Qaeda's An-Nafir newsletter, the jihadists joined Syrian rebel coalitions Tahrir al-Sham (formerly known as Jabhat Fatah al-Sham and Nusra Front before that) and Ahrar al-Sham, another rival hardline Islamist faction, in accusing the U.S. of bombing the Omar ibn al-Khattab Mosque in the village of al-Jina in Aleppo's western countryside. Quoting former al-Qaeda founder Osama bin Laden, author of the 9/11 attacks, the militants beckoned Muslims, especially "the youth of Islam," to take action against the U.S. if Washington did not withdraw its armed forces from the Muslim world.
"I swear to the Almighty, that America shall not, nor anyone living in America, ever dream of security before we live it in reality in Palestine and before you withdraw all of your infidel armies from the land of Mohammed, may peace be upon him," the article read, using the words of bin Laden, who was killed by U.S. special forces in 2011.
"Do not consult with anyone in the killing of Americans, go forth with the blessing of God," the article, which was shared by the SITE Intelligence Group, added.
The U.S. confirmed it had conducted the airstrike on al-Jina, but claimed it had hit a nearby building where al-Qaeda leaders were allegedly meeting. Pro-Syrian opposition sources maintained that the strike killed at least 46 people, all worshippers. In a statement Friday, Tahrir al-Sham put the death toll at over 60 with dozens more injured and said the strike was representative of the "killer relationship" between the U.S. and the Syrian people. The U.S. said the bombing killed "several terrorists" in a statement Thursday, without further elaboration.
The U.S. previously supported various insurgent groups that took arms against Syrian President Bashar al-Assad in 2011 after massive, anti-government protests. Washington has since directed its backing to the Kurdish-dominated Syrian Democratic Forces (SDF) after more hardline groups began to gain prominence among the Syrian opposition. The SDF has struck a tentative truce with the Russia-backed Syrian army to defend territory in northern Syria from Syrian rebels backed by Turkey. The U.S. and Russia have both conducted separate campaigns against the Islamic State group, also known as ISIS, and other jihadist factions, including those affiliated with al-Qaeda throughout Syria.