The state of Florida, already battered by the coronavirus pandemic, is preparing for the imminent arrival of Hurricane Isaias, as the Category 1 storm rips through the Bahamas chain on its path up the coast.
Isaias is expected to approach Florida's southeast coast late Saturday and continue into Sunday, according to an advisory from the U.S. National Hurricane Center as of Saturday morning. The storm was about 50 miles south of Nassau, the capital of the Bahamas, and reporting 85 mph sustained winds. Category 2 hurricanes must have at least 96 mph sustained winds.
The storm will continue moving northwest at 12 mph and some decrease in forward speed is expected, forecasters said. Several Florida counties have issued hurricane warnings or watches and officials have ordered public beaches, parks and marinas to be closed.
"Miami-Dade County will be closing all parks, marinas & golf courses this evening, as we prepare for the arrival of Hurricane #Isaias," Miami Mayor Carlos Gimenez tweeted Friday.
A hurricane warning was in effect for Boca Raton to the Volusia-Flagler county line, meaning that the area is expected to see hurricane conditions within the next 36 hours. A hurricane watch was in effect from Hallendale Beach, which is just north of Miami, to south of Boca Raton, meaning that hurricane conditions are possible in the area within the next 48 hours.
Officials in Palm Beach County, home to Boca Raton, ordered all city recreation facilities, including beaches to be closed until further notice.
Florida Governor Ron DeSantis declared a state of emergency Friday for counties along the state's east coast ahead of Isaias's arrival, urging Floridians to remain vigilant and make sure their emergency kits had seven days' worth of supplies.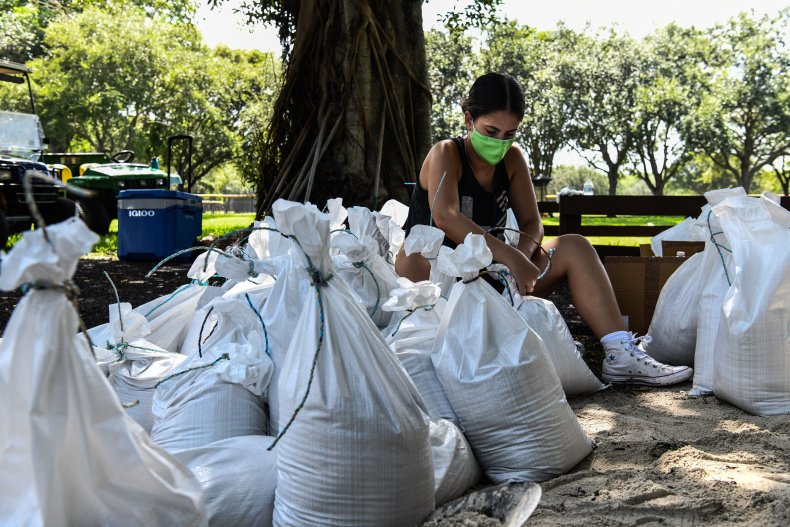 The coronavirus pandemic has complicated Floridians' storm preparation, as the state has become a worldwide epicenter for the disease in recent months. The Florida Department of Health reported 470,386 total confirmed cases on Friday.
DeSantis told residents that state and county-supported coronavirus testing sites would be shut down until Isaias passed. The sites, which are outdoors and underneath tents, would not be able to sustain hurricane-force winds, DeSantis said.
The pandemic has also forced Gimenez and other city officials to re-imagine evacuation sites, although Gimenez said he didn't think they would be needed. But the mayor told residents Friday that 20 evacuation sites were ready for use and equipped with coronavirus safety measures, including proper social distancing enforcement and isolation rooms.
The Bahamas chain has seen the worst of Isaias so far, with residents on Abaco and the eastern end of Grand Bahama being forced to evacuate. These islands were also hit the hardest by Hurricane Dorian last year, a Category 5 storm that killed at least 70 people.
Many Abaco and Grand Bahama residents were still living in tents after being displaced by Dorian, and officials in the Bahamas worried about the damage that even a Category 1 storm like Isaias could cause.
"With everything not quite shored up, property not secured, home not prepared, even a Category 1 will be enough to set them back," Paula Miller, Mercy Corps director for the Bahamas, told The Associated Press.