'I Received a Terminal Diagnosis, Then Completed an Ironman'
I first noticed that I had a very slight issue speaking in December 2020, but no one could hear it or tell, other than me. At work, I say the phrase "three digit security code" quite often, and I would fumble over the words "security code." I thought it could be fatigue or stress, but it progressed. My wife is a nurse, so at first I asked her if I could have had a stroke. She thought not, but we went to see a doctor in mid-March 2021.
I had tests and MRIs but I was told I was in such good health that there couldn't be anything wrong. I had been training for an Ironman, so I was very fit. After that, we saw several doctors and we were recommended to another specialist. At the end of March, ironically on my birthday, I was diagnosed with bulbar onset amyotrophic lateral sclerosis (bulbar onset ALS). However, I then saw several more specialists and they all said there was no way I could have the disease. We went from, "you're going to die" to, "you're fine."
But my speech issues continued and we finally begged another doctor to see me again. In mid-July we saw a specialist who told us that I did indeed have bulbar onset ALS and that it had progressed. We had to go through that diagnosis twice.
I hadn't been able to shake the feeling something bad was up, but no one can prepare you for that. Doctors gave us books to read, but searching the internet was a bad choice, because there was no good news there.
From what we've been told and read, life expectancy for those with bulbar onset ALS is typically 1 to 3 years and I am 11 months into a diagnosis. So, I have a general window but I like to say, "we'll see." Everyone is different. I have met people who knew others with ALS who died within 7 months of diagnosis.
People ask about a bucket list when you know the end of your life is near. My wife and I say that we live that every day already, so we didn't make a lot of changes. I have one son and my wife has four children so together we have five children. I still work full time, I have a job I love and my wife and I both coach a high school mountain bike team, which we love doing. I enjoy small things, like music concerts and trips with my family. I don't want any more than that. The hardest part is that I feel like I can handle it, but my family has to go on and suffer. That's frustrating, because I don't want them to have to go through seeing me die.
I actually got engaged the day I was diagnosed in July. My partner and I planned the wedding on the drive home, in 20 minutes, and got married three weeks later. The wedding was on August 7, at the top of a mountain.
We didn't have time for invitations so we put out on social media that we were getting married, gave the date and the place, and said that people were welcome to join us. We rode our bikes up the mountain and had about 50 people ride with us. Another 50 to 75 drove up and met us at the wedding spot. It was amazing. After the wedding, when everyone had gone back down, it was just my son—who was my best man—my wife and I left. We were the last three. To see your wife in a white dress, bombing down hill on a bike—a 5,000 ft descent over 13 miles—as the sun sets? That was a moment of a lifetime for me.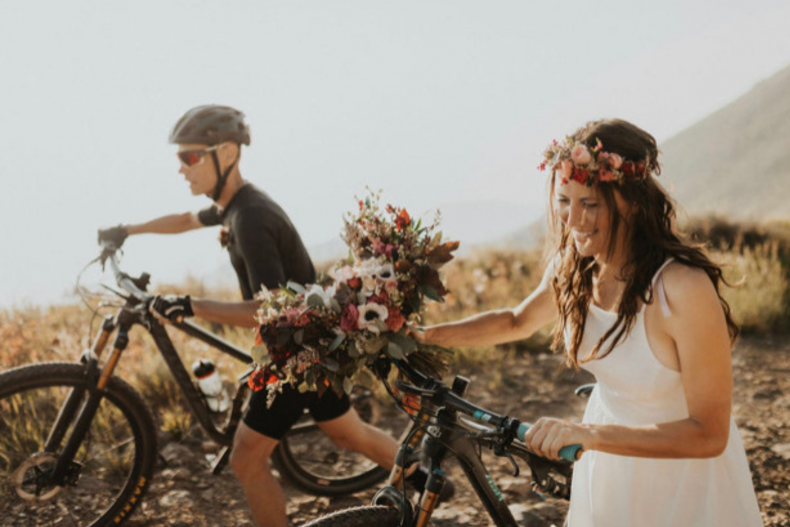 It was quite intense training for an Ironman at the same time as preparing for our wedding. With bulbar ALS, the throat, tongue, lips and mouth areas are affected the most. I was having trouble breathing when I swam, so I adapted my swimming style and always swam with my wife for safety. I had to back off some of the volume of training because I was experiencing fatigue, but 90 percent of my training regimen was the same.
I have taken part in Ironman competitions before, so this was nothing new to my wife and children, and what they expected. But the IRONMAN 70.3 World Championship in St. George, Utah—a 1.2 mile swim, 56 mile bike ride and 13.1 mile run—is one you have to qualify for. I had previously qualified, so it was exciting. I'm a competitive person, so it was tough after my diagnosis. I knew I had to go into this with a different mindset and I tried to temper my expectations. Outwardly I just said I needed to finish to prove a point, bring some awareness and set an example for others, but deep inside, I kept thinking that I had to make a certain time.
I didn't have as many nerves leading into it. When you're told you have a terminal illness and you're going to die, other things don't bother you as much. But on race day, as I was in the dark, getting ready, the nerves kicked in. Through the race there was a lot to occupy my mind, so I forgot about a lot of the issues I was facing. That's the thing with riding a bike, you can forget some of your problems as you're doing it—even bigger ones.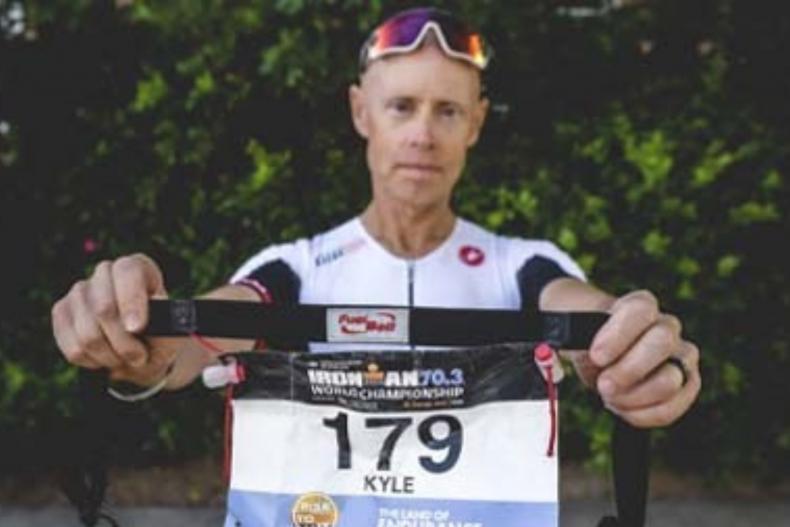 During the race, I had some difficulties. By the time of the competition I was losing hand strength; the strength in my fingers and wrists. It makes it hard to tie or put on shoes, do zippers, open bottles, or use the brakes or shifters on my bike. But I had all my family there: my siblings, their kids, my parents, my wife and kids. And that helped.
This race was extremely personal. You don't have to finish a competition like this. It's not going to affect your pay check or your health. And because you don't have to finish, it becomes very personal.
Getting to the finish line was strange because usually you rush across it. But I hesitated. Firstly because I wanted to do the "Blazeman Roll" over the line. When John Blais competed in an Ironman in 2005 with ALS, doctors had told him the only way for him to finish was if he was rolled across the finish line. But he finished, and when he got to the line, he laid down and rolled over. So after I was diagnosed I got in touch with his family and with Ironman. Ironman had retired his number, 179, but I was allowed to use that number for this race in honor of him. When I got to the line, I laid down and rolled across.
But I almost didn't want to. It was very emotional, and quite poetic. I could see the finish line and, just like life, the end had come too soon.
I remember thinking: "When I cross this line, I'm back to reality. Where do I go from here?" It was hard. After finishing, I felt so many emotions. Mostly it was a feeling of love from everyone there. That was overwhelming. But I also felt sadness, joy, fear, anger and happiness. I just sat down and had a good cry.
I have always had something big in life I'm working towards. But now I've been told I can't do that because I'm going to die. So, since the Ironman competition, I've set small goals along the way and I'm trying to remain upbeat. My son and I are taking a trip together soon, and I have some concerts coming up and other family trips planned up until the end of the year. I set little goals and I'll temper them if needs be.
Physically, I feel pretty good. I'm still in way better shape than most people. I still train; I ride my bikes and I run. I am trying some experimental treatments, though part of me is still a little in denial about this disease.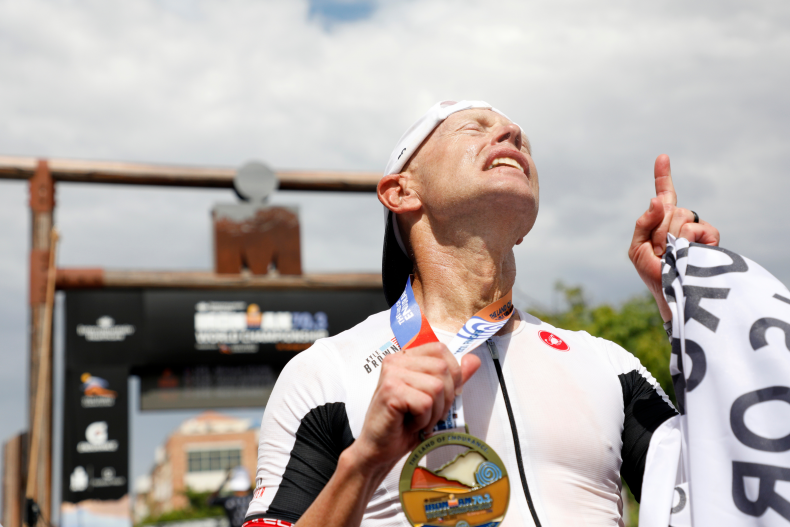 One thing I want to achieve is raise awareness of bulbar onset ALS. If I can have an impact, my hope is that in five or ten years time no one has to go through what my family is going through now.
Recently, I spoke to a high school group who were doing a fundraiser to raise money for the funeral of someone who just passed away from ALS. I told them what an impact they were having on that person's family. Those kids won't forget that, and that changes the future. As I leave this life, I'm going to make a positive difference.
Kyle Brown lives in Kaysville, Utah with his wife and children. He recently completed the IRONMAN 70.3 World Championship in St. George, Utah in a time of 5:38:35. You can follow Kyle on Instagram @krb70.
All views expressed in this article are the author's own.
As told to Jenny Haward.