Alt-Right Activist Known Online as 'Based Stickman' Gets Probation for Assaulting Protesters With Leaded Stick
An alt-right activist convicted of possessing a leaded stick has been given a surprise sentence of five years of probation, along with a verbal reprimand from a California judge Wednesday.
Kyle Chapman, 43, is a fervent Trump supporter who describes himself as an "American Nationalist." At a March 2017 pro-Trump rally in Berkeley, California, Chapman was spotted allegedly assaulting protesters with opposing political views.
A Berkley police officer said in court documents that Chapman could be seen using pepper spray on opponents at the event. A video which became popular among alt-right activists allegedly shows Chapman, wearing what appears to be body armor and a baseball helmet, hitting an anti-fascist protester with a stick at the event.
Chapman's alleged activities at the Berkeley rally eventually resulted in the man accepting a plea bargain, pleading guilty to one charge of "possessing a leaded stick or billy club." Chapman had agreed to a felony probation term of three years in the plea bargain, but was surprised to find that Alameda County Superior Court Judge Mark McCannon had a different plan at Wednesday's hearing.
"I was under the impression it would be three years," Chapman told the judge. McCannon then offered Chapman the opportunity of throwing out the plea bargain and allowing the case to go to trial. Chapman declined the offer, and accepted the five year probation term.
"You were armed to the teeth at the protest," McCannon told Chapman at the hearing. "And the next thing you know it was a melee."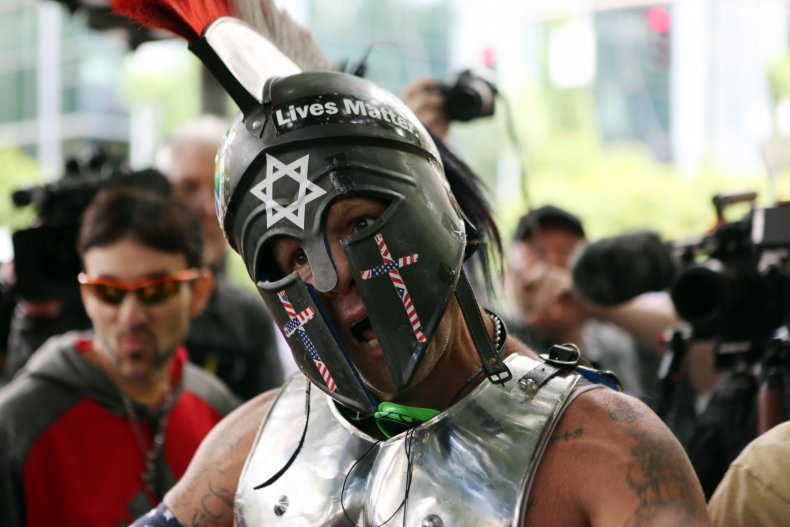 Chapman had previously been convicted of several other felonies, including a 1993 Texas robbery, grand theft in 2001 and two counts of possession of a firearm by a felon in 2008. Normally, California law would prevent a person with a similar record from being eligible for probation, but statutes allow for it under "unusual circumstances."
Judge McCannon told prosecutors he did find unusual circumstances in a closed door meeting Wednesday. It's unclear what those circumstances are.
Chapman is sometimes known by the nickname "Based Stickman." "Stickman" appears to be a reference to his alleged penchant for hitting people with sticks. "Based" is a slang term signifying a person who proudly "doesn't care what other people think about them." It was previously slang for a person addicted to smoking cocaine.
In June, Chapman accepted another plea bargain in Texas, pleading guilty to one felony charge of aggravated assault with a deadly weapon. In that case it was alleged that Chapman hit another man with a wooden barstool, resulting in severe injuries including six fractures to the man's face and a hemorrhaging brain.
The plea resulted in Chapman avoiding any jail time, instead being handed three years of "deferred adjudication," alongside a $10,000 monetary penalty and an order to take anger management classes and stay away from the bar where the assault took place.