Alt-Right Is Fractured, Violent Headed Into Trump's Second Year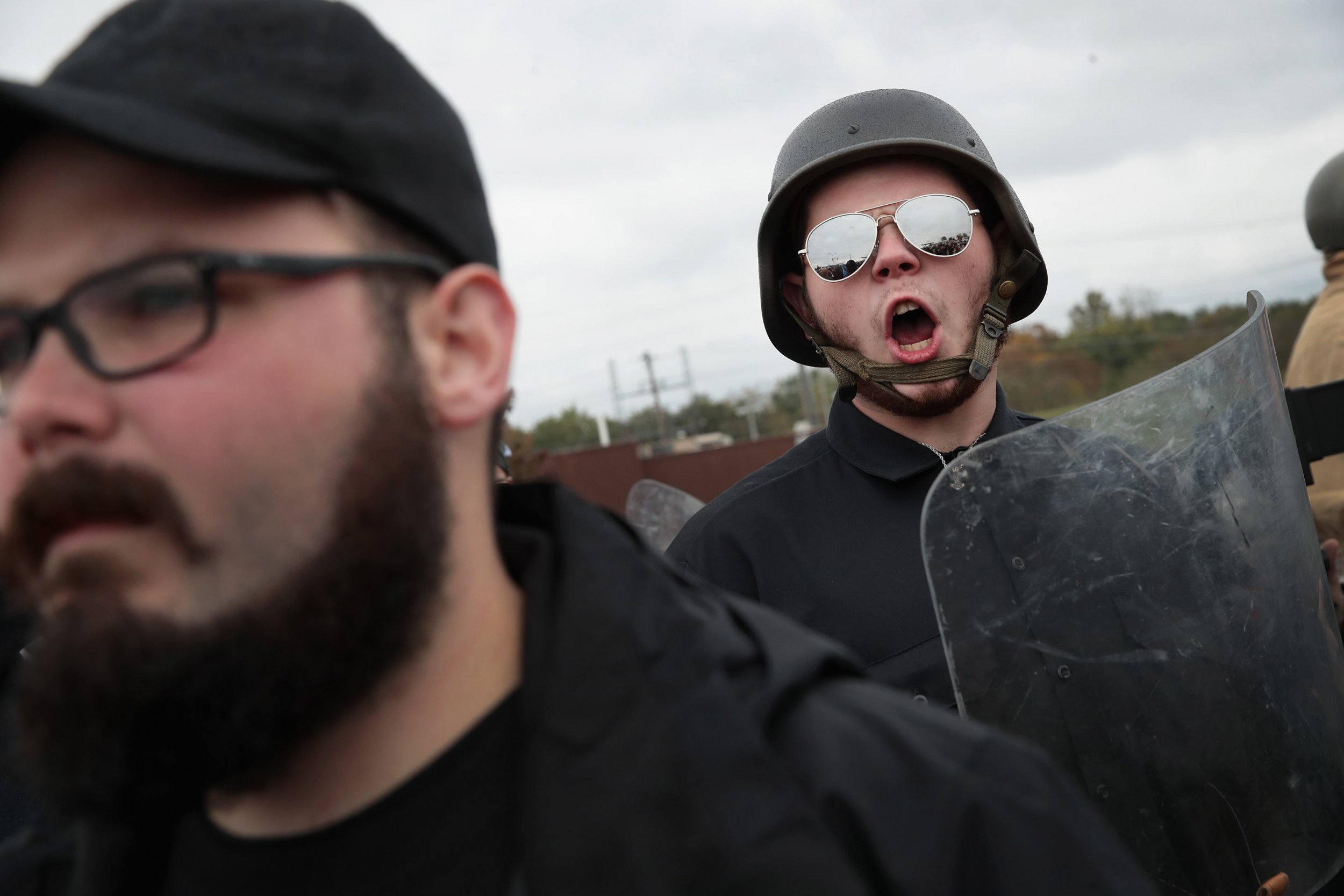 On the morning of October 28, white nationalists and neo-Nazis assembled in Shelbyville, Tennessee for the first part of a "White Lives Matter" rally. The 200 white men and about a dozen white women arrived dressed in black, and shouted across a row of police at the group of antifascist protesters, nearly double in size, who gathered to oppose them. A man from the white nationalist side yelled, "Your daughter is being f----d by n-----s!" over loud pop music being played on the antifascist side, but his words were lost in the din. After the crowds dispersed peacefully, some of the white protesters that assembled were scheduled to travel a few towns over to Murfreesboro, Tennessee for the second half of the pre-planned event. But they decided to call it off because of another growing mass of antifascist demonstrators. When they did, the counterprotesters who were waiting for them in Murfreesboro celebrated in the streets.
One year after the inauguration of President Donald Trump, the anti-immigrant, anti-Semitic alt-right movement, which grew emboldened by the president's hard-right populist campaign and racially tinged remarks, is floundering, falling well short of its ambition to achieve mainstream acceptance. The coalition that appeared at the so-called Unite the Right rally in Charlottesville, Virginia in August—one that looked to many Americans like some massive army of white supremacists—is now fractured. The movement today is swamped with infighting, and it has lost some of its reach online due to Twitter and other social media platforms purging influential alt-right accounts. As Trump heads into his second year, it's both a litany of violent incidents and a show of disorganization that have come to overshadow most of what the alt-right hoped to signify before the start of 2017.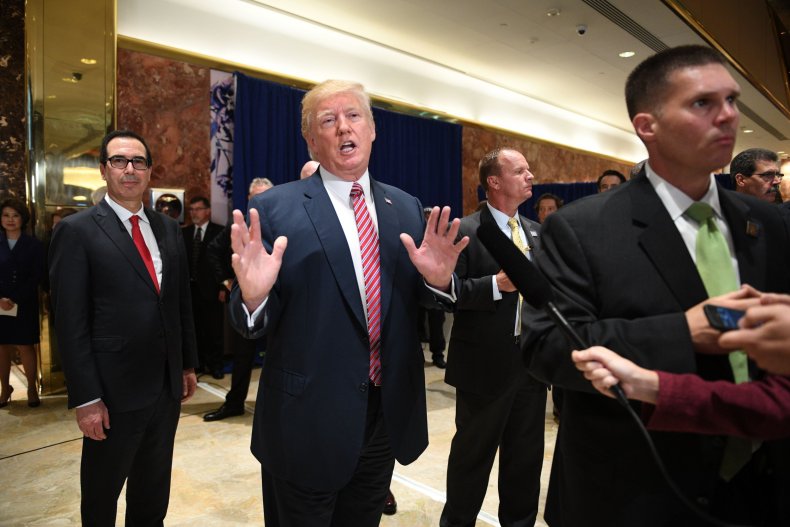 "They can't mobilize in public without expecting to be massively opposed"
The "White Lives Matter" event felt very much like the start of a sea change for the alt-right, a little more than two months after the Charlottesville rally descended into chaos, sparking national headlines. Charlottesville was supposed to be a celebration of the movement's rise to prominence in American culture. It came many months after Trump called Mexican immigrants "rapists," and called for ban of Muslims entering the country, whetting the appetite of many white supremacists for a bold display of solidarity. But the demonstrators who came out in Tennessee looked overwhelmed by the opposition—by the police presence, which limited their movements, and by the energized antifascists who shouted them down. There were fewer of them than in Charlottesville, indicating perhaps that the public naming and shaming of those who marched in defense of Confederate statues had thinned their ranks.
Like Charlottesville, where antiracist activist Heather Heyer was allegedly murdered by a young white supremacist, the Tennessee gathering showcased the alt-right's capacity for outright thuggish behavior: Members of Traditionalist Worker's Party (TWP), a neo-Nazi group linked to the alt-right, brawled with an interracial couple outside of a restaurant in Brentwood, Tennessee on the night of the rally, leaving a woman's face bloodied. The scene was too ugly even for many in the movement, and triggered a debate about the public face of the alt-right that continues today.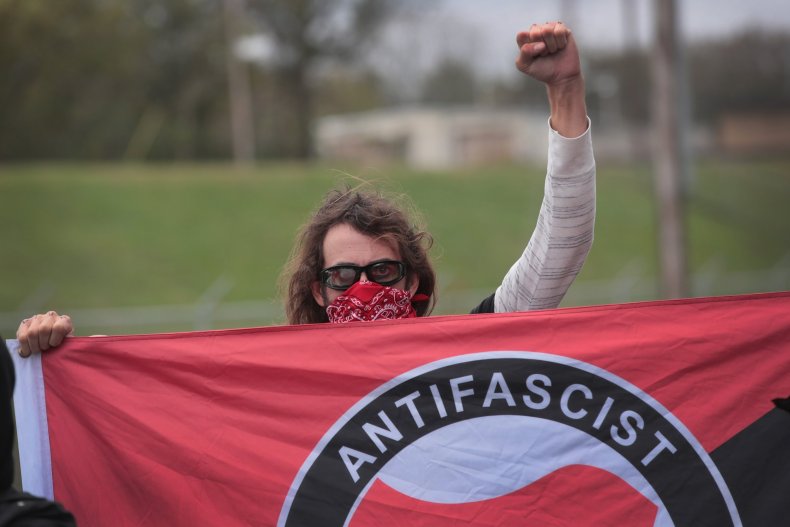 "If you can't see why the optics of today's TN rally are problematic for our goals, you are not prepared to be a part of a serious movement," Nicholas Fuentes, an alt-right commentator, tweeted in the wake of the event.
The editor of The Daily Stormer, Andrew Anglin, who has said the hate-speech site targets white children and young men for white supremacist recruitment, recently posted that hate groups should stop creating lists of members out of fear of being outed by antifascists. "It hurts the core of the movement, in that it hurts recruitment," he wrote. Following the botched rally in Tennessee, Anglin was also among the voices calling for an end to such demonstrations. His embarrassment about "White Lives Matter" was palpable, and he wrote that the alt-right should figure out how to look like "something normal people can get behind." In a series of tweets, the organizers of the Tennessee event blamed "antifa," or anti-fascist demonstrators, for its disruption.
Things got worse after Tennessee: Neo-Nazis and white nationalists, many of whom were present in Charlottesville, rallied in front of the White House in December to express their anger over the verdict in the Kate Steinle trial, in which undocumented Mexican immigrant Jose Ines Garcia Zarate was acquitted of first- and second-degree murder in the death of a 32-year-old white woman from California. Richard Spencer, who is considered by many to be the face of the alt-right movement, helped to lead the rally, and Mike "Enoch" Peinovich, a blogger and podcaster popular in the movement, was there to deliver a speech. It should have been a win for the alt-right, given the anti-immigrant underpinnings of the Steinle story, but only about 20 people attended. As with Tennessee, those demonstrators were well outnumbered by a diverse group of antifascist protesters, and they were once again shouted down. Unlike Tennessee, the tiny rally received little mention among national news outlets.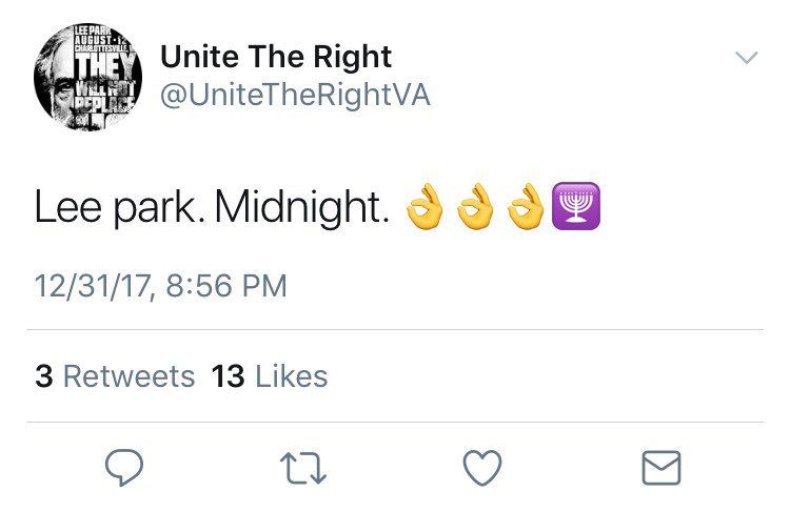 Spencer told Newsweek in October to expect "lots" of pop-up, Charlottesville-style rallies by his crew—smaller demonstrations where white men would carry tiki torches and demand action on issues like the protection of Confederate statues—but so far the promise has been an empty one. On New Year's Eve, for example, a Twitter account associated with the Unite the Right rally that had been dormant since the event posted a cryptic message, referring to the site of Charlottesville's controversial Confederate statue of Robert E. Lee: "Lee Park. Midnight." It was followed by three "okay" emojis and the image of a menorah. But the post was not backed up with any real-life action: New Year's came and went, and the only news to emerge about the alt-right that night came from a local reporter, who linked a man who killed a deputy in Douglas County, Colorado, and wounded other law enforcement officials to a Facebook account that was littered with cartoon memes associated with the movement.
Carla Hill of the Anti-Defamation League (ADL), a rights group, told Newsweek that it is not unusual for white supremacists to struggle to stay united, and that disruption and divisions have long been characteristic of their ideology.
"It's historically typical to have fracturing in white supremacist movements," Hill told Newsweek. "It makes you wonder about the Unite the Right rally in Charlottesville if they were ever really united in the first place."
Antifascist activists, meanwhile, argue that the recent failure of alt-right events is evidence of their success in opposing them. Mark Bray, an activist and academic who is the author of Antifa, The Anti-Fascist Handbook, told Newsweek in December that Trump's first year left him feeling "optimistic" that white supremacists could no longer organize effectively in public. He said Charlottesville and thelackluster and abortedrallies that followed it showed that the alt-right can't "occupy a public space without it being a moment of crisis," meaning that these events inevitably lead to arrests, backlash and infighting. Hill seemed to concur with Bray, saying 2017 had shown that the alt-right "can't control the scene" at its own events.
"I'm cautiously optimistic that maybe we won't need to be talking about 'antifa' in the near future," Bray, who has toured the country for his book and has spoken to thousands of people about antifascism, told Newsweek. He noted that "antifascism historically rises and falls in direct proportion to actions of the far-right," and said that leftists would likely return to a different kind of activism as the threat of alt-right public marches subsides.
Other of the antifascists' claimed victories are harder to prove, such as the idea that tolerance for online hate speech is declining. Bray argues that leftists successfully stimulated a debate in America that the far-right should not be given a platform for public discourse, and that they have won over many centrists and moderate liberals. Many alt-right personalities and groups that were prominent on Twitter a year ago, for example, have been removed from that platform and relegated to Gab, a website with only a few hundred thousand users. To outsiders, Gab can feel like something of a social media jail: Thousands of alt-right accounts post racist and anti-Semitic memes, but there is a paucity of "normies" to target with their trolling on the site.
Kit O'Connell, an Austin-based writer who is a veteran antifascist organizer, was among the activists who pointed out a weakening in the alt-right movement at the close of the year.
"They started out the year in a position of strength," he told Newsweek about the beginning of Trump's term. "Now, they can't go viral on Twitter or Facebook anymore. And, they can't mobilize in public without expecting to be massively opposed."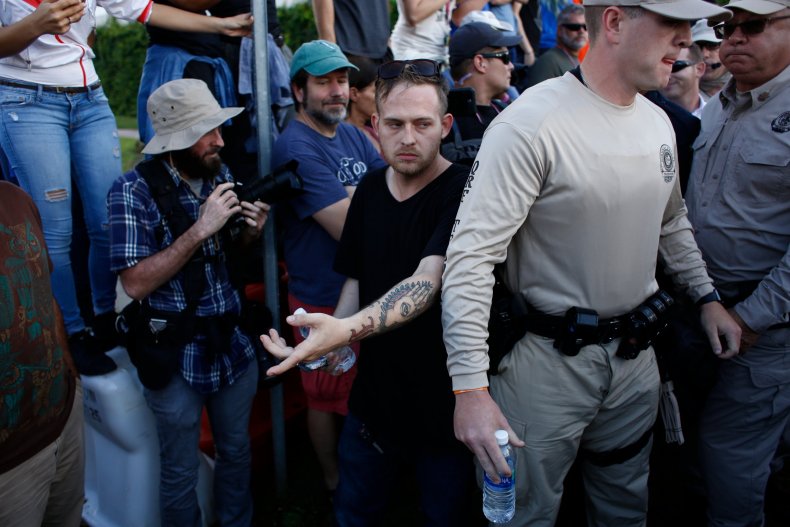 "You're gonna have it coming and your children will deserve to die"
Late in December, Christopher Cantwell, who is currently under house arrest in Virginia on two felony charges for allegedly using tear gas and pepper spray at the Charlottesville rally, hosted Andrew "Weev" Auernheimer on his podcast, Radical Agenda. Roughly 40 minutes into their conversation, Auernheimer, the man tasked with handling the technical side of the sophomoric white supremacy website Daily Stormer started to rant. He seemed to call for the murder of Jewish people in retaliation for his website being taken offline by more than a dozen online homesfollowing the violence that took place in Charlottesville. The rant appeared to shock Cantwell, who was forced to make a joke about prosecutors and the FBI listening to his show.
"Someone has to step in," Auernheimer, 32, said, referring to Jewish people. "If you don't let us dissent peacefully, then our only option is to murder you. To kill your children. To kill your whole families. There is only one thing absent free speech that we can do to express our dissent and that's to slaughter you like dogs, and you're gonna have it coming and your children will deserve to die."
Violent incidents involving those with alt-right ties is on the rise. William Edward Atchison, who had killed two students at his New Mexico high school, had been outed by The Daily Beast a little less than two weeks earlier as a commenter on Auernheimer's site. Around the same time, Nicholas Giampa, a 17-year-old neo-Nazi from Virginia, allegedly murdered Scott Fricker and Buckley Kuhn-Fricker, his girlfriend's parents. Just after the rant, it was discovered that a 26-year-old white man who attempted an attack on an Amtrak train in rural Nebraska in October had attended the Unite the Right rally in Charlottesville.
The ADL announced this week that 2017 was the fifth-deadliest year for extremist violence since 1970, and that right-wing extremism accounted for 59 percent of the murders that took place. Islamic terrorism, by comparison, accounted for 26% of the deaths. Hill of the ADL told Newsweek that the violence has sparked a blame game within the movement, one in which tactics like deflection and denial are used to deal with the ignominiousness of being part of a political movement tethered to murder. O'Connell, the antifascist activist, expressed concerns about what he called a "cornered rat" phenomenon taking shape—one in which recruits of the alt-right give up hope of trying to build a lasting political movement, and as an alternative start lashing out with random acts of violence.
Regardless of whether the alt-right movement continues to struggle in making public appearances, activists and rights groups that monitor extremists say Trump—the president the movement helped elect—is giving life back to its members. The alt-right was energized, for example, after the president said there were "some very fine people on both sides" of the Charlottesville rally, though he did receive loud public backlash for the comment. The alt-right was buoyed again this month when the president allegedly referred to a number of countries in the developing world as "shitholes." Anglin of Daily Stormer called the remark "encouraging and refreshing."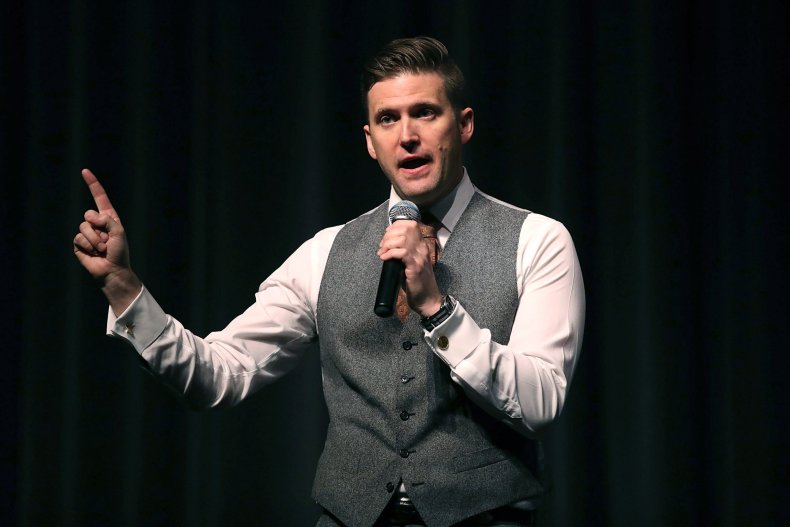 Spencer, who had encountered a series of disappointments at the end of 2017, including having his organization, the National Policy Institute, booted from a Maryland farmhouse where they were holding an annual event, also expressed enthusiasm at hearing Trump's remarks. "It's obviously all about race, and to their credit, liberals point out the obvious," Spencer wrote on Twitter, referring to commenters who called the president's words racist. Despite the alt-right's struggles with organization, the "shithole" moment served as a reminder of why the alt-right became a national brand in the first place.
"We scared the Nazis off the streets," O'Connell said of the current political climate. "But we still have to deal with the politicians they helped to elect."