Alt-Right Movement Despairs After Roy Moore's Loss, Blames "Cuckservatives"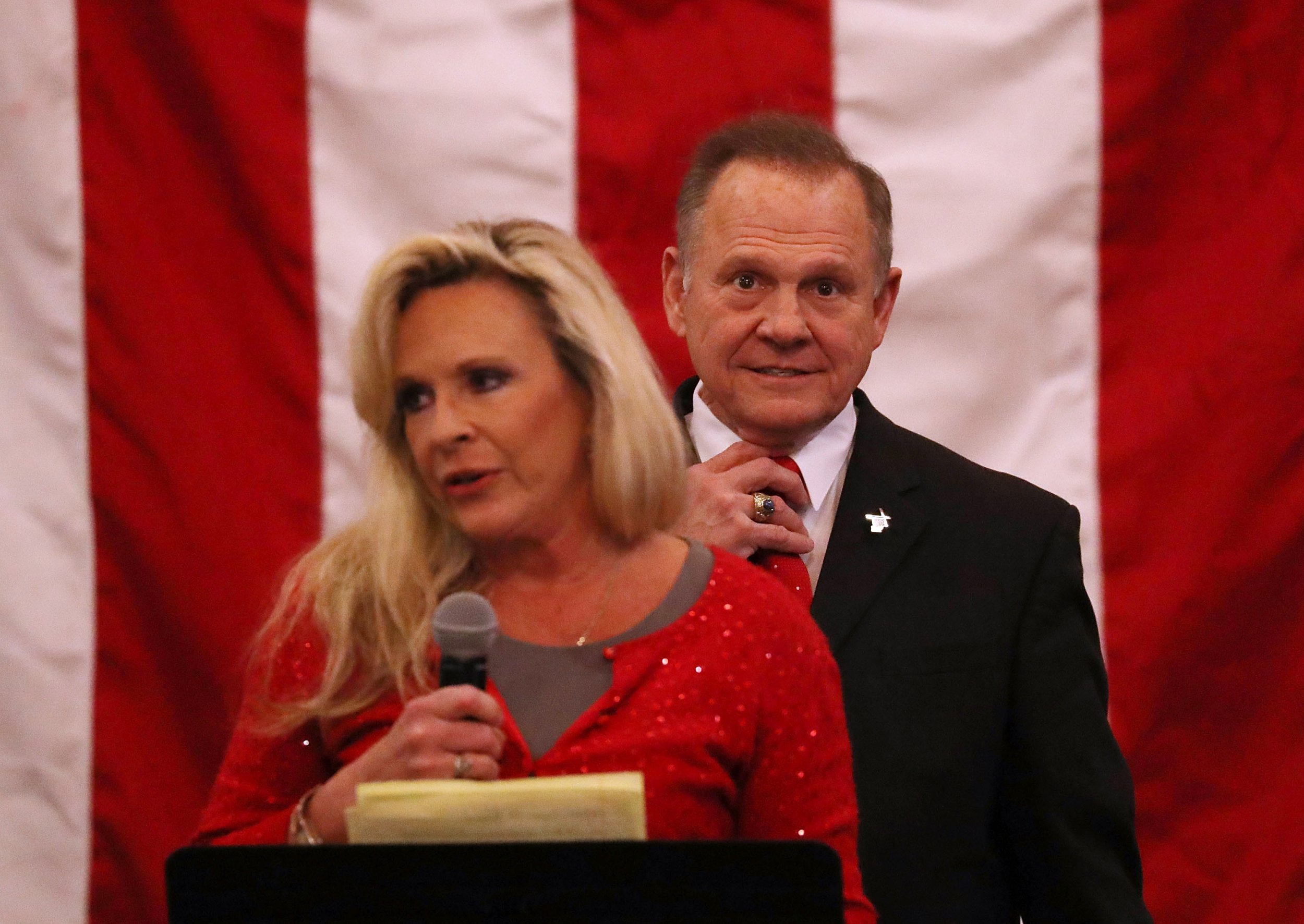 For the so-called alt-right movement, which spans white nationalists, neo-Nazis and white supremacists, the fall after Roy Moore's loss in the Alabama Senate race was precipitous and loud. Organizers in the movement had made an alliance with Moore, a hardline conservative with unsavory allegations of pedophilia hovering over him, and hours before the election many of them had voiced unwavering confidence that he would win.
"I don't really have any doubts, so to me it is something of a nonevent," neo-Nazi blogger Andrew Anglin wrote on Tuesday morning on his site Daily Stormer about Moore's chances of winning. "No one actually thinks a Democrat can win, but they ran with it anyway because the Jew media has literally nothing left to lose."
Twelve hours later, Anglin called the doomed election "a bad moon." His political allies also voiced despair and outrage about the news of the Republican's defeat. Many of them blamed mainstream conservatives for the loss.
"I'm going to spend all of 2018 discouraging our people from voting for the GOP," Brad Griffin, an Alabama resident and one of the organizers for October's "White Lives Matter" rally in Tennessee, tweeted about Moore's defeat. "Two can play this game. Just stay home during the 2018 midterms. What's the argument for party loyalty?"
Ricky Vaughn, an anonymous white nationalist Twitter account that was an effective proponent of Trump's candidacy in 2016, only to be banned from the site over posting anti-Semitic remarks, promoted Moore heavily on Gab, a social media site with many far-right users. As midnight drew near, the Ricky Vaughn account was asking for a "purge" of traditional conservatives.
"There are three people to blame for this loss," the Ricky Vaughn account posted after the election. "Paul Ryan for sabotaging Trump, Mitch McConnell for sabotaging Moore, and Roy Moore for refusing to speak to the working-class voter."
McFeels, another anonymous white nationalist Twitter account with more than 17,000 followers, posted in anger on Twitter that white voters had let them down in Alabama.
"Dems turned out. GOP didn't," the account complained. "No one was predicting a Jones victory. White voters have clearly not felt enough pain yet and stayed home."
Robert Warren Ray, an avowed white supremacist who writes for Daily Stormer, had endorsed Moore for that site a day earlier for "correctly" quoting Adolf Hitler. After Moore's loss, Ray posted on Gab that he blamed conservatives like Mitch McConnell and Paul Ryan for not supporting their movement strongly enough. He called them "cuckservatives," a slang term suggesting weakness, and said that their wives were cheating on them with other men.
"Moore's loss is a very bad sign for any hope of electoral change," Ray wrote of Republicans. "The midterms could go badly, and then we are in the deepest doo-doo ever."
For Richard Spencer, the white nationalist whose face has become most often associated with the alt-right, the loss was an opportunity to distance his movement from the kind of hard-line religious conservatism linked with Moore's brand.
"The big losers tonight are Bannon and the religious right," Spencer mused on Twitter. "The alt-right lost nothing. For his entire career, Roy Moore campaigned for 'Judeo-Christian values,' not the interests of his people."