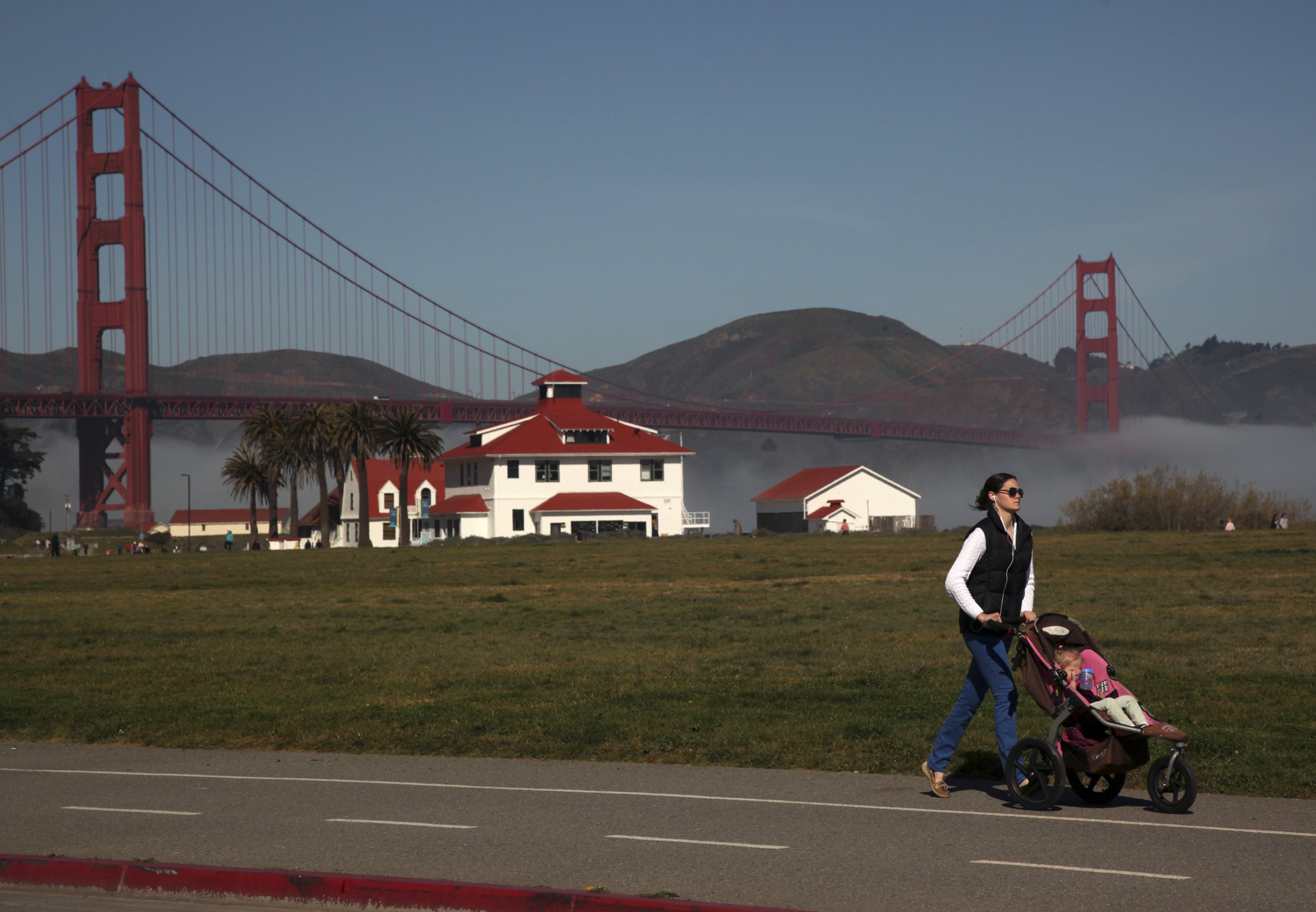 San Francisco dog owners who don't want to see an "alt-right" rally in their city are holding an event today to leave warm droppings in the city's Crissy Field park, where the white nationalists plan to meet Saturday.
"Leave a gift for our alt-right friends. Take your dog to Crissy Field and let them do their business and be sure not to clean it up!" says the "Leave your dog poop on Crissy Field" Facebook event.
"We can get together Sunday and clean up the mess and hug each other!" wrote the event's organizer, Tuffy Tuffington, a 45-year-old artist and designer who owns two Patterdale terriers, Bob and Chuck, on the event page.
The alt-right, a term coined by white nationalist Richard Spencer, defines a loose-knit group of white supremacists, white nationalists, conspiracy theorists and misogynists.
Concerns about alt-right rallies have grown after one in Charlottesville, Virginia, on August 12 turned violent and resulted in the death of counterprotester Heather Heyer and injuries to 19 others when a man who marched with white supremacists rammed a car into a crowd of pedestrians.
"I just had this image of alt-right people stomping around in the poop," Tuffington told The Guardian, when trying to come up with an effective counterprotest without direct confrontation. "It seemed like a little bit of civil disobedience where we didn't have to engage with them face to face."
Related: U.S. authorities consider shutting down hard-right rallies after Charlottesville
The alt-right "Freedom Rally" in the park just below San Francisco's Golden Gate Bridge on August 26 is being staged by a group called Patriot Prayer. Last weekend, counterprotesters drowned out a similar rally in Boston.
The Southern Poverty Law Center (SPLC), which tracks hard-right groups, has identified the Patriot Prayer rally as likely to "attract white nationalists and other hate groups."
Patriot Prayer's leader, Joey Gibson, denounced the white supremacists and neo-Nazis who marched on Charlottesville during a Patriot Prayer rally in Seattle on August 13. A week earlier, Gibson marched with white nationalists, including members of the Identity Evropa group, in Portland, Oregon.
Armed and armored militiamen from the so-called III Percent group have turned up at past Patriot Prayer events. The San Francisco Examiner reported last week that the paramilitary Oath Keepers groups, who carry military-style rifles and tactical equipment like kevlar vests, planned to provide security for the San Francisco alt-right rally.
A permit was issued for the event Wednesday, but it bans "firearms or anything that could be used as a weapon," including large backpacks and helmets.
One of the speakers at the event, Kyle "Based Stickman" Chapman, is a member of the self-described alt-right and is known for an image that went viral online of him swinging a stick packed with lead at an anti-fascist counterprotester at a March rally in Berkeley. Chapman now faces a felony weapons charge in Alameda County Court and will be arraigned Friday.
Gibson has written on Patriot Prayer's Facebook page that "no extremists will be allowed" into the event, and that means "no Nazis, Communist, KKK, Antifa, white supremacist, I.E., or white nationalists." Gibson said he wants the event to feature Americans debating opposing views.
House Minority Leader Nancy Pelosi and Senator Dianne Feinstein, who both represent California, have called for the event to be canceled, expressing concern after the violence in Charlottesville.
Another group plans a less messy counterprotest against the alt-right group. The Jewish Bar Association of San Francisco is raising money for the Southern Poverty Law Center. The group hopes to raise $100 for each person who shows up to the alt-right rally. So far, they have collected more than $132,000.