The Alt-Right is Using Leaked NATO Psychological Warfare Tactics to Spread White Supremacism Globally
Far right groups under the banner of the so-called 'alt right' are using psychological warfare techniques learnt from leaked NATO and British intelligence documents to spread white supremacism across the world, according to a new report.
In a study by the the Institute of Strategic Dialogue—titled 'The Fringe Insurgency'—Julia Ebner and Jacob Davey argue that activists are "weaponising internet culture" to spread their ideology online and subvert democracies.
After spending several weeks undercover on online alt-right forums, the authors identified the tactics that users adopted to radicalize people online and mobilize support for the far-right groups, targeting anxieties over immigration, terrorism, and race.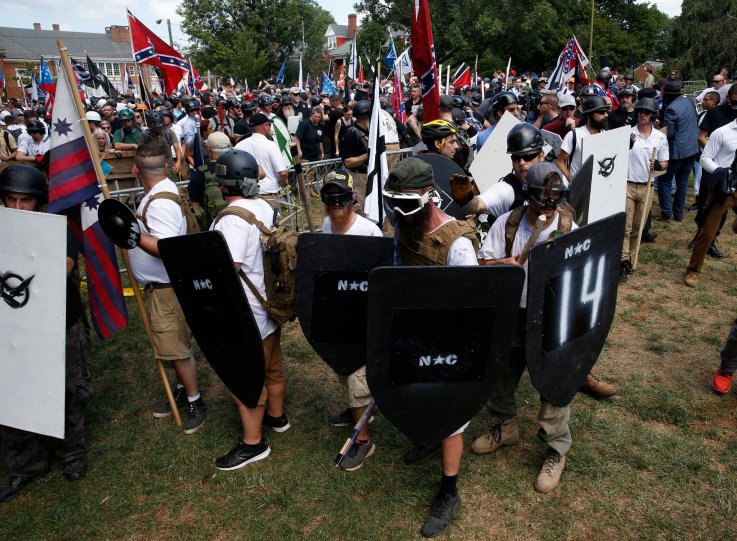 They used "crowd-funding platforms, custom-made social media platforms and even the use of leaked military and intelligence resources from [U.K. intelligence agency] GCHQ and NATO to run campaigns against their own governments," the report said.
In August, radical right-wing groups gathered in Charlottesville, Virginia, for their largest show of strength in decades, while in European far-right organizations have used crowd-funding platforms to raise money for boats to patrol European waters and intercept refugees.
The extreme right also had an influence the German federal election, which saw a huge spike in suport for the extreme party Alternative for Germany (AfD).
In large-scale and well-organized online campaigns, U.S. and European extremists have worked together: "Their strategic, tactical and operational convergence has allowed the extreme right to translate large-scale online mobilisation into real-world impact," write the authors.
The report exposes how the U.S. 'alt-right,' responsible for trolling campaigns in support of President Donald Trump during the 2016 election, shared tips and tactics with European extremists—techniques gleaned from military psychological operations—to disrupt the democratic process.
Ahead of the AfD success in the German federal election—in which it secured 26 percent of the vote and marked the first time that far-right party has won seats in the German parliament since the Second World War—U.S. 'alt-right' activists spreads tips on messaging board 4chan.
"Instructions from the U.S. elections on how to obfuscate and manipulate the media space were recycled and adopted to a German audience: this included memetic warfare albums such as 'normie memes', and psychological operations resources, such as a 'step by step how to manipulate narratives' that links to GCHQ online deception and disruption playbooks," according to the authors.
On encrypted chat app Discord, special channels were set up to "coordinate large-scale social media campaigns and to encourage the use of a range of psychological operations and disinformation tactics," including spreading memes, setting up fake social media and 'bot' accounts, and monitoring and tailoring their impact with detailed web analytics techniques.
"As a result of the proactive transatlantic exchange of information, know-how and experience on message boards and in Discord channels, the tactics employed by European far-right activists mirror those used by the American alt-right," the report claims.
The two weeks leading up to the election saw pro-AfD hashtags reached the top five trends in Germany multiple times as a result of the campaign.
The authors warn that the tactics used by the far-right are "more reminiscent of state-led psychological operations than that of terrorist groups" and urge policy makers, technology companies, practitioners and activists to adopt counter-strategies that match the sophistication of the far-right.
In February, civil rights nonprofit the Southern Poverty Law Center warned of the growth of extreme right-wing groups on the internet, which organize "troll storms" of abuse towards political opponents, and spread racist memes to mobilize support.
"It's clear that more and more of these people are operating only on the internet, except when the moment comes to start shooting," said SPLC expert Mark Potok.
The Alt-Right is Using Leaked NATO Psychological Warfare Tactics to Spread White Supremacism Globally | U.S.