Hitler Youth in America? How Young People Like James Fields Find White Nationalist Groups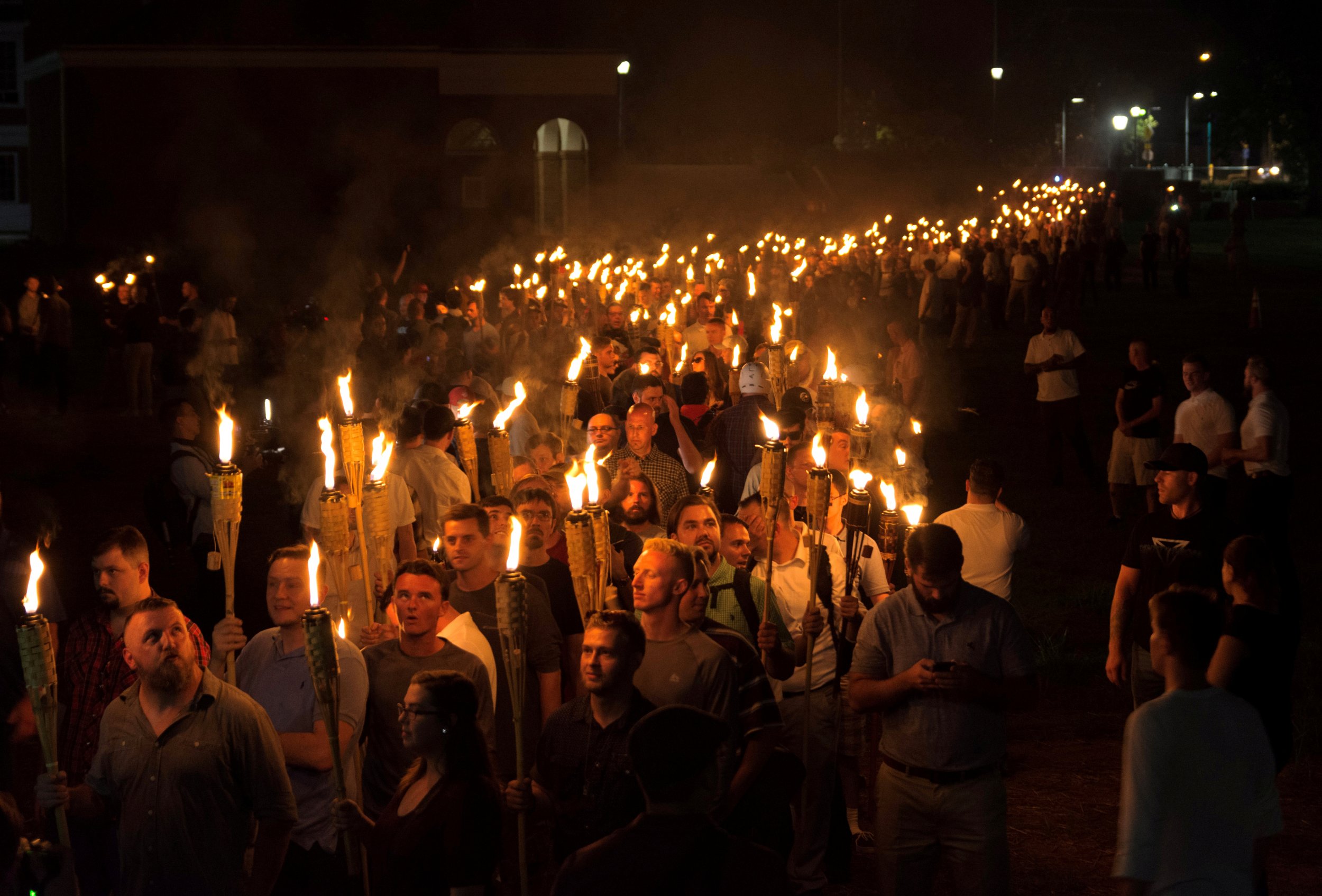 Years before 20-year-old James Fields crashed his car into a crowd of counter-protesters at a white nationalist demonstration Saturday in Charlottesville, Virginia, killing one woman and wounding several others, he was a teenager obsessed with Nazi Germany.
"It was obvious that he had this fascination with Nazism and a big idolatry of Adolf Hitler," Derek Weimer, who taught Fields as an 11th and 12 grader, told the Washington Post. "On many occasions there were times he would scream obscenities, whether it be about Hitler or racial slurs," a middle school classmate told the New York Times.
Because the Nazi party of the 1930s and '40s had similar ethnocentric values as white nationalists in the U.S. do today, it's not the first time Hitler has been linked to the alt-right movement. Last month, for example, critics compared President Donald Trump's speech at a Boy Scout event—during which he talked politics, encouraged loyalty and had the kids boo Barack Obama—to a Hitler Youth event where children were indoctrinated.
But after the violence this past weekend in Charlottesville, people are taking the Nazi comparisons a lot more seriously. With security threats more real than ever, they're asking questions about how the alt-right reaches its youngest members. Experts in extremism blame the internet, saying that young people aren't necessarily being recruited by white nationalist organizations but instead falling into them.
"Younger people have access to much more forms of information, including propaganda, than ever before in human history—that's social media," Oren Segal, the director of the Anti-Defamation League's Center on Extremism, tells Newsweek. "They are able to exist in an online sphere, find like-minded sympathizers, communicate, creating these online subcultures where anonymity is involved and where people can be whatever they want. And within that we're seeing that some are being introduced to bigotry and hate."
Authorities haven't publicly confirmed Fields' motive for the Saturday crash that followed a white nationalist protest opposing Charlottesville's plan to remove a statue of Confederate general Robert E. Lee from a local park. Before he rammed his vehicle into the group of counter-protesters, however, he was photographed holding a shield distributed by the white nationalist group Vanguard America.
Vanguard America insists Fields is not affiliated with them, and that's what Segal says is one part of the issue: Young extremists are not dedicated to one group. They're finding a variety of people who agree with their ideologies online.
The alt-right is mostly comprised of young white men, according to Vox, which means they've spent most of their lives accessing the internet. As teenagers are wont do, they looked for a way to rebel. But instead of being limited by what library books they could check out or what their friends said, like in previous generations, all they had to do was Google, according to George Hawley, the author of the upcoming book Making Sense of the Alt-Right and an assistant professor of political science at the University of Alabama. They can find racist Pepe memes or check out the hub that is Reddit's /r/The_Donald.
The propaganda can be especially convincing because, in some cases, it's being produced by so-called keyboard warriors their age. In that sense, the alt-right movement is similar to the Islamic State group (ISIS), which has become infamous for its high-quality videos and recruitment techniques that promise teenagers power and husbands.
"Online white supremacists have just gotten better at speaking the language of young people," Hawley adds.
Eli Mosley, of Identity Evropa, a white nationalist group formed in 2016 and that had members in Charlottesville over the weekend, says the organization doesn't actively recruit in a traditional sense. As the director of event coordination, Mosley says he personally does a lot of postering, where he puts up fliers at colleges where white people are seeing a lot of "anti-white rhetoric aimed at them." Identity Evropa's founder told The Tab in February that it had about 300 members.
The posters are targeted mostly at people who are getting involved in the already existing alt-right internet subculture. By the time new members join Identity Evropa, "they already know our jokes, our memes, our lexicon, things like that," Mosley says.
Mosley says people are drawn to his group in part because it's youthful and full of leaders concerned about relevant issues like jobs and family life. Kevin Grisham, assistant director of research at the Center for the Study of Hate and Extremism at California State University, San Bernardino, says disenfranchised young people can feel emboldened in their beliefs when they come into contact with a sympathetic organizer who vows to help them.
That may be another similarity between World War II and today.
"If people feel that way and then they see someone who's charismatic saying over and over again, 'You know why this is? It's because you're white,' ... it's an easy sell for these young people," Grisham says.