The Alt-Right's First Real Political Candidate Went Too Far Right—Even for Many White Nationalists
To hear Paul Nehlen tell it, President Donald Trump is an emasculated sellout, or a "cuck," in the parlance of the "alt-right" movement that helped the president win office more than a year ago. Nehlen, a Wisconsin congressional candidate taking on House Speaker Paul Ryan, a fellow Republican, doesn't stop there: He likes to tell his followers on Gab, a small social media site teeming with white supremacist banter, that the president isn't moving quickly enough to build his proposed wall along the Mexico-U.S. border to keep out undocumented immigrants. Trump, Nehlen insists, doesn't have the spine to "deport them all."
"I am the only candidate in Wisconsin's 1st Congressional district who wants a wall so we can deport every illegal alien in this country," Nehlen boasts to his fans, in between calling U.S. Senator Ted Cruz a "philo-Semitic rat fink" and denouncing the "Twitter f---" that criticize him for making offensive remarks. (Nehlen did not respond to multiple requests for comment on this article.)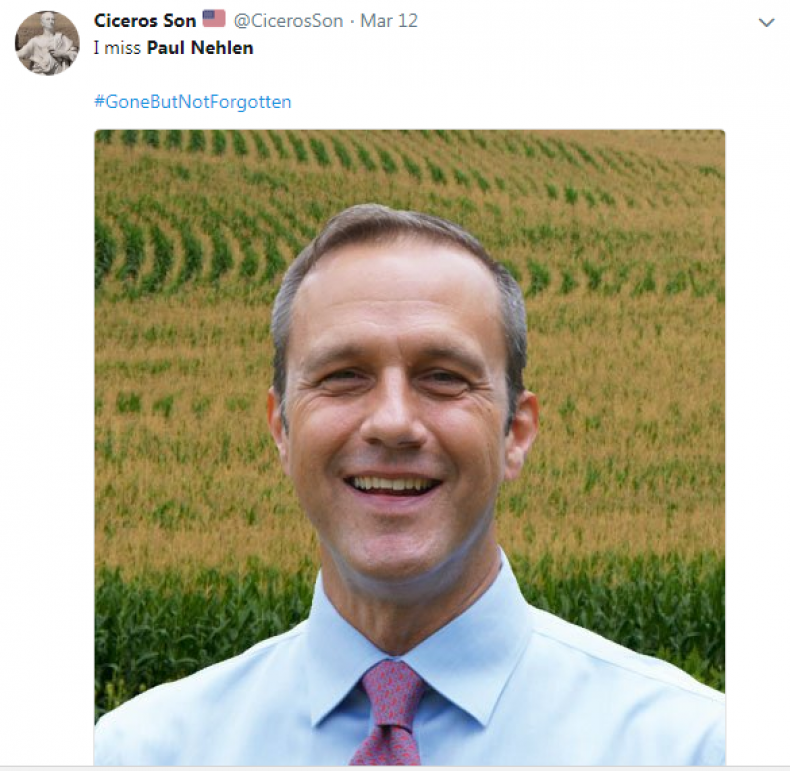 Since launching his once-longshot campaign for presidency, Trump has been a hero of a small but vocal cluster of far-right activists who support white identity politics. They backed Trump's candidacy as the birth of a broader electoral movement of hard right, white nationalist politics akin to what Marine Le Pen's recently renamed Rassemblement National party has done in France. But more than two years later, the movement's most well-known candidate in the 2018 midterm elections is Nehlen, a Trump critic who was recently disowned by the GOP and has been described by the Southern Poverty Law Center as "a defiant mouthpiece for the racist 'alt-right.'"
Nehlen has made the subject of internet censorship—a popular topic among contemporary hate speech practitioners—the central issue of his campaign. He portrays himself as a defender of white Christians and has gained fame on Twitter for tweeting pro-white messages while also attacking Jews. He published in January a list of "Jews" in the media that included several people who were actually non-Jewish people of color. In February, he went on former Klu Klux Klan Grand Wizard David Duke's radio show, where he claimed that he had noticed patterns in the types of people that were criticizing him, suggesting that they were all Jewish people.
"Poop, incest, and pedophilia. Why are those common themes repeated so often with Jews?" he tweeted at one point.
And Nehlen's interpretation of Trump's Southern border wall is downright dystopian. "Armed machine gun turrets every 300 yards," he told Duke about his vision. "And you can automate those. Anyone who approaches that barrier will be treated as an enemy combatant. Man, woman or child."
This isn't the first time Nehlen has tried to unseat Ryan. During the 2016 midterm elections, he rode a motorbike in an ad, showed off his tattoos and challenged Ryan to an arm wrestling match. At the time, he was pro-Trump. Prior to becoming Trump's campaign strategist, Steve Bannon, then the executive chairman of the alt-right site Breitbart News, backed Nehlen, calling him "David to Paul Ryan's Goliath." Trump, then a candidate, helped give Nehlen a lift by thanking him on Twitter for his support.
Nehlen went on to lose to Ryan in a landslide in August 2016, taking only 15 percent of the vote. But he left the race as a known quantity, largely because of his affiliations with Trump's brand.
Nehlen announced a second run for office last summer, this time inheriting much more favorable political odds after Ryan expressed hesitation in seeking reelection. But by then, something in Nehlen's views had noticeably changed. He veered away from Trump populism and created an online persona for himself much more in line with far-right extremism.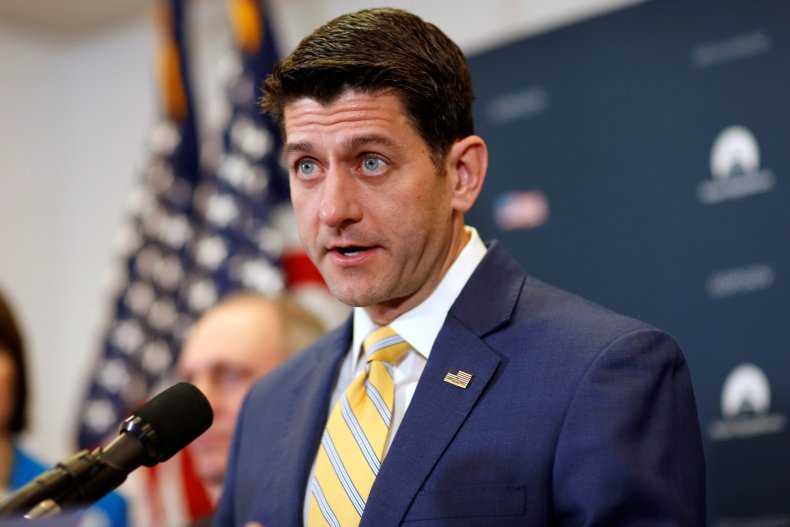 In December, he appeared on "Fash the Nation," a white supremacist podcast. That same month, he campaigned with Bannon for Alabama Senate candidate Roy Moore, who was accused at that point of behaving in a sexually inappropriate manner with a handful of girls when he was in his 30s. He also told Breitbart radio in December that he planned on "shifting the Overton window," referring to the alt-right strategy of trying to shift the political discussion further to the right to enable more radical politics to penetrate the larger discourse. By the end of the long and turbulent month, Bannon wanted nothing to do with Nehlen. A Bannon adviser told CNN that the Wisconsinite was "dead to us."
Christopher Cantwell, a white nationalist podcaster and open admirer of Adolf Hitler who marched on Charlottesville, Virginia, in the violent "Unite the Right" rally in August that made national headlines, told Newsweek that he thought Nehlen's "Fash the Nation" appearance went too far for someone hoping to win a real campaign.
"The second he showed up on an alt-right podcast he was toast," Cantwell said of Nehlen, echoing the sentiments of others in his movement.
For state Republicans, Nehlen's unorthodox social media performance was embarrassing. He was approaching 100,000 followers on Twitter when he tweeted a picture of Meghan Markle, a former actress who is engaged to be married to Prince Harry of the British royal family. Markle, who is of mixed race, was photoshopped to look like Cheddar Man in the picture, a dark skinned man believed to be the first modern British person. Nehlen's many critics from both parties immediately called the post vulgar and racist. The state GOP responded by banning Nehlen from the party while Wisconsin Governor Scott Walker called Nehlen's rhetoric "racist."
"He went from being kind of an underground hero in 2016 to being a total pariah," Barry Burden, a professor of political science at the University of Wisconsin-Madison, told Newsweek. "They've all walked away from him now. No one in the conservative movement is willing to stand with him."
On Twitter, however, Nehlen was winning new supporters. After the social media site suspended his account over the Markle controversy, swarms of alt-right trolls adopted his picture as their avatar in tribute to him.
It's unclear how Nehlen's white nationalist following will translate at the polls. Wisconsin candidates have until June to register, and Ryan or another mainstream Republican is expected to run against him.
Rick Wilson, a Republican political strategist and media consultant, told Newsweek he didn't expect Nehlen to get much more than 3 or 4 percent of the vote when the candidate's name appears on the primary ballot in August 2018, regardless of whether Ryan decides to run against him.
"Wisconsin is not a state full of lunatic anti-Semites," Wilson said. "Nehlen came off as a guy screaming about how the Jews put a chip in his head."
Nehlen isn't the first candidate to publically embrace white nationalism in recent decades. Duke himself has run many political campaigns as both a Democrat and a Republican, including his famous 1991 bid to become governor of Louisiana. Despite performing impressively among white votes at various points, he has repeatedly fallen short.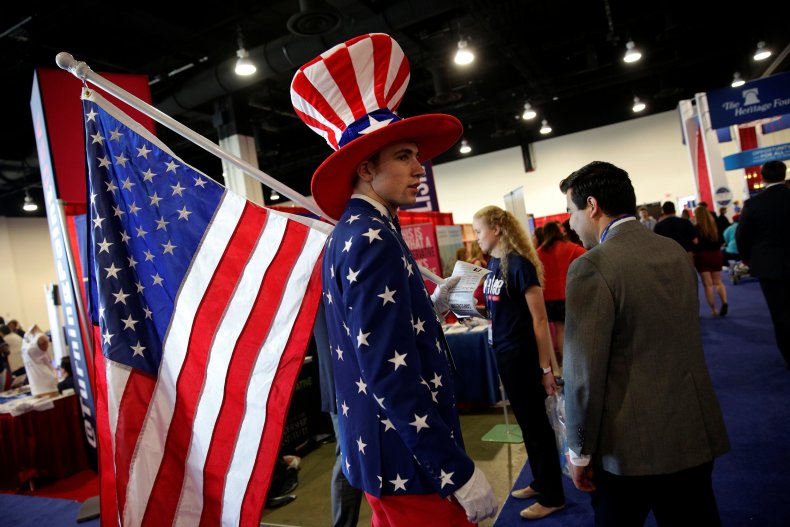 In the Trump era, alt-right personalities are hoping to attract a wider audience for their message with mixed results. A handful of white nationalists made appearances in late February at the Conservative Political Action Conference, an event widely considered to indicate the mood of the conservative movement at large. But even alt-right leaders have abandoned hope that Nehlen will be the first one to secure an electoral victory.
Richard Spencer, who has gained national attention for helping to recruit young white supremacists to the alt-right in recent years, appeared to see Nehlen's collapse coming before many of his peers did. Just before New Year's Eve, nearly a month before Nehlen posted the Cheddar Man meme, Spencer posted a video to YouTube that praised Nehlen as having "an identitarian heart," referring to politics that are based solely around building a purely white society that excludes non-whites. But he also said Nehlen "clearly couldn't keep a lid on it," referring to the overt racism that not so secretly drives the movement. Spencer added: "a winning politician should never tweet out alt-right memes."
"We are operating under persecution and cannot be fully honest to voters and to the media," Spencer explained in the video of the backlash surrounding Nehlen. "Dog-whistling, while maintaining plausible deniability should be the standard M.O. of any alt-right candidate."
Spencer's words played over images of Trump on the 2016 campaign trail, gesticulating to applause.