Altamont Pass Fire Update: Highway 580 Shut As Blaze Spreads to 600 Acres
A fast-spreading wildfire near the Altamont Pass grew to more than 600 acres yesterday, prompting both sides of Interstate 580 to be shut down in the afternoon for several hours.
The Grant Fire was first reported in Alameda County at around 5.30 p.m. and was 20 percent contained by Sunday evening, reported SFGate. "It didn't look very big, and I certainly didn't think the fire would be right on top of the freeway," Erin Allday, a reporter who drove past the blaze, said.
Soon after it started, California Highway Patrol began receiving reports that smoke from the fire had lowered lane visibility. This led to the closure of Interstate 580 in the Altamont Pass. Authorities had reopened both sides of the freeway by around 10 p.m. that evening. "We were totally gridlocked. It was a free-for-all," Joe O'Connor, who drove off the Altamont Pass ramp from Yosemite National Park, said.
Jessica Yurasek, O'Connor's wife, added that the hillside had been turned black and smoke was rising from both sides of the highway. "We could feel the heat from inside the car," she said.
Alameda County Fire staffers were scheduled to keep an eye on the fire overnight. No injuries had been reported at the time this article was published.
On Sunday, fire authorities responded to several conflagrations in the eastern region of the San Francisco Bay Area. East Contra Costa firefighters were called to a hillside blaze near Marsh Creek Road at 1.55 p.m. where a wildfire was threatening to engulf three structures, reported East Bay Times.
With multiple hose lays and air drops, fire authorities managed to contain the fire to just over 5 acres. Jess Burris, from the East Contra Costa Fire battalion, revealed that only a single out-building was damaged in the incident.
Firefighters received reports of another fire east of Camino Tassajara and Finley Road at around 4.40 p.m. which had ignited a field near residential homes. Last night, San Ramon Valley Fire confirmed that the blaze had been contained to 56 acres.
Newsweek has reached out to the Alameda County Fire Department for comment.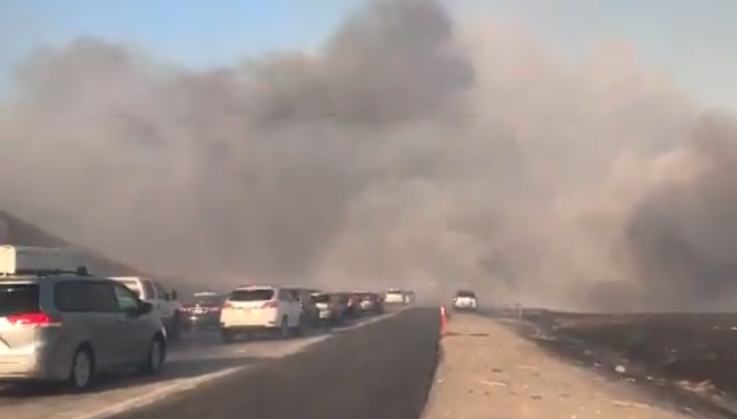 Altamont Pass Fire Update: Highway 580 Shut As Blaze Spreads to 600 Acres | U.S.