Alter: Rahm, Rouse, and Obama's New Right-Hand Man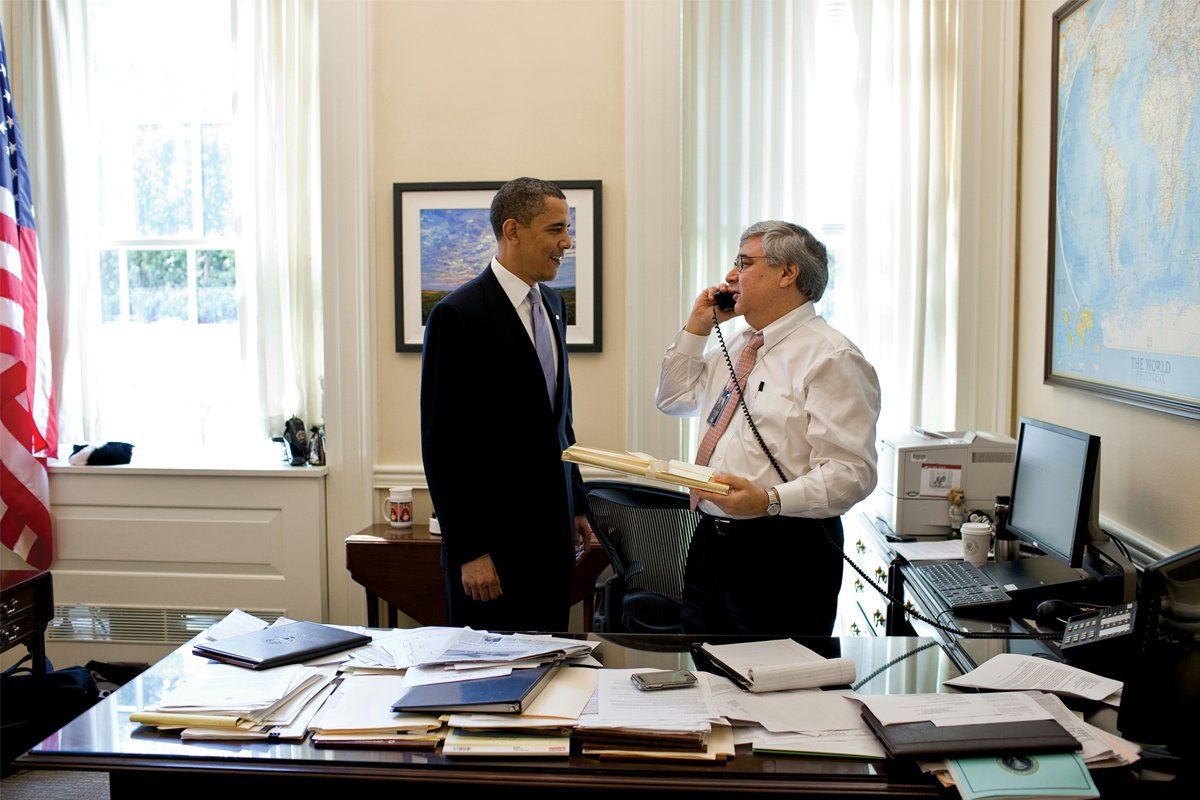 On the day Barack Obama took the oath of office, Pete Rouse, already his most unassuming adviser, turned down a prime seat on the inaugural platform to watch the historic event on TV. On the evening last March when the landmark health-care bill passed, an occasion Obama considered more satisfying than election night, the president asked Rouse to join a small group for champagne on the Truman Balcony. Rouse genially told Obama and other insiders he was going home, where he lives alone with his cats. The joke inside the White House is that Pete–as everyone calls him–so dislikes travel that he won't even travel down the hall to see the president in the Oval Office. So Obama ambles down to Rouse's West Wing perch, where he puts his feet on the desk to receive some wise counsel from one of the few staff people he fully trusts.
The rap on Rouse is that he's too nice to be chief of staff. But nice might be needed for a spell. His appointment is comfort food for a staff that feels besieged. Even when the long knives are out, they never seem to find their way into Rouse. Not yet, anyway.
Rouse will be an entirely different chief of staff from Rahm Emanuel, who took the job with the understanding that he would be something akin to a prime minister for Obama. Emanuel, now rolling the dice as a candidate for mayor of Chicago, was a "principal," Washington-speak for a former elected official or cabinet member; Rouse, a former chief of staff for Obama (when he was a U.S. senator) and Tom Daschle (when he was majority leader), spent 30 years as a Senate aide. Emanuel was most focused on tactical politics; Rouse is less political and more attuned to personnel, morale, and strategic thinking. Emanuel's best contacts were with his old colleagues in the House; Rouse's are with his friends in the upper chamber, where he was sometimes called the "101st senator."
The two men get along well. The voicemail message on Rouse's cell phone was recorded by one of Emanuel's children. But their styles are almost polar opposites. While Emanuel's profanity and ability to Get It Done brought him bemused devotion, he was also routinely compared to Ari Gold, the hyperkinetic Hollywood agent on Entourage based on Rahm's brother Ari. The TV character's much-abused former assistant is a gay, Asian-American character named Lloyd. "Rahm treats us all like we're Lloyd," complained a disgruntled aide.
The cinematic character Rouse evokes for White House staffers is Winston "I Solve Problems" Wolf from the film Pulp Fiction. Wolf, played by Harvey Keitel, is summoned to clean up a bloody crime scene before calmly heading off to breakfast. Pete the Fixer doesn't always succeed in his delicate personnel missions: easing out Greg Craig, the White House counsel, proved messy. But his meticulous attention to matching the right people with the right jobs usually avoids hard feelings.
Rouse's genuine concern for peons has made him a mentor to dozens of young strivers in Washington. During an interview with me last year, he stopped talking about policy issues to discuss at length if the White House internship program was properly structured. Another aide told me that during a retreat at Blair House last year, Obama lectured his cabinet and senior staff that they needed to be "more like Pete" by "managing down as well as up." This is a novel concept in Washington and in much of corporate America.
Unlike Emanuel, Rouse is not an enforcer. But he might actually reinforce Obama's calm. When taciturn David Plouffe comes over from the Democratic National Committee next year to replace David Axelrod (who is expected to move back to Chicago to work on Obama's reelection and help Emanuel get to City Hall), the White House will assume a soft-spoken cast at the top.
Rouse might turn out to be an interim appointment, which would be fine with him. Obama could decide to go for a principal after the election. Sometimes those principals work out well, like James Baker under Ronald Reagan or Leon Panetta under Bill Clinton. Other times they don't, like Sherman Adams under Dwight Eisenhower and John Sununu under George H.W. Bush (sure bet: no more New Hampshire governors will get the job). Staff guys–like John Podesta under Clinton or Josh Bolton, George W. Bush's last chief of staff–usually prove more adept at the job, though there's no guarantee there, either. In the meantime, don't expect to see Rouse on Meet the Press. He'll be home watching his colleagues on TV.