Altercation Between Michael Brown and Darren Wilson Unfolded in 90 Seconds: Report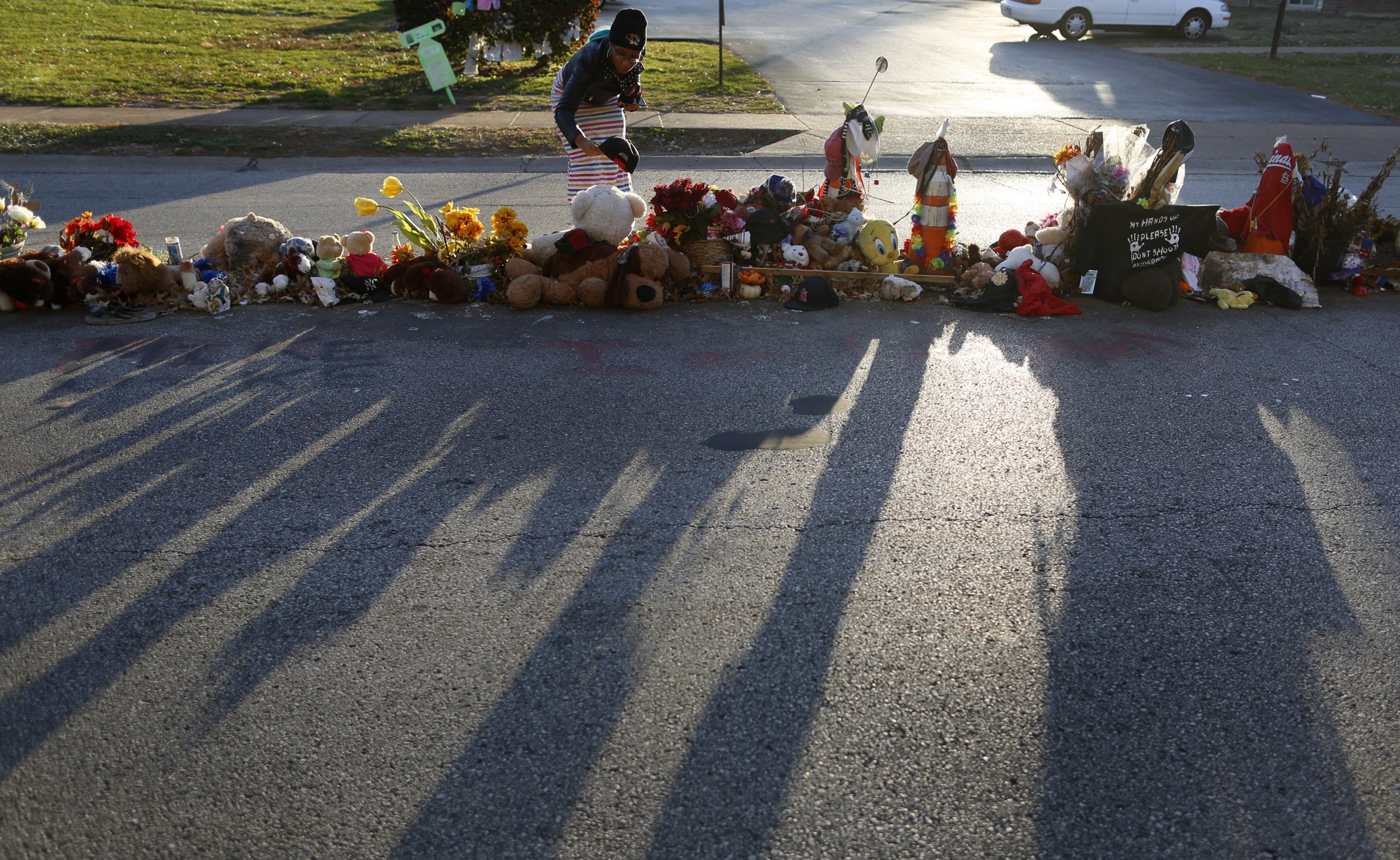 The St. Louis Post-Dispatch published a report Friday detailing the timeline of events leading to the shooting death of unarmed black teenager Michael Brown by a police officer in Ferguson, Missouri. The paper's analysis of police reports, radio calls, interviews and EMS records found that the altercation between Brown and Officer Darren Wilson unfolded in less than one minute and 30 seconds.
Just before his encounter with Brown, Wilson had reportedly responded to a call for assistance with a 2-month-old child who had been having trouble breathing. Less than 10 minutes later, at 11:53 a.m., a dispatcher called in a theft in progress at the nearby Ferguson Market. The dispatcher described the suspect, who had stolen a box of Swisher cigars, as a black male wearing a white t-shirt, a Cardinals baseball cap, khaki shorts and yellow socks. He was running toward the QuikTrip, a convenience store, and was accompanied by another man, according to the dispatcher.
At this point, Wilson is still handling the call about the sick child, but asks if officers looking into the theft need him. An unidentified officer says over the radio that the suspects in the theft have disappeared and at 12:02 p.m. Wilson says, "21. Put me on Canfield with two. And send me another car." At least two additional officers respond that they are also headed to the scene of the theft.
Brown and his friend, Dorian Johnson, were walking down the middle of Canfield Drive. According to unnamed sources, Wilson told authorities that he had addressed the pair and told them to get out of the middle of the street. They ignored him and continued walking. Wilson then realized that Brown matched the description of the suspect in the cigar theft. He called in for backup and parked his car, a Chevy Tahoe SUV, next to the two teens.
Wilson claims that he and Brown tussled over his gun before he wrangled the weapon and shot at Brown twice. One of the bullets hit Brown, who then ran away from Wilson. Wilson then requested for the department to "send all cars" after shots had been fired, but the Post-Dispatch could not find that call.
What happened next is unclear, due to the many conflicting witness reports. Some witnesses claim that Brown surrendered, thrust his hands in the air, and told the officer not to shoot. Johnson, Brown's friend, said that that Wilson had clutched Brown by the throat and attempted to pull him into the police vehicle. Wilson says that Brown turned around and lunged for his gun, which prompted him to fire once and then multiple times.
Wilson then called in for an ambulance. Reports show that another officer arrived on the scene about a minute after the shooting. A tweet from an eyewitness places Brown's shooting at about 12:03 p.m. From the Dispatch: "If [the eyewitness's] smartphone's clock, or Twitter's, agreed with the clock on dispatch records, Brown was killed less than 61 seconds after the dispatcher acknowledged that Wilson had stopped two men."
At 12:07 p.m., another officer requested several more units to the scene. "There's gonna be a problem," he said. A woman is heard crying in the background.
Brown's death sparked months of protests in Ferguson and across Missouri, which highlighted and exacerbated racial tension between town residents and local law enforcement. The FBI is investigating Brown's shooting and will determine if it abused federal civil rights laws. Meanwhile, the state criminal investigation is being handled by the St. Louis County Police Department.
A grand jury is currently deciding whether or not Wilson will be indicted for shooting Brown; a decision is expected by the end of November. On Friday, St. Louis County police chief Tom Jackson told Yahoo News that if Officer Wilson not indicted, he will "immediately" return to active duty.