Everything You Need to Know to Watch 'Altered Carbon' Season 2 on Netflix
Takashi Kovacs may have a new sleeve, i.e., human body, when Altered Carbon returns, but many of the mercenary's same old problems will persist in Season 2 of Netflix's dystopian series, based on Richard K. Morgan's futuristic book series.
The last time viewers saw the violent and trigger-happy investigator Kovacs, he was preparing to leave his home planet to search for Quellcrist Falconer, the former renegade leader of the Envoys and the love of his life. Season 2 picks up 30 years later with Kovacs still on his mission to find Quell, but his task will bring him back to where he started: at home on Harlan's World—a planet where people can achieve immortality if they have the money for it.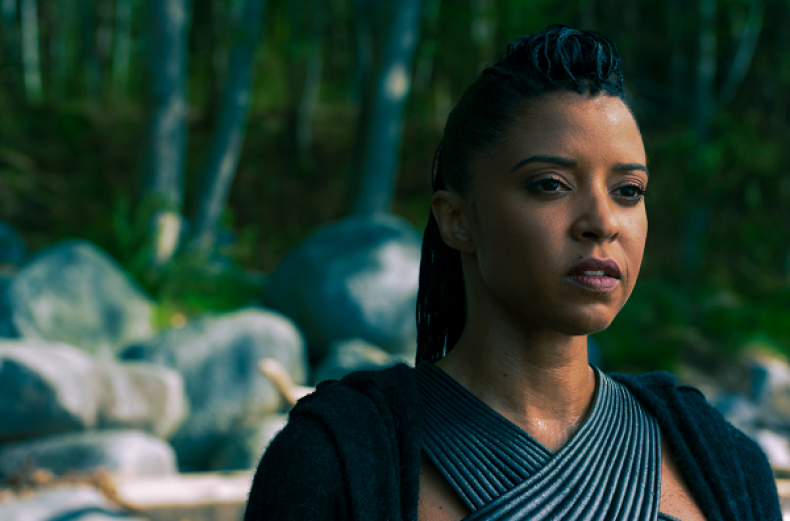 The good folks of Harlan's World are still transferring their conscious—or rather "stacks" as it's referred to on Altered Carbon—into sleeves. But the planet is on the verge of warfare as the government clashes with a group of domestic terrorists (or revolutionaries depending on whether or not you believe humans should live forever). In the midst of all this political upheaval, the founders of Harlan's World are being mysteriously executed, thus leading one insanely rich and terrified man to seek the protection of Kovacs, aka "The Last Envoy."
Naturally, Kovacs won't be interested in interrupting his own pursuits to help the man, but the lure of information on Quell's whereabouts and an upgraded sleeve is enough to convince him.
When he wakes up in his new body, played by Anthony Mackie, Kovacs soon learns that his new mission and his quest to find Quell are more connected than he could have imagined. And it will lead him down a path that won't just cause him to question his own past, but also the history of the world in which he was born.
"The goal of Altered Carbon every season is to serve a new mystery and a new sleeve and a new planet. We were interested in exploring a more personal side of Kovacs in season two," showrunner Alison Schapker said of the series in an interview with The Hollywood Reporter on Wednesday. "The fact that Quellcrist Falconer was part of the equation meant the mystery would be more personal, and by going to Harlan's World, the planet is more personal, too. We saw it as turning inward and a deepening of our understanding of Takeshi Kovacs—who he is, and what's his history. What's his past, and how does that illuminate the present and the future?"
Mackie, who replaced Joel Kinnaman as Kovacs, isn't the only new sleeve to be introduced in Season 2. Simone Missick, Lela Loren and Torben Liebrecht will appear as Kovacs new immortal allies and enemies, while Dina Shihabi plays a new artificial intelligence in human form and friend of Kovac's trusty sidekick Po, reprised by Chris Conner. Renée Elise Goldsberry will also continue her role as Quell.
Altered Carbon's eight-episode Season 2 releases on Netflix on Friday at 3 a.m. ET.
Everything You Need to Know to Watch 'Altered Carbon' Season 2 on Netflix | Culture