Altice, Expanding in U.S., to Buy Cablevision in $17.7 Billion Deal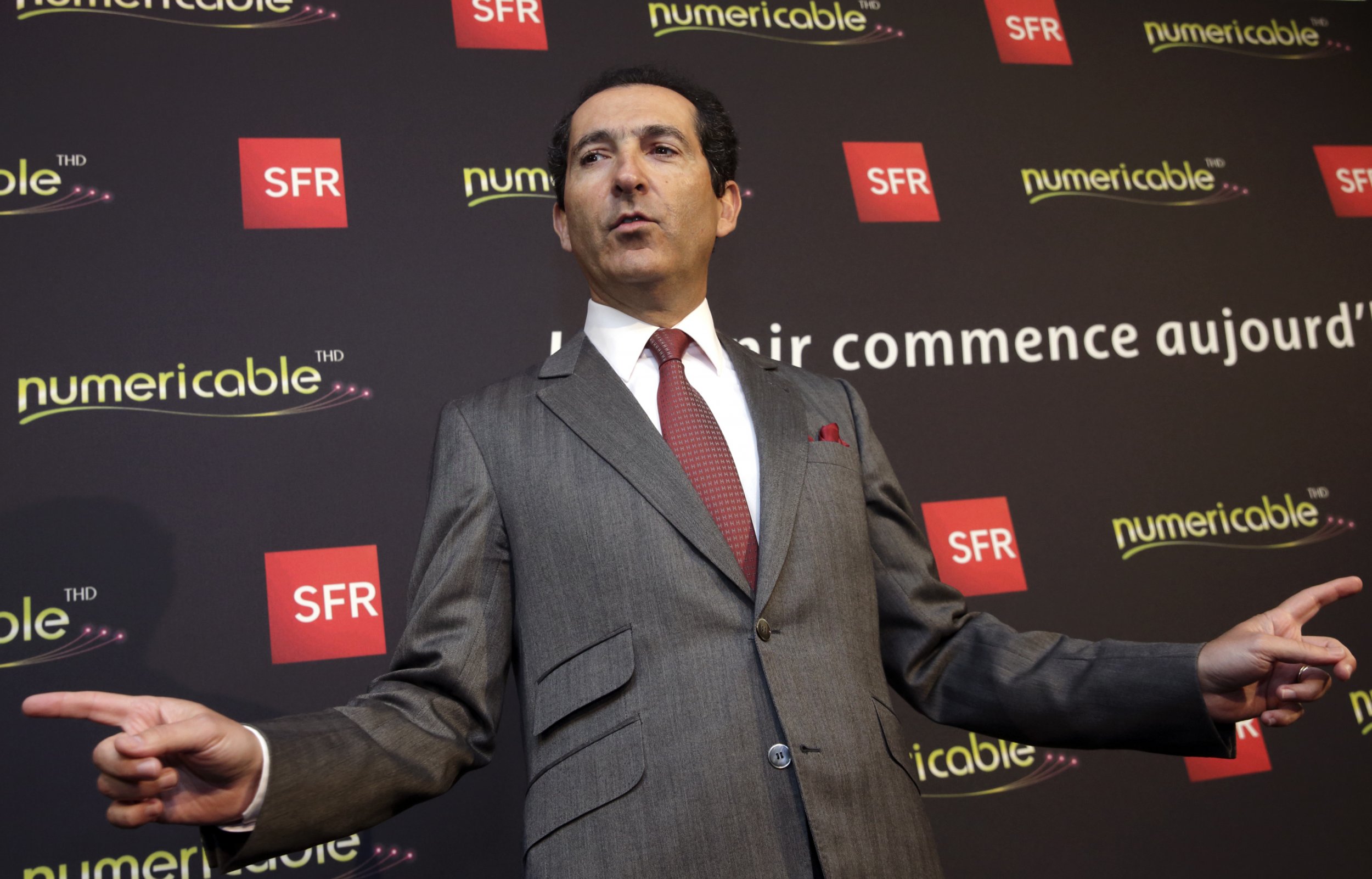 PARIS (Reuters) - European telecoms group Altice will become a major force in the lucrative U.S. cable market after it agreed to buy fourth-largest operator Cablevision for a mix of cash and shares in a deal worth $17.7 billion including debt.
The move is the latest foray by French-Israeli billionaire and Altice founder Patrick Drahi, who built a telecoms and cable empire in recent years via debt-fueled acquisitions in France, Portugal and Israel.
Drahi entered the United States in May by buying small regional cable group Suddenlink for $9.1 billion and had declared he would do more acquisitions so as eventually to earn half of Altice's revenue there.
In talks that began in June, Drahi managed to convince Charles Dolan, the patriarch of the Irish-American family that owns Cablevision, to part with the asset it had long said it would not sell.
Altice will pay $34.90 in cash per share, a 22 percent premium to Wednesday's closing price of $28.54, giving Cablevision an equity value of $10 billion.
To finance the deal, Altice will raise $8.6 billion in new debt mostly at Cablevision and none at its European holding, which is already highly leveraged. It will also raise $3.3 billion in equity, 70 percent by issuing shares at Altice and 30 percent from private equity fund BC Partners and Canadian investment fund CPP Investment Board, backers of Suddenlink.
Altice, whose corporate headquarters are in the Netherlands, said it would issue Class A shares, which have fewer voting rights than the B shares held largely by Drahi. Altice created the dual-class structure in June so as to allow it to do more deals in shares without Drahi losing control.
"This deal takes us into the most affluent part of the United States and will be a good basis for further expansion," said Altice Chief Executive Dexter Goei on a conference call.
"We think there are significant ways to improve profitability by pooling purchasing and other costs between Cablevision and Suddenlink."
Altice is expected to apply its cost-cutting zeal to generate $900 million in synergies a year at Cablevision, which has 3.1 million customers in New York, Connecticut and New Jersey.
But Altice will have to deal with fast-changing competition as consolidation picks up among U.S. cable groups seeking to cope with subscriber and advertising losses as some people abandon costly cable bundles for video streaming services such as Netflix.
It must also contend with Verizon Communications, which has been investing heavily in high-speed fiber broadband and covers just over half of Cablevision's footprint.
Goei said the goal was to improve Cablevision's margins to the "low 40s range" compared with current level of 28 percent that lags the sector average of 35 percent.
Allan Nichols, analyst at investment research firm Morningstar, said he was "somewhat skeptical" that Altice could deliver on the savings since content costs were higher in the United States than in Europe, where Altice's other businesses are located.
"That said, Altice has an impressive record of cost reduction, and we expect it will be much more aggressive than the Dolan family in cutting expenses, including reducing employee count," he wrote in a note.
Shares in Altice were up 0.4 percent at 24.44 euros by 1251 GMT after gaining nearly 13 percent at the open.
Investors who back Drahi's acquisition spree have made Altice the best-performing telecom stock in Europe this year, up more than 50 percent before Thursday's deal, compared with an 8.4 percent rise in the sector index.
Altice, which has also been snapping up television and radio targets in Europe in recent months, will also become the owner of the Newsday newspaper and local news channel News 12 Networks as part of the deal.
Goei said the company would not interfere in the editorial side of the loss-making media businesses but would aim to run them more efficiently. He ruled out divesting the units.
Cablevision CEO James Dolan said in a statement the time was right for new ownership and he and his family "believe that Patrick Drahi and Altice will be truly worthy successors."
The Dolans will continue to own media and sports assets through AMC Networks and The Madison Square Garden Company—owner of the New York Rangers and New York Knicks—which are not part of the deal.
JP Morgan, BNP Paribas and Barclays have committed to finance the deal and also advised Altice on it. Cablevision was advised by Bank of America Merrill Lynch, Guggenheim Securities and PJT Partners.