Alumni Rally to Rehire Teacher Who Compared Football Team Name to 'N Word'
A longtime history teacher at an Illinois high school was recently fired for using the N-word in class in comparison to the former name of an NFL football team. Now, school alumni and Mary DeVoto's family are rallying around her in a bid to have her position at Mother McAuley High School reinstated.
A petition on Change.org calling for the school to reconsider her firing, created by DeVoto's daughter and directed at school alumni, had accumulated more than 3,250 signatures by the time of this publication.
DeVoto's firing came just before the kickoff of Black History Month, and as several issues regarding race and sports have been pushed to the forefront. Former Miami Dolphins Brian Flores, for example, sued the NFL and three teams for racial discrimination this week.
DeVoto, who has taught for 41 years, said that she used the slur during a class conversation about why some sports teams had opted to change their names. She said the term while explaining why calling a Native American a "redskin," the former name of the newly-dubbed Washington Commanders, was as bad as using the N-word, according to the petition.
But instead of alluding to the term, DeVoto used it in full. She said that she instantly knew that what she had said was not okay, WGN reported.
"I don't know how it came out of my mouth," she said.
The lesson was recorded by a student who frequently takes videos of lectures in order to look back on them, and the recording was subsequently shared on social media and with other students, WGN reported.
The petition said that DeVoto met with the school's principal, Eileen O'Reilly, before she knew that the video was being shared on social media and apologized. She was suspended and left campus.
The school spoke with students in the class last Friday, and then held another meeting with DeVoto on Monday where she again apologized, according to the petition.
"She was called one hour later and fired," the petition said.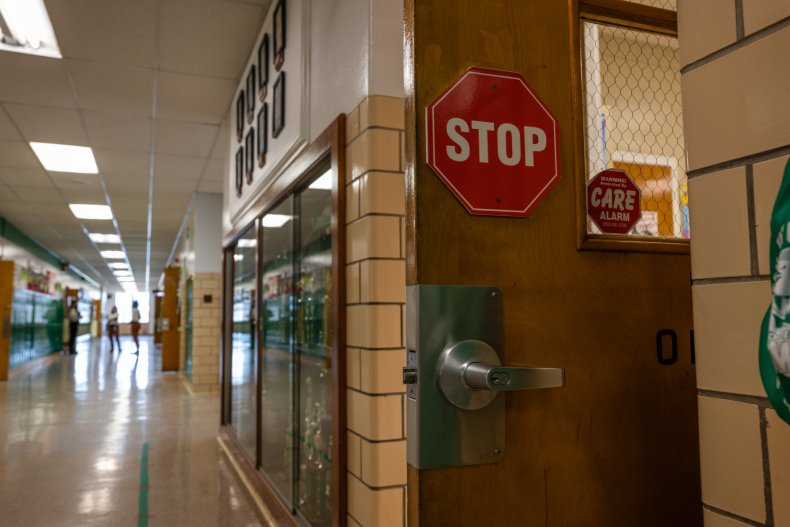 The petition described her as a "wonderful teacher, person, and asset to her community" and asked for school alumni to sign so that the school may reconsider her firing.
"Mary DeVoto has taught and nurtured thousands of students over her 41 years. She has never been accused of racism. Whenever I meet someone who was taught by my mom I hear: 'she was the best teacher I ever had' or 'I learned the most in one semester for Mrs. DeVoto/Rahman than in all of grade school,'" the petition read.
Several alumni and others commented on the petition and decried the school's decision to fire her.
"As a class of '08 alum (and continual donor), this makes me wonder if donating that money is truly worth it if McAuley is not going to adhere to its core values and treat EVERYONE with due respect, especially and including its longtime teachers," read one comment from a user under the name Mary Glennon.
The school has not indicated that it is considering reversing its decision.
"As an educational institution, we recognize mistakes happen to each one of us, and we make every effort, regardless of the popularity of such decisions, to embrace the opportunity to learn from such teachable moments. To embrace mistakes means we must learn not to repeat such behaviors, to demonstrate clear remorse and to be able to rebuild trust that has been lost," a statement from the school read, as reported by WGN.
Newsweek has reached out to the school's principal for comment.