Newsweek
Alvaro Palacios, COO & CFO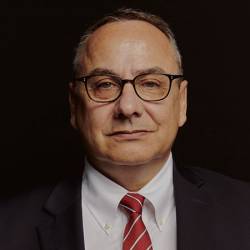 Alvaro Palacios is the Chief Operating Officer and Chief Financial Officer of Newsweek and has a strong background in strategy, business development, finance, sales, and marketing.
Palacios has a proven ability to improve global operations, impact business growth, and maximize stakeholder value. Palacios joined Newsweek Media Group from Televisa Publishing + Digital where he served as Head of US Operations. Palacios previously held operations, finance, and business development positions at companies including DLA, Inc., PRISA, Terra Networks USA and Latin America, Telefonica B2B, and PricewaterhouseCoopers.
Palacios is a graduate of Universidad de la Republica Oriental del Uruguay, holds an MBA from Universidad ORT Uruguay, and has completed Strategy and Finance courses at Harvard and Stanford.