Fox News Contributor Claims 'If You're Pro-Life You Can't Be Racist'
Fox News contributor and Civil Rights for the Unborn Director Alveda King responded to New York Democratic Senator Kirsten Gillibrand's suggestion this week that opposition to abortion is similar to racism.
King, who is the niece of iconic civil rights activist Dr. Martin Luther King Jr., appeared on Fox & Friends Wednesday to react to 2020 candidate Gillibrand's comments about abortion and racism in an interview with the Des Moines Register newspaper. King rebuked Gillibrand's pro-choice advocacy and said "abortion is a civil wrong."
King made the claim that anyone who is pro-life "can't be racist," according to her definitions of both words.
"I have been listening to Senator Gillibrand's remarks and as a director of Civil Rights for the Unborn I need for her to understand that abortion is a civil wrong," King told Fox & Friends co-host Ainsley Earhardt Wednesday morning.
"And of course if you're pro-life you can't be racist because you're defending life for the most defenseless population on the planet—the little babies in the womb," King continued. "Where's the lawyer for the baby? Sure, a woman has a right to choose what she does with her body but the baby is not her body."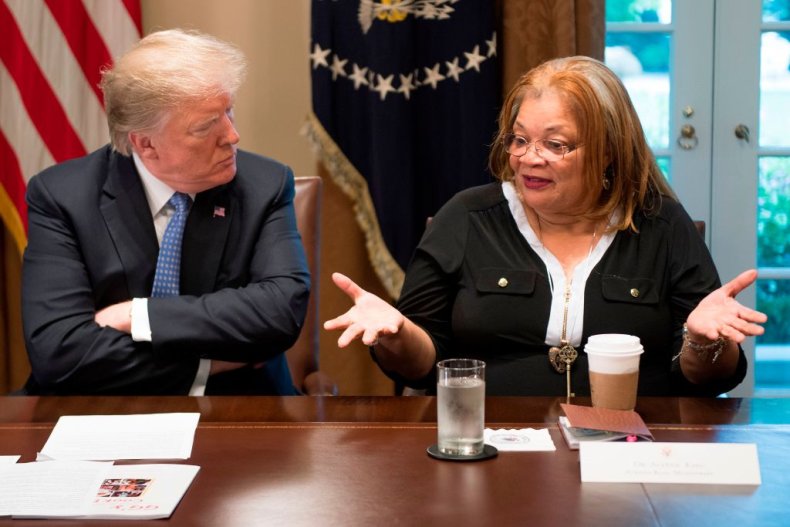 In a discussion about judicial independence and morality earlier this week, Gillibrand told the Des Moines Register, "There is no moral equivalency when you come to racism... and I do not believe there is a moral equivalency when it comes to changing laws that deny women reproductive freedom."
"I think there's some issues that have such moral clarity that we have as a society decided that the other side is not acceptable," Gillibrand continued.
"Imagine saying that it's okay to appoint a judge who's racist or anti-Semitic or homophobic. Telling—asking someone to appoint someone who takes away basic human rights of any group of people in America, I don't think that those are political issues anymore," she said.
Back on Fox & Friends, King claimed that the "definition" of civil rights is tied to being pro-life.
"Where is the lawyer? Where is the voice? Where is the advocate for that little baby? That is the pro-life message. We're fighting for human life from the womb to the tomb. And that is the definition of civil rights."
Several high-profile conservative Republicans also responded to Gillibrand's comments Tuesday evening.
"This can't be a real statement. That belief all unborn children have a right to live is 'unacceptable' & is the equivalent of racism & anti-semitism? I wonder how many of the other Democratic candidates agree? I am sure media will ask them right?" asked Republican Senator Marco Rubio.
Several right-wing publications immediately said Gillibrand equated being pro-life to being homophobic, anti-semitic and racist.
"How clueless is Kirsten Gillibrand making the case for unrestricted abortion on the basis of *human rights*?" asked National Review editor Rich Lowry.