"Always Be My Maybe" Strolls Through the Door "Crazy Rich Asians" Opened | Opinion
Romantic comedies are not my first choice when I take a break from the art house films, festival favorites, archival treasures, Asian genre films and indie documentaries I watch for teaching and research. Once in a while, however, I see a rom-com that's different, the hot topic of the moment. This time, it's Always Be My Maybe.
It's hard not to compare the new Netflix release to Crazy Rich Asians, the phenomenal box-office success of 2018. Always Be My Maybe may not be lavish entertainment like Crazy Rich Asians, but it's as invested in renovating the rom-com genre using Asian American faces and forces. Only minutes into the film, it was clear this modest rom-com offers a more reflexive, nuanced take on the Asian American experience.
I saw Crazy Rich Asians last summer with my American-born son (who increasingly self-identifies as "Asian," despite his multicultural origins), in a packed AMC theater in New York City. We went for the comedy, as well as the sense of ethnic pride and solidarity with the biggest Asian American breakthrough in Hollywood history. The film's statistics are now the stuff of legend—the most Asian American cast and crew ever, the highest-grossing rom-com in a decade and so on.
While we enjoyed the movie's alternately over-the-top comedy and subtler moments of cultural frictions among different kinds of "crazy Asians," the crowd's near-hysterical laughter or screams at wealth-porn scenes and old stereotypes, rendered fresh through its contemporary Cinderella tale in the age of a rising Asia (read: China), made me wonder if rewriting history requires this kind of self-Orientalizing strategy. It gently satirizes but actually solidifies a certain type of East Asian family and state values underwritten by a carefully arranged marriage between Confucianism and capitalism.
Barely a year later, Always Be My Maybe is timely proof that Crazy Rich Asians did allow for greater Asian American presence and influence in Hollywood, as well as more complex Asian-themed stories. But it also steps away from the oversize Crazy Rich Asians, which took Asianness and Asian Americanness a bit too sweepingly and far, including geographically (most of the film is set in Singapore's high society).
Always Be My Maybe is a locally grown Asian American story that ridicules everything profit- and pretense-oriented while sticking to many rom-com structural standards. The indispensable boy-meets-girl part occurs in San Francisco, a city rich in multifaceted Asian-American legacy and community, where Sasha (Ali Wong) and Marcus (Randall Park) are childhood neighbors. Their reunion later in life follows the rom-com cliché of ending up with your best friend, but its foundation lies in fond memories of childhood friendship and homemade kimchi stew, between two Korean American and Vietnamese American families.
The complicating factors of class and social mobility, while also central to Crazy Rich Asians, are given a more modern spin here. After Sasha and Marcus grow up as fellow working-class immigrant children, Sasha becomes a celebrity chef while Marcus stays behind, in his comfort zone, working for his father's air conditioning company. Her homecoming creates an opportunity for soul-searching for both, and when Marcus criticizes the "elevated," over-priced Asian-fusion food catering to "white rich people" in vogue and served at Sasha's restaurants, I couldn't agree more (having tried a few steamed thinly filled dumplings in thin triangle wraps in a gentrified part of Chinatown recently). It's one of the many moments when the movie fuses poignant cultural commentary with pungent comedy.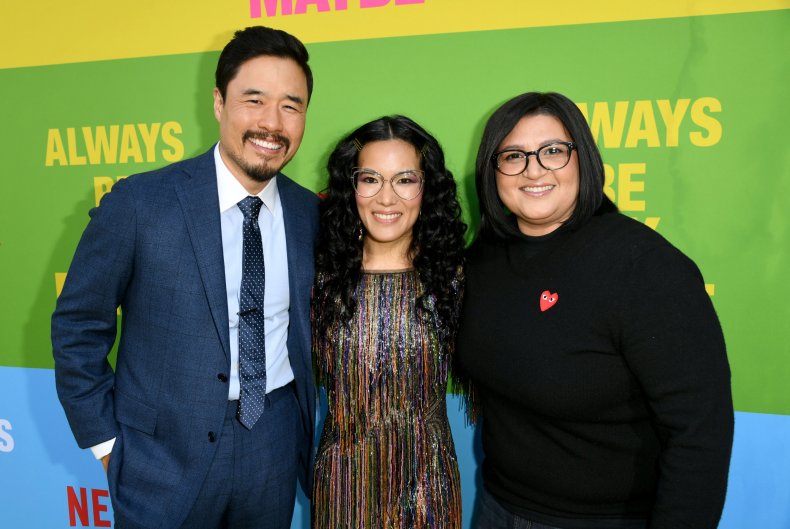 Always Be My Maybe does not wear the buzzword "Asian" on its sleeve but is nevertheless inclusive of its varied inflections and manifestations. While Crazy Rich Asians went out of its way to highlight (mostly rich) people of Chinese origins, the Chinese language (Mandarin mostly) and culture, Always Be My Maybe seems to distance itself from a generalized "Chineseness" or "Asianness" and reflects the diversity of the Asian American experience in much cozier, more everyday setting. It's a self-assured step through the door Crazy Rich Asians opened.
Zhen Zhang is an associate professor and founding director of the Asian Film and Media Initiative at New York University's Tisch School of the Arts.
The views expressed in this article are the writer's own.