As we stroll down the fittingly named Desire Street, Alynda Lee Segarra is raving about her love for John Lennon and Yoko Ono. "Seeing them separate and come together and constantly try to evolve as people and be very human, and fuck up and be crazy, that's part of what I love about them so much," Segarra explains, eyes bright, as we walk this famous street's residential stretch in the Bywater, the trendy New Orleans neighborhood she calls home. "He was willing to say, 'I'm a man who's been wrong, who's learned that I've lived my life in a very misogynist way, and now I'm trying to learn from this woman that I love and respect so much.' He spread this very feminist message."
Conflicted characters and their uneasy evolutions are a continuing source of curiosity for Segarra and often the subjects of the roots music she makes with her band Hurray for the Riff Raff. (On "Ode to John and Yoko," on the group's 2012 album Look Out Mama, she warbles, "Is there anybody out who understands / Love could make a change in man?" over twangy psychedelic pop.) She feels a camaraderie with itinerant souls, in part because she was one herself, a runaway teen searching for a sense of community.
The past few months have been important for Hurray for the Riff Raff, which is composed of singer-guitarist Segarra, fiddle player and drummer Yosi Perlstein and a revolving crew of Big Easy musicians. Their fifth album, Small Town Heroes, released in February, drew praise from Rolling Stone, The Guardian, NPR and Pitchfork, and was followed by a headlining countrywide tour that included the band's television debut on Conan. The mainstream attention is surprising given the niche nature of the record: It's a perceptive study of traditional American music, from folk to country and doo-wop, schooled in those genres' techniques yet quick to defy their conventions. From questioning the chauvinism of country's omnipresent murder ballads ("The Body Electric") to upending expected gender roles in snug, finger-picked roots numbers ("Small Town Heroes"), Segarra gives a jolt to musical forms often considered antiquated by her generation.
"I don't want Google Glass or anything, but I feel like so much of what I believe in is very modern," Segarra explains with a chuckle. "When I hang out amongst musicians that are really trying to live like they're in the past, politically I get very uncomfortable." Petite and heavily tattooed (from Lennon's round spectacles on her arm to "Song Bird," The Night of the Hunter-style, on her knuckles), she sports this afternoon a vaguely pinup-ish bustier, embroidered moccasins and earrings with Frida Kahlo's visage.
This week in early May, Segarra and her bandmates have returned home but are not able to relax yet. Fresh off their American tour, Hurray is performing three significantly different shows in two days: the first a casual, late-night show at the French Quarter club One Eyed Jack's; the second, a high-profile afternoon set at the New Orleans Jazz and Heritage Festival; the last a cozy evening at a rustic Presbyterian church uptown. "It just feels so good to come back from something as intensely nerve-racking as the tour and Conan and be like, 'OK, we're with our people now,'" Segarra says. "I feel there are so many people rooting for us here."
It takes a special place to quell the wanderlust Segarra felt in her teenage years, and New Orleans clearly qualifies. She grew up in the projects of the Bronx in New York with her Puerto Rican family, fleeing often to Manhattan's East Village to commune with the vagrant punks, but soon she found the city and its disconnect from nature "suffocating."
"I remember when I saw stars for the first time. I was about 16," Segarra recalls. At the age of 17, she ran away and began hopping freight trains across the country, falling in and out of packs of wayward young travelers. "I was able to find all these great street musicians and fall into this community that really supported me. And I was really looking for family," she says.
Segarra settled in New Orleans at 19, learned the banjo and started forming bands. Inspired by such blues-folk troubadours as Townes Van Zandt and Gillian Welch, and such emotive singers as Lennon and Billie Holiday, she busked on the streets and released Hurray's earthy first album, It Don't Mean I Don't Love You, in 2008. "New Orleans really opened itself up to me," Segarra says.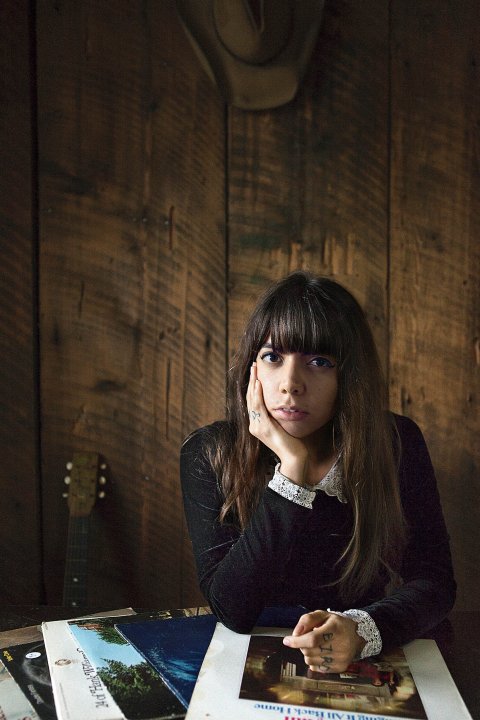 'Put My Body in the River'
Whereas Hurray's show at One Eyed Jack's the previous night was crisp and focused—Segarra and Perlstein offered a no-nonsense spin through Small Town Heroes—its set at Jazz Fest has a looser spirit. Hurray plays on the second-largest stage for a largely sunburned, more middle-aged audience scarfing softshell po'boys and crawfish étoufée. Attendees wave pinwheels, flags and other handmade totems—including, toward the front, what appears to be a plastic T-bone steak dangling from a fishing pole.
Sound problems plague the band—the monitors offer faulty playback—but the show is solid, skewed toward the band's more broadly appealing songs. Sam Doores of the Deslondes sits in on guitar and harmonica, leading a burst of sprightly, stomping body percussion on the Look Out Mama standout "Little Black Star."
The crowd is hushed for the show's centerpiece: Segarra's smoky, mournful spin through "The Body Electric":
Said you're gonna shoot me down, put my body in the river
Shoot me down, put my body in the river
While the whole world sings, sing it like a song
The whole world sings like there's nothing going wrong
He shot her down, he put her body in the river
He covered her up, but I went to get her
And I said, "My girl, what happened to you now?"
I said, "My girl, we gotta stop it somehow"
Those mixed pronouns and quick gender flips are the linchpins of Hurray for the Riff Raff's appeal. In New Orleans, Hurray is considered not just tentpole artists of the local indie-rock and folk scenes but champions of the LGBT community. Segarra identifies as queer and Perlstein as transgender. "I feel like that community took us in, first and foremost, and they really supported me. It's just always been a part of what me and Yosi try to infuse into our songs," says Segarra. "I like to try to play around with gender roles in my songs, with the different ways that someone can love someone regardless of their gender. Sometimes I'll have a love song where I like to sing to a female character and a male character.
"I feel like people get really caught up in that with me; my identifying as queer becomes saying that I'm gay, which is not true," she added. "It's all about this idea of sexuality being a spectrum and just talking about the different ways you can be attracted to someone and love someone. It reminds me of that Bikini Kill song 'Rebel Girl,' where [they're singing], 'I want to take you home / I want to try on your clothes.'"
The final show of Hurray's hometown spree, amid the ornate stained-glass windows and carved wooden pews of the First Presbyterian Church uptown, is its most relaxed. Segarra jokes self-effacingly about the band's lack of a set list and dances around the tiny stage. Despite the venue's strict 10 p.m. sound curfew, it is 11 when Hurray closes with a lovely cover of the Ronettes's "Be My Baby," the audience singing along with hymnal reverence.
Backstage, Perlstein is pensive about Hurray's rise. "A few years ago, me and Alynda played at a coffee shop across the street from the Independent in San Francisco. We were like, 'That's the kind of venue we would never play,'" he marvels. "Then we played there on this tour and sold it out."
Hurray for the Riff Raff toured England in late May and has performed at American festivals through the summer—including the Newport Folk Festival and Central Park's Summerstage in New York City—and returned to television with an appearance onLate Show With David Letterman in June. Segarra says she'll use her scant time off this year to visit her family: "They're really excited. I'm sure everybody was really worried about me for a while, when I was traveling. They were thinking, What the hell is Alynda doing? Now it's making sense to them."