Alyssa McGrath, an aide to Democratic New York Governor Andrew Cuomo, has alleged sexual harassment from the governor, becoming the ninth woman to accuse Cuomo in recent weeks.
McGrath, 33, made the allegations in a report published by The New York Times on Friday. McGrath said that Cuomo made a series of suggestive comments and remarks about her appearance, including opining on her beauty in Italian and describing her and another aide as "mingle mamas."
"He has a way of making you feel very comfortable around him, almost like you're his friend," McGrath told The Times. "But then you walk away from the encounter or conversation, in your head going, 'I can't believe I just had that interaction with the governor of New York.'"
McGrath is the first accuser to publicly come forward while remaining employed by Cuomo. She is the eighth named accuser, with one other complaint against the governor coming from an anonymous aide who alleged that Cuomo groped her breast in a report published by The Times Union earlier this month.
In Friday's report, McGrath said that she regularly communicates with the anonymous accuser. The anonymous aide allegedly described her encounter with Cuomo to McGrath in detail against the wishes of the governor, who "specifically" asked that the two women did not discuss the incident.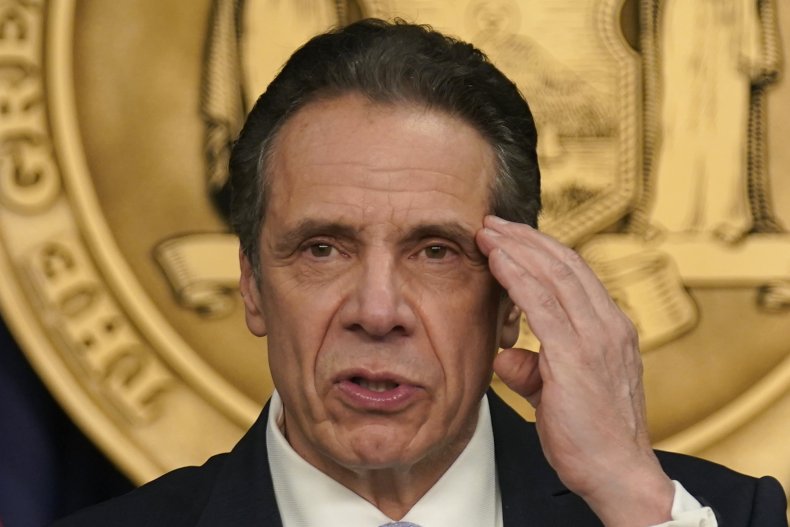 Cuomo lawyer Rita Glavin told the paper that none of the governor's behavior "is remarkable, although it may be old-fashioned." Glavin insisted that although Cuomo "has greeted men and women with hugs and a kiss on the cheek, forehead, or hand," poses for photos with his arm around people and "uses Italian phrases like 'ciao bella,'" he has not ever made "inappropriate advances or inappropriately touched anyone."
Prior to the emergence of the sexual harassment allegations, Cuomo had already been under increasing pressure due to criticism of his handling of nursing homes amid the COVID-19 pandemic. As harassment allegations have multiplied, Cuomo has continued to deny that he did anything improper and is refusing mounting bipartisan calls for him to step down. He said last week that those demanding his resignation were "bowing to cancel culture."
McGrath told The Times that she was surprised and upset while watching the governor's March 3 news conference, when Cuomo publicly addressed the allegations and denied that he had ever "touched anyone inappropriately."
"It makes me really upset to hear him speak about this and completely deny all allegations," McGrath said. "And I have no doubt in my mind that all of these accusers are telling the truth."
Newsweek reached out to Cuomo's office for comment.