Alyssa Milano Calls for 'Sex Strike' to Protest Georgia Abortion Bill, Sparks #Lysistrata2019 Tag on Twitter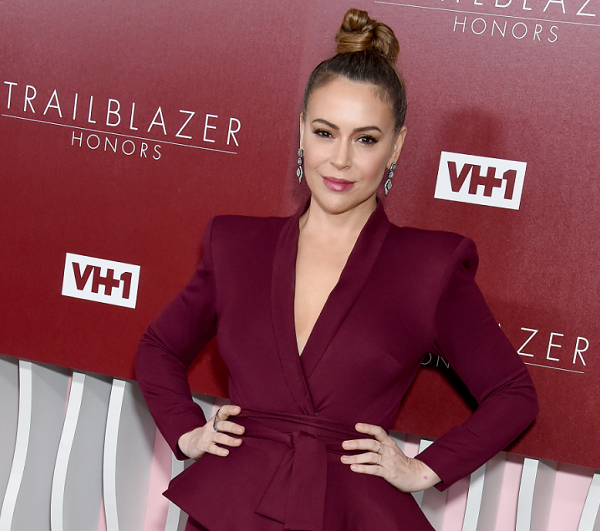 Actress Alyssa Milano, in response to new pieces of legislation intended to make abortions more difficult — if not impossible — to obtain, invoked a protest method with roots in ancient Greece: a "Sex Strike."
"Our reproductive rights are being erased," Tweeted Milano late Friday night to her nearly 3.6 million followers on the social media platform. "Until women have legal control over our own bodies we just cannot risk pregnancy. JOIN ME by not having sex until we get bodily autonomy back. I'm calling for a #SexStrike. Pass it on."
Bette Midler on Saturday expressed a similar sentiment, calling on the women of Georgia, which just passed a bill to severely restrict abortion access, to "stop having sex with men until these indignities are overturned."
By Saturday morning, the #SexStrike hashtag was a top trending item on Twitter, though reaction to Milano's suggestion was divisive, with some supporting the notion wholeheartedly, while others outright mocked the idea.
Among the most frequent criticisms of the "Sex Strike" concept was that abstinence is a cornerstone tenet of many anti-abortion movements.
Another critique of Milano's suggestion was that it implies that witholding sex would only be punitive to men, and not to women.
Twitter user @emrazz called on Milano to "Please stop feeding the narrative that women are providers and men are consumers of sex. Bribing men for equal rights with access to our bodies is not how feminism works."
Many followers quickly noted that the concept of women banning together to effect change by witholding sex is far from novel. Most famously, it was dramatized nearly 2500 years ago in the play Lysistrata by Aristophanes.
In that comedy — set during the Peloponnesian War between factions led by Athens and Sparta — an Athenian woman name Lysistrata convinces others to withold intimacy from their male partners in order to force an end to the prolonged fighting.
It's a story that's been adapted and restaged countless times, most recently in 2015, when director Spike Lee moved the action from ancient Greece to modern-day Chicago for his musical Chi-Raq.
As of Saturday morning, the #Lysistrata2019 tag had begun to pick up steam on Twitter, with many of these users deploying it to show support for the sex strike idea.
Milano's tweet comes in the wake of actress Evan Rachel Wood making a more extreme suggestion: Mandatory vasectomies for males.
"Mandatory vasectomies until you want to have children," the Westworld star tweeted this week. "They can be reversed, so. Come on guys, Let's save lives! What's that? A hard no? Why? Cause its' your body and we don't get to make that choice for you? Ooooooohhhhhh!!!"
The main catalyst for these tweets is a recently passed bill in Georgia that seeks to severely restrict access to abortions.
On Tuesday, Georgia Governor Brian Kemp signed the Living Infants Fairness and Equality (LIFE) Act — also known as the "Fetal Heartbeat" bill. When it goes into effect in January 2020, it will ban women in the state from having an abortion once a fetal heartbeat is detected. Embryos typically develop a heartbeat within the first five to six weeks of conception, but many women aren't aware of their pregnancies until after that narrow window has elapsed.