Alyssa Milano Blasts Republicans and Democrats Following Mass Shootings: 'They All Suck'
Alyssa Milano condemned both Democrats and Republicans after dozens of people were killed in mass shootings over the weekend. The actor-turned-activist seemingly blamed both parties for America's lacking gun control in a tweet on Sunday.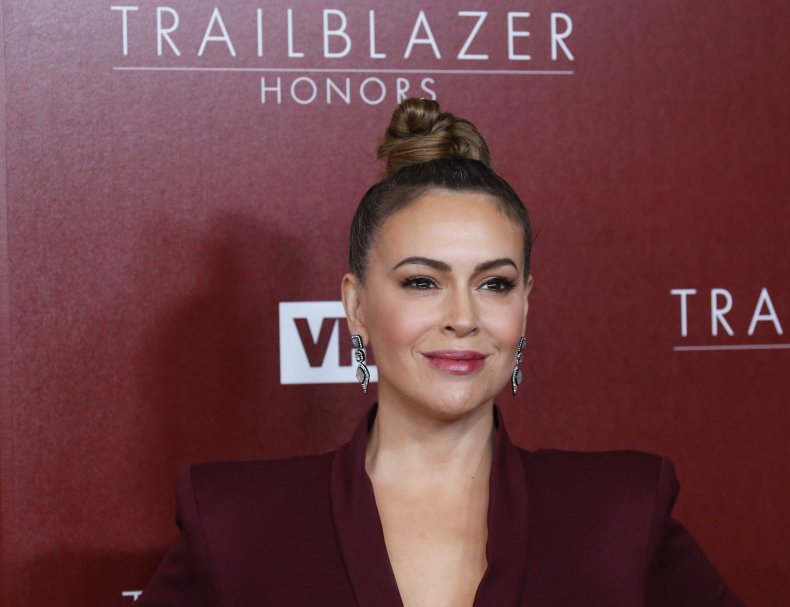 "Just spent the last hour reading tweets from our elected officials on both sides of the aisle. They all suck. I've had enough empty words from our leaders," Milano wrote. "There's a problem in this country. It won't go away on its own. We need to fix it. And we need to fix it now."
A number of political leaders called for change in messages of condolences shared on social media after two mass shootings occurred within 24 hours in Texas and Ohio. However, officials have failed to come together to establish concrete gun laws.
In El Paso, Texas, 20 people were killed and several others were injured after a man opened fire at a Walmart on Saturday. City law enforcement said the store was "at capacity" during the shooting and suspected at least 3,000 customers were shopping at the Walmart while another 100 employees were working.
Patrick Crusius, a 21-year-old man from Dallas, surrendered to authorities in El Paso and was charged with capital murder on Sunday. Shortly after his arrest, officials discovered an anti-immigrant memo and white supremacist rhetoric Crusius left on the anonymous message board 8chan.
Milano commented on the Texas shooting on Saturday, urging Walmart to discontinue the sale of firearms. The company stopped selling modern sporting rifles like the AR-15 and raised the age requirements to purchase a gun from 18 to 21 in 2018.
"Hey, @Walmart! This would be a great opportunity for you to take a true leadership position and stop selling guns," she wrote.
Hours later, nine people were killed while 27 others were injured after a man fired rounds of bullets in a bar and restaurant-filled area of Dayton, Ohio. The shooter, 24-year-old Connor Betts, was dressed in body armor and was carrying an assault weapon when he shot and killed several people hanging out in the Dayton neighborhood of Bellbrook in the early hours of Sunday. He was killed by law enforcement.
President Donald Trump also urged elected officials to beef up gun laws. Trump suggested lawmakers on both sides of the aisle to establish legislation that would require strong background checks for those purchasing firearms.
"We cannot let those killed in El Paso, Texas, and Dayton, Ohio, die in vain. Likewise for those so seriously wounded. We can never forget them, and those many who came before them," Trump wrote.
He continued: "Republicans and Democrats must come together and get strong background checks, perhaps marrying this legislation with desperately needed immigration reform. We must have something good, if not GREAT, come out of these two tragic events!"
Since 2019 began, there have been 225 reported and verified mass shootings in America, according to the Gun Violence Archive.