Alyssa Milano, Jim Gaffigan and Other Celebrities Condemn Donald Trump's White Supremacy Remarks
The first presidential election debate led to President Donald Trump being labeled a "white supremacist" for failing to condemn the Proud Boys in Cleveland, Ohio on Tuesday night.
Outspoken anti-Trump celebrities had a strong reaction to the remarks with Alyssa Milano labeling the incumbent a "f****** racist" while Jim Gaffigan called him a "racist pig."
Trump was asked if would condemn "white supremacists and militia groups" and pressed to do so by Fox News moderator Chris Wallace and Democratic presidential candidate Joe Biden.
The president asked: "Who would you like me to condemn?"
To which Biden said Proud Boys, a group labeled extremist and with "ties to white nationalism" by the FBI which has been involved in acts of violence amid protests and seen attacking BLM protesters in recent months.
Trump responded: "Proud Boys, stand back and stand by." He continued: "But I'll tell you what, somebody's gotta do something about antifa and the left. This is not a right-wing problem. This is a left-wing problem."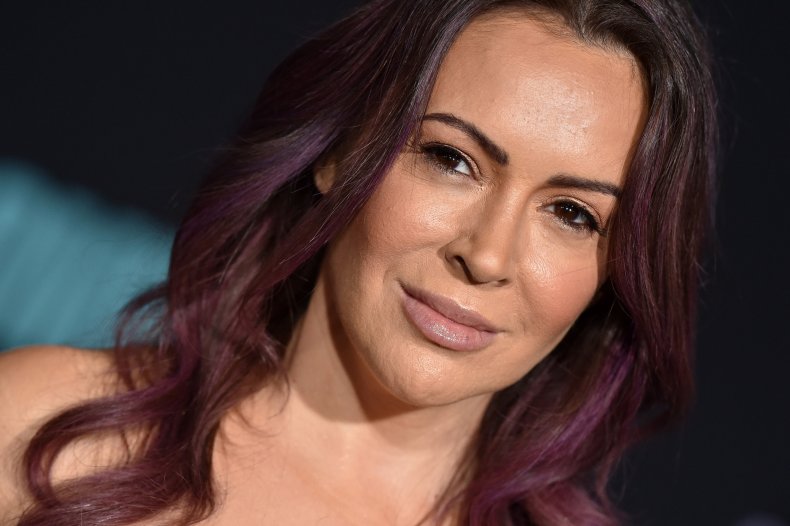 In response to this moment, Charmed actress Milano, who has been vocal in her opposition to Trump and the Republicans for some years, tweeted: "You either denounce white supremacy or you're a f****** racist."
Standup comedian Gaffigan said he was "so embarrassed" that Trump is the U.S. president, writing: "An interesting theory of why Trump doesn't denounce white supremacy is he a racist pig and nobody with any sense of decency should support or vote for him. #Debate2020 ##debates I'm so embarrassed he is the President."
Gaffigan, in recent weeks, has been particularly vocal about the upcoming election launching into a scathing tirade against the President.
Legions of other celebrities and other famous faces have expressed their shock at Trump failing to condemn the Proud Boys—in 2018, the FBI listed the group as an "extremist group with ties to white nationalism." They have has also been called a hate group "known for anti-Muslim and misogynistic rhetoric" by The Southern Poverty Law Center.
"He just refused to condemn white supremacy. Refused," Jonathan Van Ness of Queer Eye fame tweeted. While Mindy Kaling from The Office added: "I denounce white supremacy! See that was so easy."
Actress and DNC 2020 presenter Kerry Washington wrote: "Once again. He refuses to condemn White supremacy. PAY ATTENTION FOLKS. Please vote."
Comedian Robin Thede tweeted: "FOR THE RECORD, HE DID NOT CONDEMN WHITE SUPREMACY."
Many others tweeted to condemn Trump's comments about the Proud Boys, including Bernice King, Elizabeth Warren and Katy Perry.
Meanwhile, Fox News's Wallace who moderated the debate has been heavily criticized for being seen as unable to keep the debate on track with calls mounting for Joe Rogan to host a debate between the two candidates.