Alyssa Milano Rejects Comparisons Between Joe Biden and Harvey Weinstein Harassment Allegations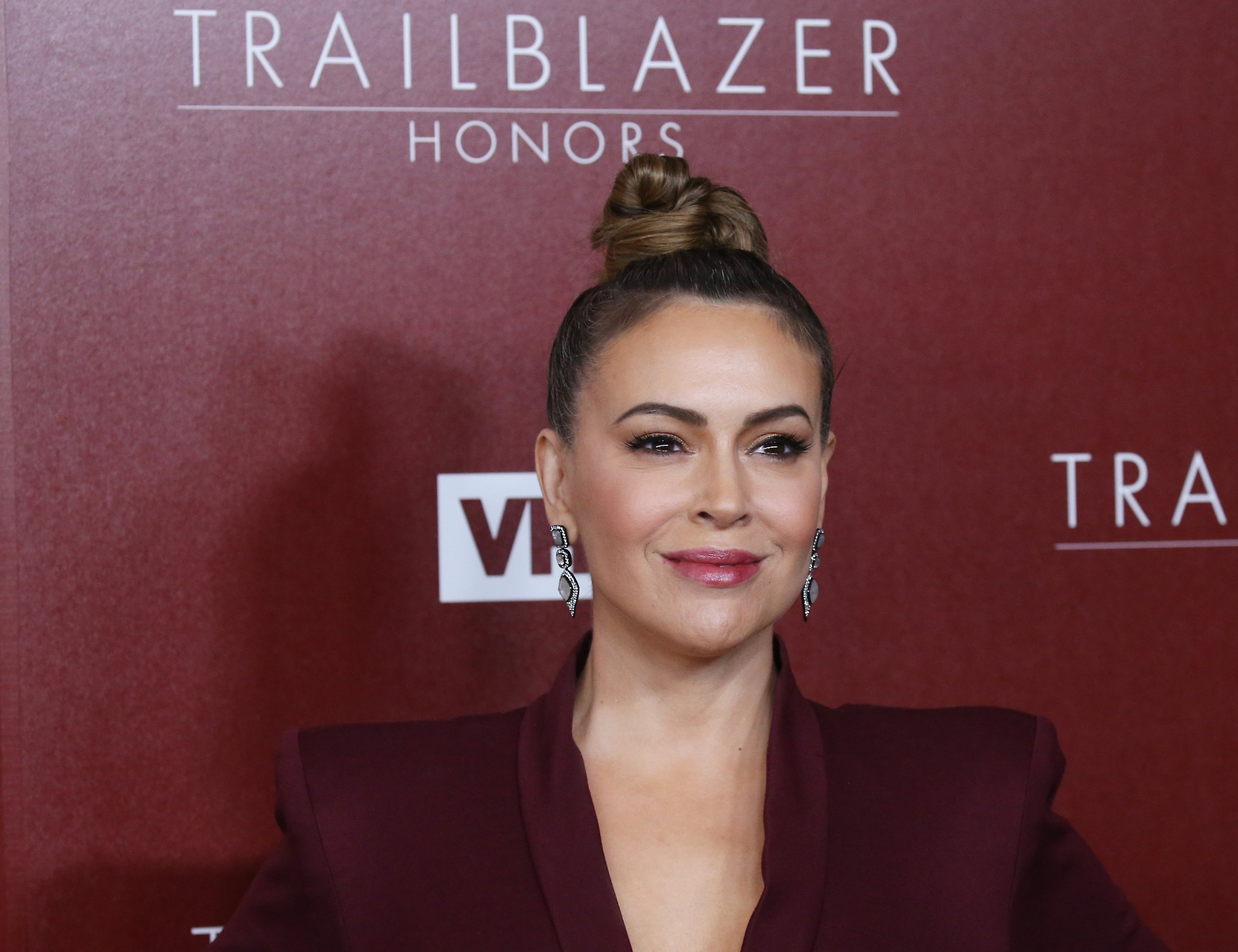 Actor and activist Alyssa Milano has argued against those comparing former Vice President Joe Biden to Harvey Weinstein, a man who has been accused of sexual misconduct by more than 80 women.
Before Biden announced his 2020 presidential bid on Thursday, former Nevada Assemblywoman Lucy Flores accused him of making her feel "uneasy" during a 2014 campaign event. She claimed the 76-year-old former vice president went to "plant a slow kiss" on the back of her head. "Creepy Joe" memes have spread throughout social media since Biden announced his intention to run, showing him getting too close for comfort with a number of female politicians and constituents over the years.
Biden appears on the premiere episode of Milano's new political podcast Sorry Not Sorry, out Monday. Milano addressed Flores' allegation and argued that Biden shouldn't be compared to the likes of Weinstein. In 2017, the Hollywood movie mogul sparked the rise of the #MeToo movement after becoming the subject of a New York Times exposé that featured several sexual misconduct allegations against him—Milano's former Charmed co-star Rose McGowan is among those who accused of Weinstein in the report.
"I personally don't think we can put Joe Biden in the same sentence as Harvey Weinstein," Milano told Newsweek. "That's not to say I don't appreciate Miss [Lucy] Flores speaking out about Joe making her uncomfortable. I do so much, because it allowed for the conversation to continue in a public capacity."
Milano continued, "I believe we need to continue to focus on the systemic sexism and misogyny that plagues humanity and give survivors what they need to feel heard, safe and ultimately heal. I think it's vital to continue to have these conversations. It's within the gray areas we define what is acceptable behavior and then we can set boundaries."
Tarana Burke—the woman who founded the #MeToo movement in 2006—also joined the debut episode. The Democratic presidential candidate discussed his work with It's On Us, a movement launched by former President Barack Obama and White House Council on Women and Girls to combat sexual assault on college campuses, and the Violence Against Women Act (VAWA), a law signed by former President Bill Clinton in 1994 to aid in the responses to domestic violence crimes.
"I've spoken to Joe at length about [sexual harassment]," Milano continued. "I believe him when he says he is willing to listen and learn and that he is sorry if he's ever made anyone feel violated."
To date, seven women have accused Biden of inappropriately touching them. He issued an apology for his apparent behavior on The View on Friday.
"Well, look: I'm really sorry if they—what I did in talking to them, and trying to console—that, in fact, they took it a different way," he said. "I'm sorry this happened, but I'm not sorry in the sense that I think I did anything that was intentionally designed to do anything wrong or be inappropriate."
On The View, Biden also addressed sexual assault allegations attorney Anita Hill made against U.S. Supreme Court Associate Justice Clarence Thomas in 1991. Biden was in charge of Hill's hearing, but he admitted to waiting nearly 28 years to reach out to her about the apparent misconduct because he "didn't want to invade her space." He also claimed to have done "everything in my power to do what I thought was within the rules to try and stop things."