How Alyssa Milano, Mark Hamill And Other Celebrities Reacted to the Georgia Senate Debates
Sunday night saw Senator Kelly Loeffler and Democratic opponent Rev. Raphael Warnock participate in a Georgia runoff debate where the Republican refused to acknowledge the election results three times.
The outcome of the race, as well the result of a second Georgia runoff on January 5 between Democratic challenger Jon Ossoff and incumbent Republican Sen. David Perdue will determine control of the Senate in the new Congress.
The GOP will be positioned to maintain its Senate majority if either Republican manages to hold on to their seat.
Loeffler avoided answering questions about President Donald Trump's claims of a "rigged" election during the debate while Perdue skipped the event altogether.
"It was very clear that there were issues in this election, there were 250 investigations open, including an investigation into one of my opponent's organizations for voter fraud. We have to make sure that Georgians trust this process for what's at stake in this election," she said.
"The promise that [Senate Minority Leader] Chuck Schumer made was to fundamentally change America and I'm making sure that we don't go down the road of socialism."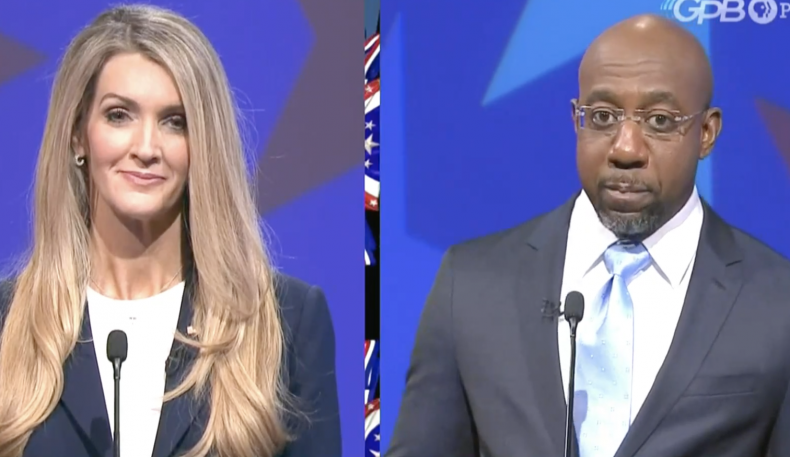 The debate is being widely discussed on social media where legions of people, including a number of celebrities, are sharing their views.
Fervent anti-Trump actress, Alyssa Milano tweeted to call Loeffler "the literal worst."
"You deserve better than Loeffler, Georgia. She's the literal worst. I'm sitting here in shock that this woman was ever a Senator," the Charmed star tweeted.
While Debra Messing of Will and Grace fame called Loeffler a "robot."
"Wow. #Georgia! You have a ROBOT as a Senator. She lies so effortlessly. #LootingLoeffler has made MILLIONS with inside #Covid info buying stocks in BODYBAGS, and didn't tell #Georgians that they were in mortal danger. Sen. #Warnock means #CovidRelief, #no tax increase,Heathcare."
Political host, Brian Taylor Cohen tweeted: "Kelly Loeffler is where charisma goes to die."
Speaking about Perdue's absence, Star Wars legend Mark Hamill added: "He's afraid to tell the voters of Georgia why he voted against healthcare for people with pre-existing conditions while using insider information to enrich himself. They deserve better than this cowardly crook. They deserve @ossoff & @ReverendWarnock for a better future."
Author Don Winslow joked: "When the debate is over they will need to change @KLoeffler's batteries."
While author Amy Siskind added: "Kelly Loeffler might be the only politician in DC who can make Mike Pence seem charismatic."
Scandal star Kerry Washington praised Rev. Warnock's debate performance, tweeting: "Thank you @ReverendWarnock for bringing all of your humanity, grace, intelligence and service to tonight's debate. The American people will be so blessed to have you serve in our Senate. LETS http://WinBigGA.com!!! Join me. Donate to the Rev & @Ossoff."