Alyssa Milano Tries to Visit Homestead Detention Center on Community Visit
Actor Alyssa Milano, a vocal critic of President Donald Trump's immigration policies, ventured to the Homestead detention center near Miami on Wednesday in an attempt to gain entrance.
Housing undocumented immigrant children in detention centers has faced heavy criticism, specifically over the conditions of the facilities and separation of children from their parents. On Tuesday, Wayfair employees announced plans to walk out in protest over the company supplying beds to the detention centers.
Milano's visit to the detention center came on the same day as the first Democratic presidential debate, which was scheduled to occur in Miami, about 30 miles away.
She live streamed her attempt to access to the detention center on Periscope, and an employee at the center told Milano that she needed to schedule an appointment. A man who was with the group responded that they wanted to visit without warning in order to see the everyday conditions and not a sanitized environment.
One woman with the group said she drove from Massachusetts with her two children to visit the detention center and pointed out that it was valuable to note that people were traveling to Florida not only for the normal tourist attractions, such as Disney World and beaches, but to bear witness to the detention center.
"What if it was your child," one sign the group was holding said. Several protesters also carried a banner that called for the children to be freed.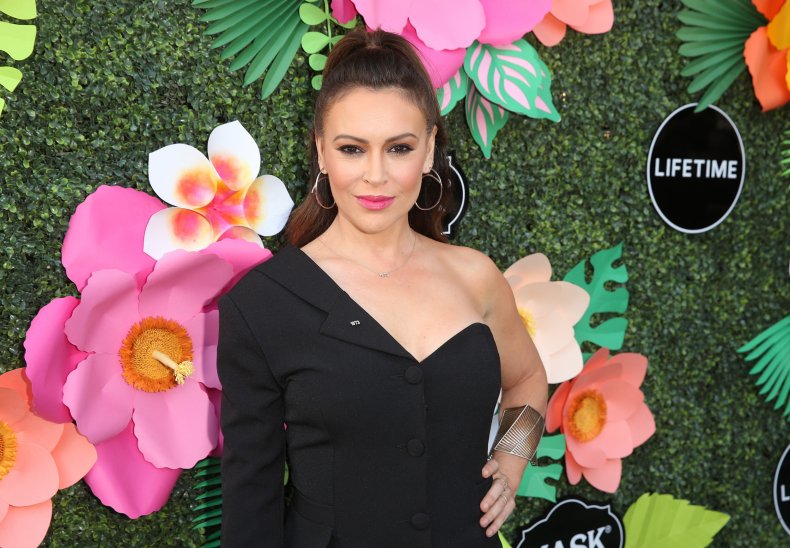 Homestead is the biggest shelter for migrant children in the country, according to NPR and houses kids ranging in ages from 13 to 17. It was opened during former President Barack Obama's administration, closed and then reopened in March 2018.
On a tour, NPR said reporters saw a soccer field, phone-home room, classrooms and a medical clinic. However, a group of attorneys told the news outlet that they witnessed a very different scene.
"We hear stories of children who are told from the first day of their orientation that under no circumstances can they touch another child in the facility, even their own sibling, even friends who they're saying goodbye to after many months of shared intense experience," Leecia Welch, senior director of legal advocacy and child welfare at the National Center for Youth Law, told NPR. "They can't hug them goodbye. If they do, they're told they will be written up and it could affect their immigration case."
On Monday, Congressman Eric Swalwell met with protesters outside Homestead and told the Sun-Sentinel that the children were "cruelly confined" at the facility. He added that they belong with their families, not at Homestead. Federal officials have claimed most of the children crossed into the country without their relatives.
With the presidential primary debate taking place nearby, Representative Debbie Mucarsel-Powell, whose district includes Homestead, invited the candidates to visit. They were welcome either before or after the debate, or at any time during the campaign.
After being denied at one entrance, Milano said on video that the group was going to try another entrance. At the time of publication, it was unclear if Milano or the rest of the group were able to gain access to talk with the director as they repeatedly requested.
On Sunday, Milano encouraged her Twitter followers to visit the detention centers in an effort to "hold them accountable" and "let them know you're watching."