Alyssa Milano's Phone Gets Confiscated During Kavanaugh Hearing: Report
Update I Actress Alyssa Milano said reports that her phone was taken away during Thursday's Brett Kavanaugh hearing are false. However, her protest sign was removed from the room.
"P.S. I did not have my phone confiscated as proven by the fact that I didn't stop making social media posts," Milano tweeted Friday. "I did have my, "believe woman" sign confiscated though. And a policeman warned me about taking video on my phone."
Original story: Insatiable actress Milano reportedly had her phone taken away after she was recording and taking pictures during Thursday's Senate Judiciary Committee hearing on accusations against Supreme Court nominee Brett Kavanaugh.
Kavanaugh testified after being accused of sexual assault in earlier testimony by Christine Blasey Ford, a psychology professor at Palo Alto University in California. The alleged assault happened in the 1980s when they were both in high school. Ford was 15, and Kavanaugh was 17.
Milano posted to Twitter multiple times during the hearing, starting with the moment before Ford gave her testimony. "I believe Dr. Christine Blasey Ford," she tweeted.
"The @GOP were worried about the optics of a group of men questioning Dr. Ford about sexual assault. They should have been worried about the optics of a group of men with a lack of humanity not questioning Dr. Ford about sexual assault," Milano wrote in another message.
When Kavanagh got emotional during his testimony, Milano said the reaction would have been different if Ford had cried during hers. "I will say this...if a woman were to yell, interrupt and cry while being questioned, people would call her unhinged or say she had a meltdown," she wrote.
Milano was warned about using her phone during the hearing and ultimately had it taken away.
The Hollywood star has been a prominent figure during the #MeToo movement, which garnered momentum after disgraced movie mogul Harvey Weinstein was first exposed in a New York Times report last year. He was accused of sexual assault or rape by dozens of women but maintains he is innocent.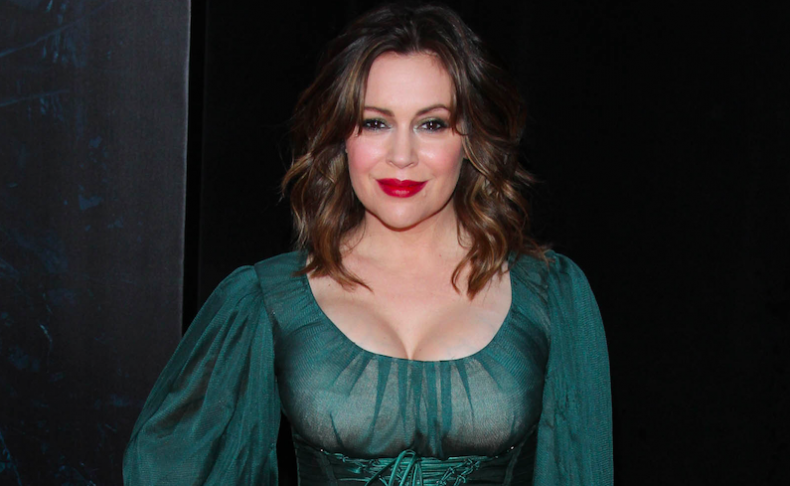 After initially remaining silent, Milano publicly denounced Weinstein.
"I can tell you what it means to be a woman in our society. In any—and every—profession, women are continuously mistreated. This is not an uncommon occurrence. This is a sick culture," she wrote in October. "Men like Harvey Weinstein are around every corner. Men who undermine women and their strength, ability and intelligence exist everywhere."
During Thursday's Senate hearing, Milano didn't tweet about Republican Lindsey Graham, a member of the Senate Judiciary Committee. In one of the hearing's most dramatic moments, Graham ripped into his Democratic colleagues, calling the sexual assault allegations, which were made by three named women and anonymous others, "the most unethical sham since I've been in politics."
"What you want to do is destroy this guy's life, hold this seat open and hope you win in 2020," he yelled. "I hope the American people can see through this sham that you knew about it and you held it. You had no intention of protecting Dr. Ford. None. She's as much of a victim as you."
The senator then seemingly threatened Democrats. "If you can ignore everything in this record—an allegation that's 35 years old, that's uncertain in time, place, date and no corroboration, if that's enough for you, God help us all as Republicans," he said. "Because this happens to us, but this never happens to them. Let me tell my Democratic friends, if this is the new norm, you better watch out for your nominees."
This article was updated Friday to include a statement from Milano.