Alyssa Milano Says She Was Arrested Outside White House at Voting Rights Protest
Actress Alyssa Milano was one of 25 activists arrested during a voting rights protest outside the White House on Tuesday afternoon.
Milano, who is a board member of the progressive organization People for the American Way (PFAW), tweeted about her arrest Tuesday. PFAW later confirmed she was among the 25 individuals arrested when contacted by Newsweek.
"I was just arrested for demanding the Biden Administration and the Senate use their mandate to protect voting rights," Milano tweeted shortly before 3 p.m. local time. She added encouragement for followers to support her shared mission with PFAW to "tell the Senate and White House that voting rights shouldn't depend on where you live."
Earlier Tuesday, Milano appeared in a video shared on social media by PFAW, in which she said she anticipated she would be risking arrest amid the organization's protest.
"I am going to risk arrest today because there, in the last year, have been 425 bills that have been introduced to restrict voting rights," Milano said in the video. "So I'm going to demand that our president do everything in his power to pass the Freedom to Vote Act, the John Lewis Voting Rights Act and the DC Statehood Act."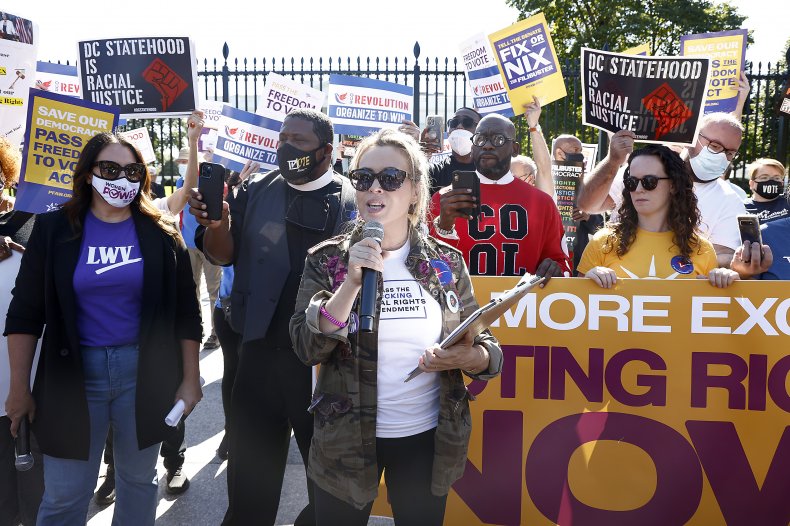 All three pieces of proposed legislation Milano mentioned seek to expand voting rights at a time when state legislatures around the country have introduced bills aimed at tightening voter access.
PFAW cited proposed election bills ahead of Tuesday's protest, alleging the collective legislation "constitutes an attack on American democracy and the freedom to vote."
"Passing federal voting rights legislation is the most important priority right now," PFAW wrote online of its efforts. "President Biden must do everything in his power to get it done."
PFAW posted updates from its participants and from the protest's partnering organizations throughout the Tuesday event. Twenty-five protesters were eventually arrested, including Milano, PFAW President Ben Jealous, Georgia state legislator Bee Nguyen and League of Women Voters CEO Virginia Kase Solomón.
"Today, faith leaders, activists, and organizers put their bodies on the line in the fight for voting rights," PFAW said following the arrests. The organization then released statements from each of the arrested participants.
"John Lewis told us, 'The vote is the most powerful nonviolent change agent you have in a democratic society. You must use it because it is not guaranteed. You can lose it,'" Milano quoted at the beginning of her statement.
"States across the country are trying to take it away from so many people in a cynical power grab. We can't let them," she added. "We need federal law right now to protect voting rights for all Americans, no matter which state they happen to live in. It's a cause that's worth getting arrested for."