The conditions at government-run detention centers along the southern border have once again drawn scrutiny, following reports of unsanitary conditions, and an in-court claim from a Trump administration attorney that the government should not be required to provide basics like toothbrushes and blankets for detainees. Actress Alyssa Milano used her sizable Twitter platform Sunday to call on Americans to visit these facilities to see for themselves, but can anyone just show up at a detention center and ask to be shown around?
On Sunday morning, Milano tweeted to her 3.59 million followers, that "Some detention centers have what is called 'community visits' where you can be allowed in the center. This is the loophole I used to get into the Karnes Father/Son Detention Center. I showed up & they had to let me in."
She concluded: "Hold them accountable. Show up. Let them know you're watching."
Immigration advocates and human rights organizations say that visits to detention centers are important, both because they help to keep a spotlight on conditions of detainees, but also because visits can provide an important link to the outside world.
Robyn Barnard, an attorney with Human Rights First, told Newsweek such visits are essential: "Not just for outside community members to go in and see what's happening in there, but to provide vital connections and outside human contact to the individual's in there who are often incredibly isolated from family and friends."
Another organization, Freedom for Immigrants, which seeks to abolish immigration detention, writes in its guidebook for visiting detainees that "A visitor can help people in immigration detention cope with the stress and isolation of detention and be a link to the outside. Immigrants are often transferred to detention facilities far away from their families, communities of support, and the possibility of obtaining pro bono legal counsel."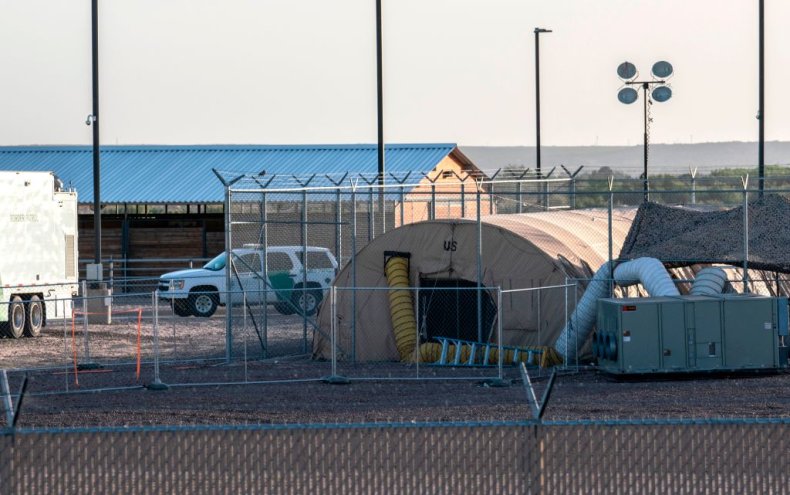 But is visiting one of these centers as simple as showing up and being asked to look around?
"In theory, anyone who wanted to visit a detained person could ask to do so," Aaron Morris, Executive Director of Immigration Equality told Newsweek. He noted that facilities run and contracted by U.S. Immigration and Customs Enforcement (ICE) "generally have visitation policies allowing for someone to visit a detained person, even if you don't actually know that person. Of course, the detained immigrant must agree to do so."
Advocates all told Newsweek that the best bet for anyone looking to visit a detention center was to do your homework in advance and try to find a group that has experience with navigating the bureaucratic aspects of detention.
"The way you would get access is typically through an organization. They would tell you the set time for you to come to visit," said Tommy Buser-Clancy, staff attorney with the ACLU of Texas, cautioning that this likely varies from site to site.
Morris echoed this sentiment, saying that "policies around the detention of immigrants are remarkably opaque." He said this opacity was likely a consequence of the detention facilities having no central body that sets standards. "Most facilities are contracted, and each contract is negotiated separately from other deals with ICE. This leads to great disparities in the conditions of confinement for immigrants," he explained.
The consensus among the experts we talked to was that community groups and advocacy organizations offered the best opportunity for anyone wishing to visit an ICE facility.
"We've seen that certain grassroots organizations are able to set up community visitation policies with certain detention centers, and that seems to be based on relationships they've established with people who run those centers," said Buser-Clancy.
"Community visits are typically for those visiting family or friends, or if you are part of a community group that does social visits to individuals in detention," explained Barnard. "You can't just show up and say, 'Let me in,' in general. You would need the name or identity information of someone detained at the facility in order to be allowed in."
Barnard, who said her organization regularly arranges group visits to detention centers for stakeholders, cautioned that ICE or the ICE-contracted facility operator may try to "stage manage" pre-arranged visits to only show what they want to be seen. "They also often limit access to interview actual individuals detained inside, which is the only way you get actual realistic information," said Barnard.
Last Tuesday, Justice Department attorney Sarah Fabian argued in a California federal court that longstanding U.S. immigration policy did not specifically require that the government should provide detained migrants with basics like "toothbrushes" or "towels."
"One has to assume it was left that way and not enumerated by the parties because either the parties couldn't reach agreement on how to enumerate that or it was left to the agencies to determine," Fabian explained to a panel of three judges.
Her argument did not go over well with the court.
"You're really going to stand up and tell us that being able to sleep isn't a question of safe and sanitary conditions?" Judge Marsha Berzon asked.
"Are you arguing seriously that you do not read the agreement as requiring you to do anything other than what I just described: cold all night long, lights on all night long, sleeping on concrete and you've got an aluminum foil blanket?" asked Judge William Fletcher. "I find that inconceivable that the government would say that that is safe and sanitary."
That court scene was followed shortly by a report that looked at the condition of juvenile migrants being held at a detention center in El Paso, Texas, and alleged children were being kept in an unsanitary condition, that minors were being compelled to supervise toddlers, and that they were being fed un-defrosted frozen food.
Appearing on the Sunday morning political talk shows this weekend, Vice President Mike Pence said the Trump administration did not agree with Fabian's argument in court, even though she was tasked with representing the executive branch's policies. However, when pressed by CNN's Jake Tapper on why these basics were not being provided for, Pence blamed an overwhelmed Department of Homeland Security and Congressional Democrats.
"Democrats in Congress refused to expand the bed space and the capacity for us to detain people at our borders," said the vice president.
Congressman Adam Schiff took issue with that claim.
"Make no mistake, there is nothing that Congress is doing or not doing that compels the administration to have facilities where children don't have blankets or toothbrushes or soap," the Democratic representative told Tapper. "And for the vice president or the president to blame Congress for their own malfeasance is just completely besides the point and unethical and unacceptable."