Alyssa Milano Slams Tomi Lahren on Twitter Over Australia's 'Strict Gun Laws'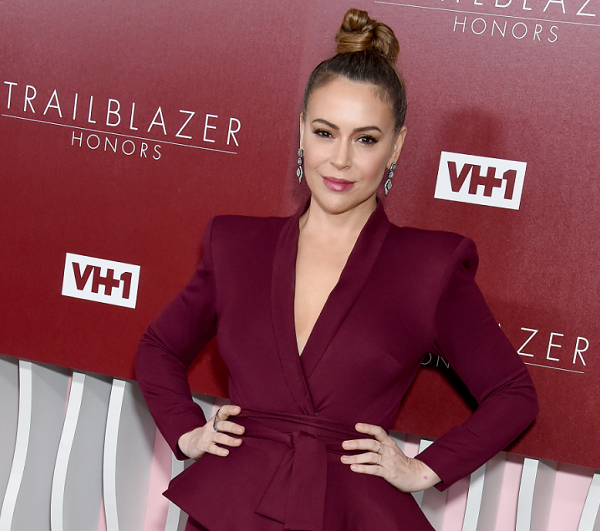 Alyssa Milano gave Tomi Lahren a lesson about Australia's strict gun policy on Twitter Wednesday.
It all started when the Fox Nation host aggressively criticized California Representative Eric Swalwell over Democrats' ongoing push for tighter gun laws. "Crazed, hateful maniacs who set out to murder Jews, Christians, Muslims or human beings in general, DO NOT CARE ABOUT YOUR GUN LAWS OR STUPID BUYBACKS!" she tweeted on Tuesday.
Swalwell noted how few mass shootings Australia has endured since the country banned assault weapons with its National Firearms Agreement in 1996. Meanwhile, incidents in America continue to skyrocket, with more than 2,000 mass shootings across the nation since 2012's Sandy Hook tragedy, according to Vox.
Lahren's response: "Did you know Australians now own more guns in total than they did before the 1996 crackdown? I'll wait…"
That's when Milano stepped in.
"Cool! Toni! Yes! Australia has strict gun laws and they still own guns AND the country is safe from unnecessary gun violence. See how that works?" Milano wrote on Twitter on Wednesday. "Stricter gun laws means a safer country and people still get to have guns if they choose to."
Australia tightened its gun policy following a mass shooting at Port Arthur in Tasmania, which resulted in the deaths of 35 people in April 1996. Within two weeks, the country had abolished semi-automatic rifles, shotguns and other weapons capable of killing numerous people quickly.
Australia also established new rules for prospective gun owners and the types of weapons they could purchase, establishing a 28-day waiting period for a gun license, background checks and requiring applicants to specify a justifiable reason for wanting a gun. Through a buyback program, Australia managed to remove more than 20 percent of weapons from public purchase, The New York Times reported.
Compared to the 11 mass shootings that occurred before the gun laws were established, the country has only suffered two such incidents in the years since since, including one murder-suicide of a single family in 2014 and an incident that killed seven people in 2017.
Australia has also seen a significant drop in gun homicides. A report by Associate Professor Philip Alpers of Sydney School of Public Help found the 69 gun homicides reported in 1996 had dropped to just 30 reported in 2012.
While Alpers also found the number of individual households with a firearm fell by 75 percent since 1988, he noted the folks who did own guns had more than one. "Far fewer people now have a gun in their home but some people have a lot more guns," he told BBC in May 2018.
Of course, Lahren didn't let Milano's comment go unnoticed. "Naw it means more guns doesn't equal more violence! And if you and your ilk insist on allowing illegals to invade our country, you best believe I will exercise my First AND Second Amendment rights!" she tweeted.