Alyssa Milano Refuses to Celebrate Trump's COVID-19 Diagnosis
Alyssa Milano, a frequent critic of President Donald Trump, has made it clear that she takes no pleasure in the news that Trump and First Lady Melania Trump have tested positive for the coronavirus. Addressing the news in the early hours of Friday morning, the actress-activist tweeted that she "wouldn't wish this virus on my worst enemy" and encouraged her followers to wear a mask.
Not all of her Twitter fans shared her feelings, though. One wrote, "the Karma Cafe serves everything." Another wrote they "Couldn't be happier that he has it. Call me whatever but he was long overdue..."
In August, Milano revealed she had contracted COVID-19 and was still suffering from lingering symptoms, which for many include fatigue, muscle aches and problems with concentration. The Charmed actress gave an update on her health at that time with an Instagram post, in which she said she was feeling better than she was a few weeks before, but still had "occasional heart palpitations" and was having difficulty remembering words, which she characterized as the "absolute worst part."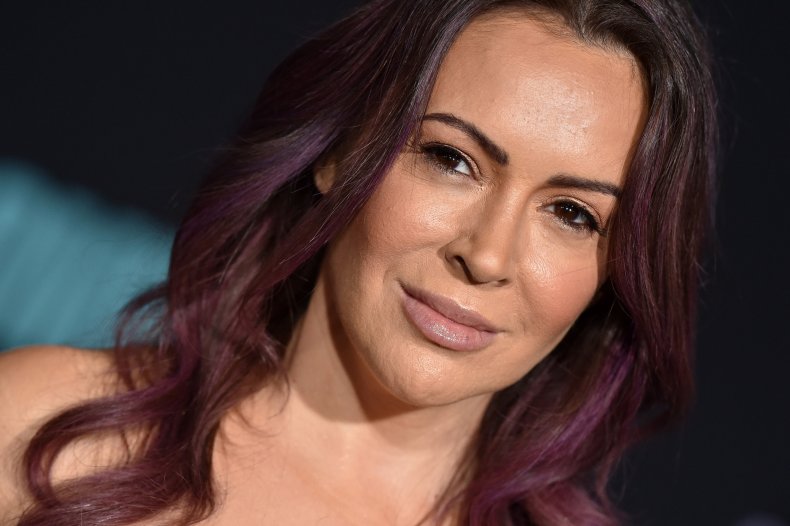 Milano was hospitalized in early August after experiencing heaviness in her chest. She said then that she had been "acutely sick" with COVID-19 in April, but the lingering symptoms caused her to worry she had a blood clot, and she went to the emergency room as a precaution. A CT scan of her lungs and a cardiac MRI were normal.
The actress admitted feeling "super-scared sometimes," but "not of getting sick again but of my loved ones getting sick," she said. "I don't ever want them to have this thing. It's a beast. So I vacillate between being so grateful and so terrified. Grateful that it was me who got sick and terrified that friends or family will be sick."
After experiencing many COVID symptoms in March, Milano was tested for the virus, but the results were negative. Later, she tested positive for coronavirus antibodies. In another video she posted in August, she showed that she was experiencing dramatic hair loss, which she attributed to COVID. The 47-year-old brushed her hair, which came out in clumps. "Thought I'd show you what #Covid19 does to your hair. Please take this seriously," she wrote in the caption.
Milano often takes to social media to not only show the impact that coronavirus has had on her, but to also attack Trump. Just as recently as this week, she tweeted out following the first presidential debate between Trump and Democratic candidate Joe Biden that, "You either denounce white supremacy or you're a f***ing racist."
Overall, celebrity reactions on Twitter were mixed about the news of Trump's diagnosis. Conservative entertainers like Antonio Sabàto Jr. and James Woods tweeted passionate words of encouragement out to Trump. Others were not exactly offering well wishes, like Cardi B, who wrote, "'BET YOU WANNA' wear a mask now," and Rosie O'Donnell, who offered, "i have been wondering y he doesnt get covid - with all his hitler like mask free gatherings - whoop dare it is."
Others took the opportunity to further criticize Trump's response to the pandemic, though without glee. Bradley Whitford wrote, "The President's arrogant, cynical, irresponsible denial of the deadly disease he now has is the most devastating self own in human history." Similarly, Josh Gad shared, "I do hope Trump and his wife recover. I also hold extreme resentment and anger to a man who sat idly by as all of us, including myself, lost friends and loved ones as he insisted 1) it was a hoax 2) it would magically disappear and 3) that people who wore masks were fools."
Meanwhile, TV host Piers Morgan, who has been known to get passionate in his attacks on Trump policies, wrote to his followers about those rejoicing in the news about the president's test result: "They're no better than the man they loathe."
Updated, 10/2/2020, 12:30 p.m. ET: This post has been updated with further context.