Alyssa Naeher's Heroic Performance Carries USWNT to Olympics Semi Finals
Goalkeeper Alyssa Naeher saved two penalties in an epic shootout to take USWNT past the Netherlands and into the semi finals of the 2020 Tokyo Olympics.
After the match ended 2-2 after extra time, the U.S. triumphed 4-2 in the shootout with Megan Rapinoe scoring the winning penalty.
The USWNT now go on to face Canada in the semi finals on August 2.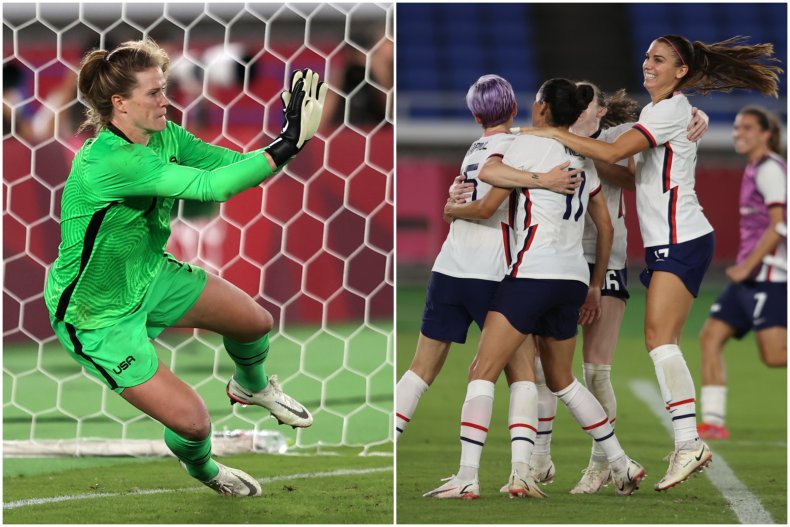 The dramatic penalty shootout saw Team USA beat the Netherlands at the International Stadium Yokohama in Japan in what was a redemption for the Americans early exit at the Rio Olympics in 2016.
The last time this USA squad met the Netherlands was at the World Cup final two years ago when the USWNT won 2-0 to lift the trophy for the fourth time.
After the quarterfinals with regulation and overtime ended in a 2-2 tie, Rose Lavelle, Alex Morgan, Christen Press and Megan Rapinoe all made their penalties with goalkeeper Alyssa Naeher managing to stop Vivianne Meidema's opening attempt in the shootout.
The success delivered a triumphant moment for both Morgan and Press who missed penalty kicks in 2016.
Miedema put the Netherlands ahead in 18 minutes in but the Americans equalized when Sam Mewis scored shortly after.
However, the hero of the game was undoubtedly Naeher, Hope Solo's successor.
Naeher is winning praise for her stunning save against Miedema which gave the U.S. team an early edge during the penalties.
The 33-year-old from Connecticut then managed to stop Aniek Nouwen's in the fourth round, thus setting up Rapinoe to score the final and winning goal of the day.
Praising Naeher, retired USWNT goalkeeper Briana Scurry said: "Alyssa, when her time came, she grabbed it and ran with it. I think Alyssa is fantastic."
Meanwhile, on Twitter, Naeher is being hailed as a hero as Team USA fans celebrate the victory.
"Alyssa Naeher. That's the tweet," posted former professional soccer player, Lauren Holiday.
While author Caitlyn Murray added: "Alyssa Naeher with two saves in the penalty kick shootout, after saving a penalty during regulation time. What a night for her. #USWNT #Tokyo2020."
Another fan tweeted: "Free beer for life for Alyssa Naeher."
The USWNT's epic win comes after what has been a difficult Olympics so far. The team have only managed to win won game in regulation time so far — a 6-1 thrashing of New Zealand.
But after progressing to the Semi Finals, they are on the verge of medalling again after missing out completely in the Rio games. Since women's football was introduced at the 1996 Atlanta game, Team USA has triumphed four times.