With No Cure on the Horizon, Only a Healthier Lifestyle Can Slow the Deadly March of Alzheimer's Disease | Opinion
"The man I live with is not the man I fell in love with and married," Meryl Comer wrote in an essay in AARP magazine back in 2014. "My physician husband, with his athletic torso and steely blue eyes, has slowly been robbed of something we all take for granted: the ability to navigate the mundane activities of daily living—bathing, shaving, dressing and using the bathroom. ... His eyes are vacant and unaware, as if an internal window shade has been drawn."
Comer, the president and CEO of the Geoffrey Beene Alzheimer's Initiative, has been lifting the shade on the subject since her husband's diagnosis, raising awareness about one of the deadliest—and costliest—diseases in America. And the world.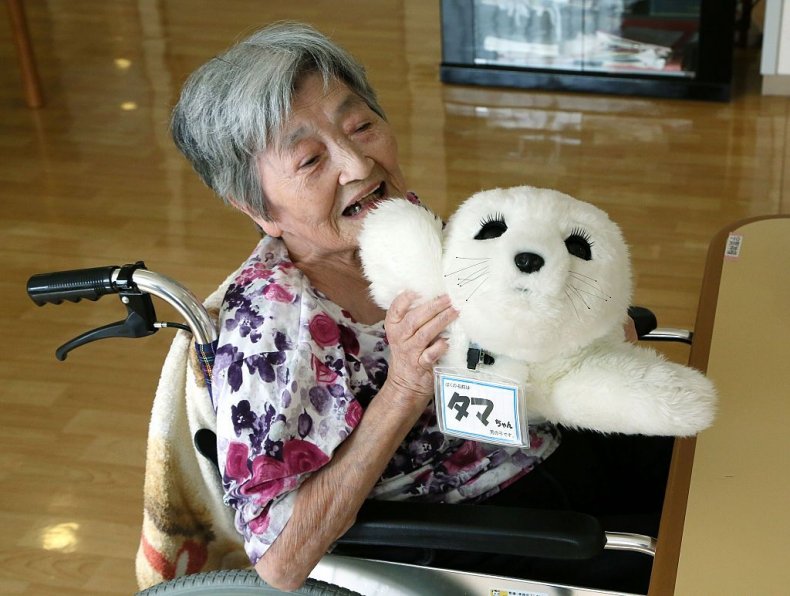 Alzheimer's is the sixth-leading cause of death in America, according to the Centers for Disease Control. A staggering 1 in 3 seniors die with some form of dementia, says the Alzheimer's Association, and the disease kills more people than prostate and breast cancer combined.
"This will be our epidemic," Comer told Our American Stories, a nationally syndicated radio show. "This is the dark side of longevity. It's like being a witness to the future. I'm afraid for all of us."
Comer is right. With the aging of baby boomers, the number of Americans aged 65 and older with Alzheimer's is expected to rise dramatically, to over 13.8 million, by 2050, with some estimates reaching as high as 16 million.
The human cost is incalculable. But the cost to the health care system is not. This year, Alzheimer's is projected to cost the American people a staggering $290 billion, with Medicare and Medicaid picking up nearly 70 percent of the tab. By 2050, that number will rise to $1.1 trillion.
Comer's book, Slow Dancing With a Stranger: Lost and Found in the Age of Alzheimer's, is a harrowing tale of the disease and the havoc it wreaks on the lives of patients. And their caregivers.
Comer pulls no punches in her memoir. "I screamed at him last night for the first time. Then I felt so guilty because it's not his fault; it is the disease that is my enemy," she writes. "I feel like I am disappearing with him into an abyss. I will never scream at him again. But where will the sound of my pain go?"
"I call myself a P.O.A," Comer says. "I'm a prisoner of Alzheimer's. I'm an extension of his disease. I feel compelled to speak out for victims who have no voice, and caregivers who feel worn out."
Comer watched her husband, Harvey Gralnick—an accomplished physician—degenerate before her eyes.
"This strong-willed man became upset when things didn't go his way," she wrote in the AARP essay. "The slightest thing set him off. If he couldn't find his wallet, keys or papers, he'd accuse me of taking them. A once-eloquent speaker, he hijacked my son's wedding rehearsal dinner with a disjointed and inappropriate toast about a distant, dead cousin. When I mentioned any of this, he erupted in anger. In the face of his wrath, I went silent, infuriating him even more. These episodes usually ended with Harvey storming out, slamming the front door and driving off. It was painful, and it made me fear for my marriage. But my feelings dissolved into unconditional empathy in 1995, when I understood the cruelty of his diagnosis: early onset Alzheimer's disease. He was 58."
Why is so little written about the coming deluge when it comes to Alzheimer's? Much of it has to do with the nature of the disease itself.
"I used to avoid sharing the details of the dark side of Alzheimer's because most people don't want to hear them," Comer explained in her essay. "Unprovoked and paranoid, Harvey has tried more than once to choke me from behind. During an early stay in a psychiatric hospital, while I was bathing him, he hauled off and punched me so hard that my mouth gushed blood. He seemed confused by the sound of my crying, but he never unclenched his fist. Those experiences are part of the reality of Alzheimer's for me."
To make matters worse—if that's possible—there is no cure for Alzheimer's, let alone a single government-approved drug that slows the progress of the disease. It's a slow-motion death sentence for patients—and a dark journey for everyone around them.
"Anyone with a brain, when they get older, is at risk of developing Alzheimer's," Jennifer Lepard, CEO of the Greater Michigan chapter of the Alzheimer's Association, told The Detroit Free Press late last month. "There are a number of people that think, 'Well, it wasn't in my family, so I'm sure I don't have it.' And that is not the case."
Moreover, the true impact of the disease may be underestimated, according to the CDC. All too often, when people with Alzheimer's die of causes like pneumonia or stroke, death certificates don't note that the patients also had Alzheimer's.
"It was very common—it's getting better now—that someone would be in the late stages of Alzheimer's disease and their body is not functioning," Lepard said. "They would develop pneumonia and die. Did they die because they developed pneumonia or did they die because they had Alzheimer's? Our argument is that they are dying because they had Alzheimer's disease."
Not all news about Alzheimer's is doom and gloom, however. The World Health Organization released its latest risk reduction guidelines for Alzheimer's last week, noting that lifestyle changes can delay or reduce the incidence of the disease. Those include regular physical activity, eating a balanced diet, managing weight and blood pressure, not smoking, and not drinking to excess.
"The scientific evidence gathered for these guidelines confirms what we have suspected for some time," WHO Director-General Dr. Tedros Adhanom Ghebreyesus said in a statement. "What is good for our heart is also good for our brain."
Other experts interviewed for the Our American Stories episode on Alzheimer's were optimistic despite the absence of a cure.
Miia Kivipelto, a neuroscientist who also works with the World Health Organization, said at least 30 percent of Alzheimer's disease cases were related to factors that can be influenced by lifestyle choices. That's a big number considering the size and scale of the problem.
"Imagine if that were an approved drug: how many billions of dollars would that be worth?" said Chuck Stetson, CEO of the Stetson Family Office, a private equity firm focused on philanthropy. "And the treatment we're talking about doesn't cost anything. It's free."
Stetson has created a website, Global Better Health, that incorporates original content on the prevention of five chronic diseases: Alzheimer's, cancer, obesity, diabetes and heart disease. The incidence and cost of all these deadly diseases, Stetson noted, can be reduced by healthier lifestyle decisions.
Paola Barbarino, CEO of Alzheimer's Disease International, said international action was needed. "We need governments globally to lead the way right now with public health campaigns that work," she said. "Dementia hits at random and affects everyone. We should all take action, knowing that we can reduce our risks now."
Meryl Comer would surely agree. "Sometimes I think we would be better off if Alzheimer's disease were a brand-new emergency instead of a century-old threat," she said in her AARP essay. "Perhaps people would understand that when it comes to this disease, everyone is a stakeholder, because everyone is at risk. Those of us 50 or older must stop viewing ourselves as ageless. Denial won't protect us from Alzheimer's."
She's right. But healthier living and better lifestyle choices will slow the relentless march of Alzheimer's.
That's good news everyone should be spreading.
Lee Habeeb is VP of content for Salem Radio Network and host of "Our American Stories." He lives in Oxford, Mississippi, with his wife, Valerie, and his daughter, Reagan.
The views expressed in this op-ed are the writer's own.