Pfizer Ends Funding For Alzheimer's, Parkinson's Research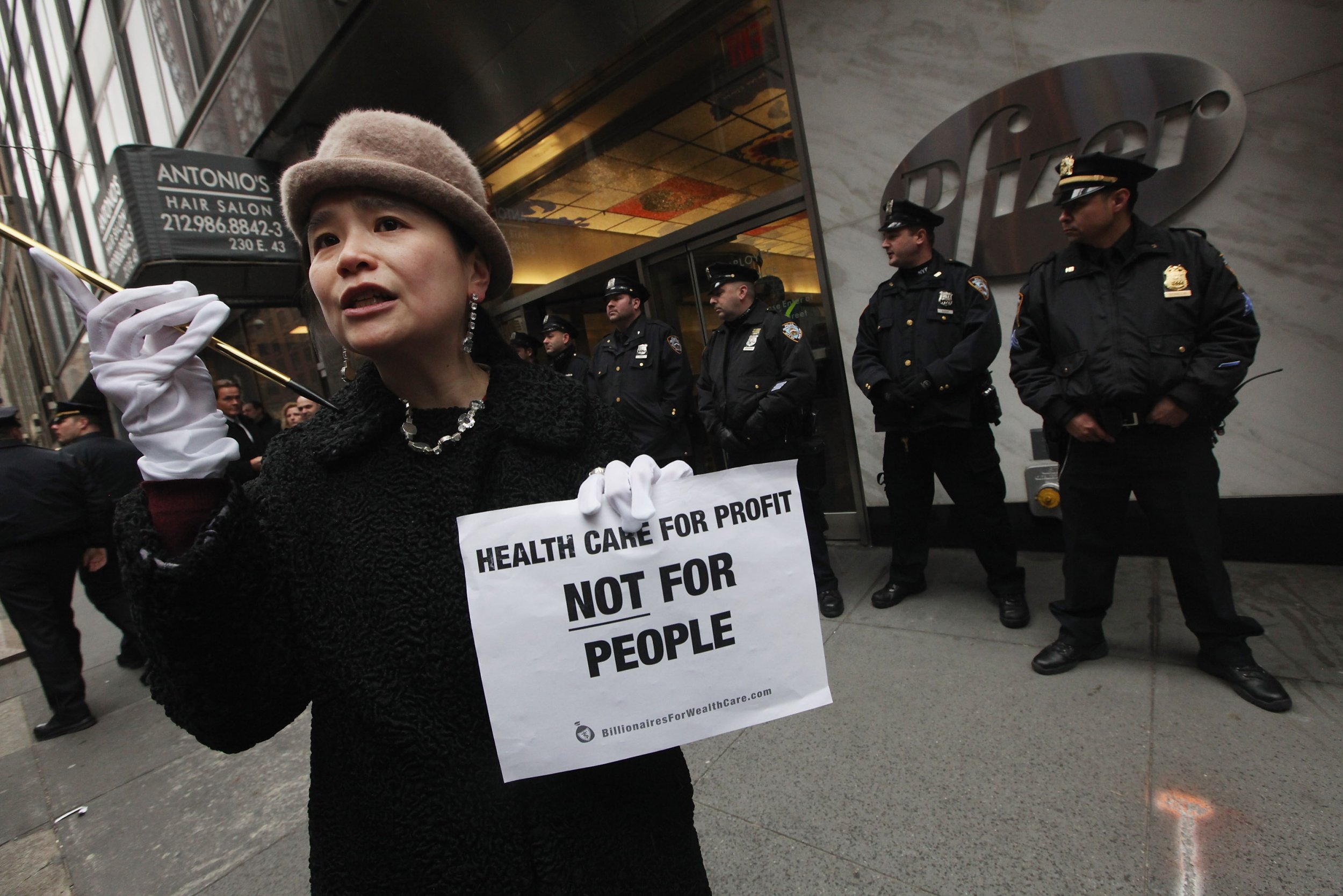 Updated| Jeff Borghoff was 51 years old when he began to experience memory loss and difficulty concentrating at work. The software developer could no longer gather his thoughts. He found himself putting co-workers on hold during conference calls to buy extra time to comprehend what they were saying. Eventually, he had to ask for a less stressful job.
The father of three began a year-long medical journey to search for an explanation until he got his diagnosis—early-onset Alzheimer's, a degenerative disease with no cure.
Still, he had hope. Jeff's doctor told him that scientists were closing in on a cure, and advised him to look into clinical trials for new Alzheimer's drugs. "Clinical volunteers should consider themselves front line battle warriors in the cure for Alzheimer's," said Jeff. "Our participation is about saving multiple generations of lives."
But in a bombshell decision that hampers hopes of a treatment or cure for the most expensive disease in America, Pfizer announced this week that it would end all research and development efforts into new drugs and treatments for Alzheimer's and Parkinson's disease.
The world's third largest pharmaceutical company released a statement saying that as "a result of a recent comprehensive review" it would lay off nearly 300 scientists and end its "neuroscience discovery and early development efforts."
"The report of Pfizer's decision to end its Alzheimer's drug research and trials is a gut punch to the millions of people with Alzheimer's, their caregivers and families let alone the folks that will be losing their jobs," said Jeff.
Pfizer worldwide research and development president, Mikael Dolsten, wrote that after years of research and investment, "we recognized our ongoing efforts were not going to deliver the impactful medical advances for patients that we had aspired to achieve." He promised that Pfizer would set up a venture fund to, "seek out investment opportunities in biotech companies that are conducting promising neuroscience research." The investment fund has yet to be created and its details are still unclear.
The fear is that this becomes a trend, said James Beck, the chief scientific officer at the Parkinson's Foundation. "Other pharmaceutical companies are also weighing this option and if the biggest of the bunch decides to exit the party, it might have a ripple effect on the others," he told Newsweek. Private foundations and government-funded research initiatives can work to keep up the pipeline of basic science, but ultimately it takes funding from a large company to get a treatment onto the shelves of CVS or Walgreens, he said.
Parkinson's and Alzheimer's are "snowflake diseases" because they develop uniquely from person to person. As a result, clinical trials are drawn-out, complicated and costly. And Pfizer's efforts into these diseases have been largely unsuccessful.
In 2012, Pfizer and Johnson & Johnson ended research on the drug bapineuzumab in its second round of clinical trials because it failed to aid Alzheimer's patients. That same year, the company wrote off $725 million after a phase-three trial for the drug dimebon failed to relieve Alzheimer's. Over the past 20 years, Pfizer sponsored at least 99 trials of 24 potential Alzheimer's drugs, and only Aricept was approved. Each human clinical trial can cost tens to hundreds of millions of dollars.
Pfizer was heavily invested in Parkinson's and Alzheimer's research, and was part of the Dementia Discovery Fund, launched in 2015 with GlaxoSmithKline and Eli Lilly as a partnership between industry and government groups to develop treatments for the diseases. The Pfizer neuroscience group currently has nine drugs in clinical development, and four of them are focused on Alzheimer's.
The potential payoff for an FDA-approved treatment to Parkinson's or Alzheimer's could be huge, but the definite, near-term costs are also staggering.
Still, Pfizer isn't hurting for money. The company is set to win big from the tax overhaul, but they're passing the money on to investors instead of funding research and development. The company plans to spend about $10 billion buying back shares of its own stock, adding to the $6.4 billion it previously greenlit. It will also increase its dividend rate by six percent to 34 cents per share. That money could fund multiple clinical trials.
A spokesperson from Pfizer clarified to Newsweek that their overall research and development spending would remain the same but that "We are reallocating the investment to areas of our portfolio where we believe we have the strongest possibility of bringing therapies and vaccines to patients soonest," instead of funding potential treatments for Parkinson's and Alzheimer's.
Failed trials can also ultimately prove helpful. "It is important to note that much of the knowledge we have gained about potential new treatments have been from clinical trials that have failed to meet endpoints," The Alzheimer's Association wrote in a statement.
Jeff is currently involved in the phase III trial of a drug created by Biogen called Aducanumab. "I recall waiting anxiously last year for the press release from Biogen regarding current trial results," he said. "I remember falling to my knees in tears when the good news results were published and the trial continued. It's very difficult to reconcile statements like 'most value to shareholders' from Pfizer when you're 53 and living with a terminal disease like Alzheimer's."
After Jeff was diagnosed, he was forced to quit his job. His wife, Kim, now works three jobs to support the family. She shares caregiving duties with her mother-in-law and three children, Michael, 23; Erin, 21; and Aubreigh, 19. Jeff's needs become more complex each day and money is often tight.
Money is one thing, but the emotional burden of watching Jeff, once gregarious and jovial, slowly fade away weighs on the family daily. He knows that as his disease progresses he will lose the ability to recognize the faces of his own children.
Alzheimer's is the sixth leading cause of the death in the United States, and more than 5 million Americans currently live with the disease. In 2017, Alzheimer's and other forms of dementia will cost the country $259 billion, and patients also received an additional $230 billion worth of unpaid care from family and friends.
It's estimated that by 2050, nearly 20 million people could be living with neurodegenerative illnesses like Alzheimer's and Parkinson's, and Alzheimer's will be the most costly disease in the U.S.
"We are becoming ill-prepared," said Beck. "The government can only do so much, it's beholden upon our system to have pharmaceutical companies invest in those diseases. We see a declining number of neurological researchers. The situation we're in has been growing to crisis levels."
Still, there is more the government can do to aid research and development, says James Hendrix, director of Global Science Initiatives at The Alzheimer's Association.
"The Federal Government launched a war on cancer 50 years ago, and it changed everything. Today we have treatable and curable forms of cancer that were deadly 50 years ago," he told Newsweek. "The same thing needs to happen for Alzheimer's." If Congress increases its investment into understanding and learning more about the disease, the risk a pharmaceutical company takes on by running clinical trials becomes lower, he said.
For every $100 the U.S. government spent on Alzheimer's research in 2016, it spent $16,000 in Medicare and Medicaid costs caring for individuals living with this fatal disease.
There is currently a 170-member bipartisan Congressional Task Force on Alzheimer's Disease working to rectify the situation. They worked to secure a $400 million increase in funding for Alzheimer's research at the National Institutes of Health in 2017, bringing the total spent on research to nearly $1.4 billion. But that's not enough, said Hendrix.
He's hoping that Congress will secure another $400 million this fiscal year. "We're just asking to get the same amount of funding as other major diseases do," he said. The National Institutes of Health spent over $1.8 billion in fiscal year 2017 on research for digestive diseases, for example.
There is currently only one government-funded research program dedicated to Parkinson's, funded by the Department of Defense, but a bill in the Senate contains provisions to severely restrict the research and limit funding.
Current patent laws also restrict the potential payoff for clinical trials for pharmaceutical companies, according to Hendrix. "The way our patent laws are set up doesn't work for the protracted studies into Alzheimer's treatment," he said. "It's not like treating an infection, this is something that slowly progresses over years but for biological candidates, you only get 12 years of exclusivity."
Trials often take between five and 10 years, sometimes more, before it can be determined if a drug or intervention is working. Patent protection and market exclusivity will likely be expired or nearly expired by that time. The loss of exclusivity makes it difficult for drug companies to justify the costs of the study. But Congress has so far avoided the issue. "Patent law is very complicated and nobody wants to take it on," said Hendrix.
Pfizer has said that it will continue to invest money into a neuroscience venture capital fund to advance research. "My hope is they make good on their promise," said Jeff.
Updated to include a statement from Pfizer spokesperson, Neha Wadhwa and Pfizer research and development president, Mikael Dolsten.
Correction: This version of the story removes references to the federal tax break and investor profits in the headline.