Alzheimer's Sufferer in Spain Smiles Believing Ovation for Health Workers Fighting Coronavirus Is for His Harmonica Playing
Every night at 8 p.m., people across Spain take to their balconies and applaud the extraordinary efforts of health workers on the frontlines of the COVID-19 pandemic.
And in a kindly gesture, the caregiver of an elderly Alzheimer's sufferer in the northwestern city of Vigo has told her patient that the daily tribute is dedicated to him.
Whenever the applause occurs, the Alzheimer's sufferer, Hermann Schreider— a German octogenarian who is married to a Spanish woman—begins to play his harmonica out of the window.
But his caregiver, Tamara Sayar, has told him that people are clapping from their windows as a result of his playing, Spanish news outlet La Voz de Galicia reported.
After he finishes his tune, Schreider—who began learning the harmonica when he was five years old—joins the applause before washing his hands in order to comply with hygiene protocols.
"I do not know if I have created a monster, because now Hermann rehearses all day," Sayar told La Voz, smiling.
Spain is one of the worst-hit countries in the world, with the fourth-most confirmed cases behind China, Italy and the U.S.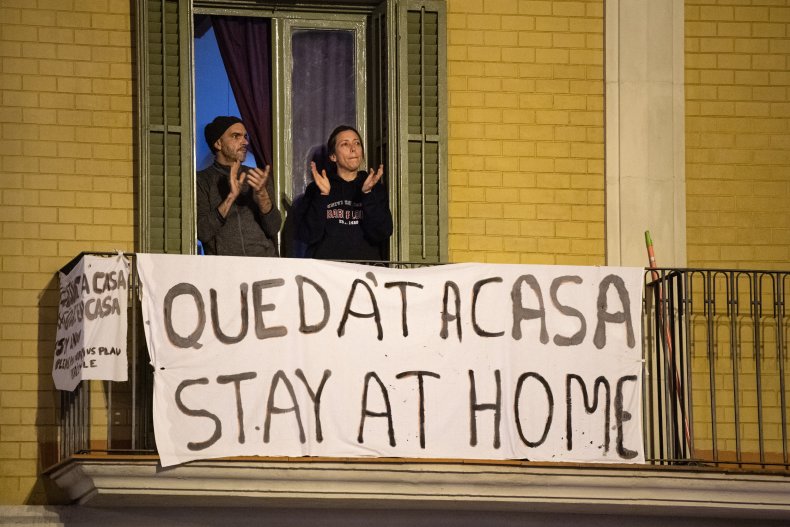 There have been nearly 40,000 reported infections in the country, an increase of nearly 20 percent in the last 24 hours, according to figures from the Spanish Health Ministry.
More than 2,600 people have died as a result of COVID-19 in Spain, while around 3,800 patients have reportedly recovered. The largest proportion of cases have been recorded in the regions of Catalonia and Madrid. Furthermore, more than 5,000 health workers have been infected with the virus.
In response to increasing numbers of infections, Spain enacted strict quarantine measures, mostly confining people to their homes, with a handful of exceptions—for example, going to work, emergencies, buying groceries, or helping a vulnerable person. These measures have been extended until at least April 11.
"The increase in daily cases continues to progress," Fernando Simón, director of the Health Ministry's Coordination Center for Health Alerts, said. "But they have an important delay, of seven to 10 days between the detection of symptoms and the notification of a case. This is the tough week, when we are all waiting to see if the measures we have adopted will take effect."
During the quarantine in Spain, people have been paying tribute to health care staff by applauding from their balconies every evening, inspired by similar scenes in Italy.
And some health care workers in the country have seemingly taken notice, with the Spanish Nursing Association sharing a video on Twitter featuring medical staff returning the applause.
"And we also return the applause. Thank you so much for your recognition. With your responsibility, we will defeat the coronavirus," the tweet read.