Amadou and Mariam: All Eyes on Mali's Favorite Couple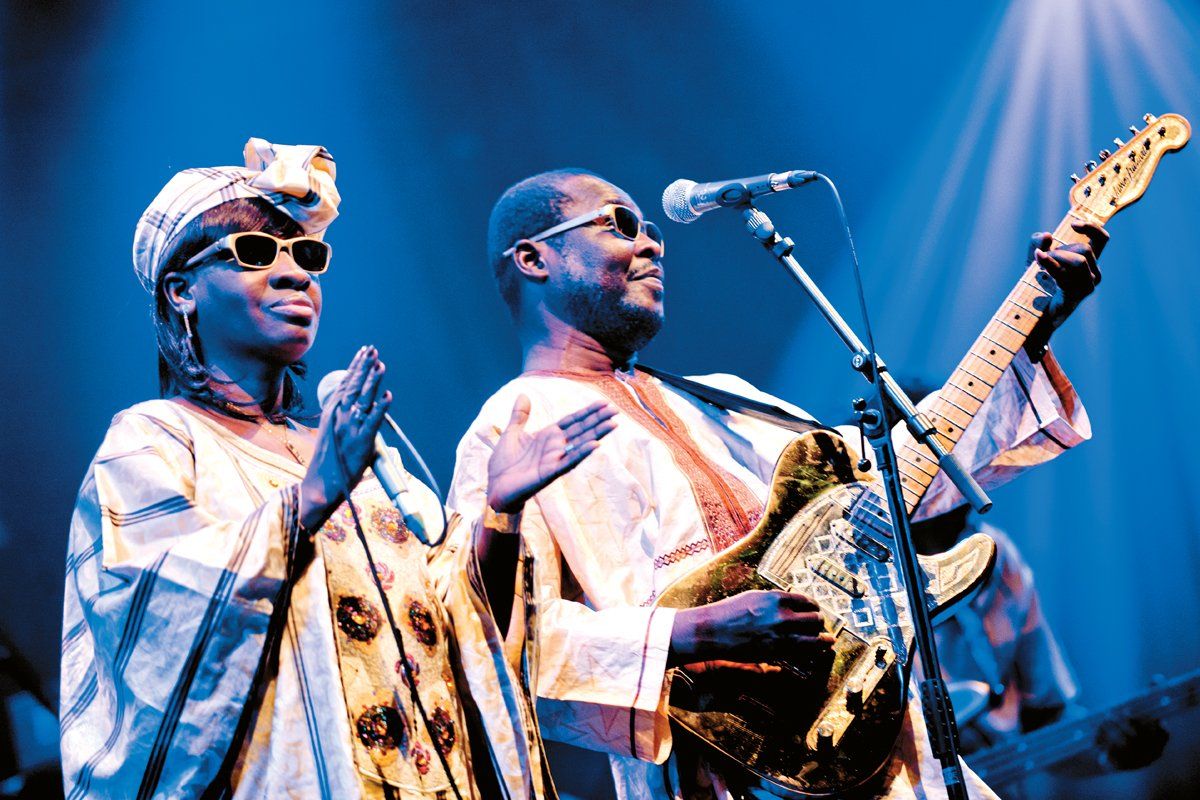 It's been some 30 years since Amadou & Mariam first broke onto the world-music scene. Since then, the "blind couple from Mali" has shared the stage with everyone from Stevie Wonder to U2, becoming one of the most popular and well-respected acts within a genre that is neither, nor. But with their new album, Folila, out on April 10 from Nonesuch Records, the couple is set to break free of those Putumayo shackles.
Folila—which means, simply, "music," in their native Bambara—is a happy accident, of sorts. The pair had set out to produce two separate records: one to be recorded in New York City, the other to be recorded at home in West Africa, staying close to the rhythms and melodies of their roots. Instead, the twin efforts became one—with the New York recordings meticulously laid over those taped in Bamako, Mali. Its list of collaborators reads, as one critic observed, "like a hipster's wet dream," and includes Jake Shears of Scissor Sisters, Santigold, Ebony Bones, and Nick Zinner of Yeah Yeah Yeahs.
The album is best, however, when the couple is on their own, as on the track "Sans Toi." It may be that the biggest benefit of these guest stars lies less in their musical contributions than in their ability to attract listeners who might otherwise dismiss the genre and its poster children altogether. Instead, they're given the stamp of approval by people like Kyp Malone and Tunde Adebimpe, the frontmen for TV on the Radio, who, according to Amadou & Mariam's long-time manager, Marc Antoine Moreau, stood "open-mouthed, star-struck" when they were first introduced to the couple at a Paris recording studio.
For their part, Amadou and Mariam don't seem particularly concerned with their crossover appeal. If anything, the two are more interested in welcoming others to their world than finding their place in a new one. That inclination isn't all that surprising, given the length and span of the journey the two have traveled. The couple met at Mali's Institute for the Young Blind in 1975—he lost his vision at age 16 and she at just 5—where they fell in love after hearing one another perform. "Everyone said it was magic," Amadou says of their early courtship, flashing a gleaming smile. In the 30 years and three children since, they've traveled the world behind two pairs of matching sunglasses, and they insist that their blindness is not a handicap but a strength. Their other current project, called "Eclipse," a series of concerts performed in complete darkness, aims to prove it. Not only is the pair swiftly becoming the world's coolest 50-something married couple, but they may also change the way we think about sight. Magic, indeed.