Amal Clooney Criticizes Donald Trump: Our Leader 'Vilifies the Media'
Human rights lawyer Amal Clooney used a speech Wednesday to criticize President Donald Trump's attacks on the media, saying he has emboldened individuals who wish to persecute journalists.
"The country of James Madison has a leader today who vilifies the media, making honest journalists all over the world more vulnerable to abuse," said Clooney.
Clooney was speaking at the Global Conference for Media Freedom, an event organized by the Foreign Office in coordination with the Canadian government. The London conference was called by U.K. Foreign Secretary Jeremy Hunt and Canadian Foreign Minister Chrystia Freeland with the aim of improving protection for journalists around the world.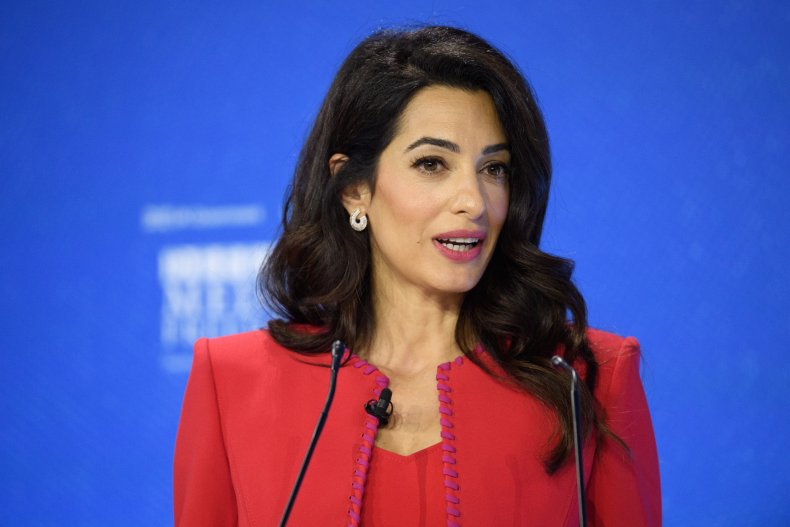 Hunt criticized Trump when he spoke as well, saying: "I wouldn't use the language President Trump used, and I wouldn't agree with it. We have to remember that what we say can have an impact in other countries where they can't take press freedom for granted."
During her remarks, Clooney also accused world leaders of failing to protect journalists and responding with "a collective shrug" over the slaying of Saudi writer Jamal Khashoggi.
She said: "Last year when Jamal Khashoggi, Washington Post columnist, was tortured to death and dismembered by Saudi Arabian officials in Istanbul, world leaders responded with little more than a collective shrug."
"Signing pledges and making speeches is not enough. States must ensure that when a journalist is attacked then that crime is investigated and held to account."
The Washington Post columnist was killed inside Saudi Arabia's Consulate in Istanbul last year. According to the United Nations cultural body UNESCO, 99 media workers were killed worldwide in 2018.
Much of Clooney's work as a human rights lawyer deals with the silencing of press around the world.
Earlier this year, Clooney's law firm, Doughty Street Chambers, announced she had become co-counsel to journalist Maria Ressa, leading the client's international legal team.
The award-winning journalist runs the news site Rappler, based in the Philippines, which is now facing charges under the leadership of the country's president Rodrigo Duterte. Ressa has been repeatedly arrested this year on charges that critics say are designed to silence her.
"Maria Ressa is a courageous journalist who is being persecuted for reporting the news and standing up to human rights abuses," Clooney said in a statement. "We will pursue all available legal remedies to vindicate her rights and defend press freedom and the rule of law in the Philippines."
In May, Clooney helped free two journalists reporting for global news agency Reuters who were detained in Myanmar, while reporting on the treatment of Rohingya Muslims.
Clooney said at the time of their release: "It has been an honor to represent Reuters and the two journalists in this case and I hope that their release signals a renewed commitment to press freedom in Myanmar."