What Happened to Amanda Bynes? Actress Talks Past Drug Use with Paper Magazine
Amanda Bynes is back to break the internet. The actress appeared on the cover of Paper magazine, revealing she is almost four years sober. She's currently enrolled at Los Angeles's Fashion Institute of Design and Merchandising.
Bynes started to struggle with her weight after she appeared in 2007's Hairspray. She read an article that labeled Adderall as the new "skinny pill." "They were talking about how women were taking it to stay thin. I was like, 'Well, I have to get my hands on that,'" she told Paper, adding she went to a psychiatrist and faked symptoms so she would be prescribed the drug.
The drug abuse started to affect her work in spring 2010 while she was filming Hall Pass. "I remember being in the trailer and I used to chew the Adderall tablets because I thought they made me [higher that way]. I remember chewing on a bunch of them and literally being scatterbrained and not being able to focus on my lines," she said. "Or memorize them, for that matter."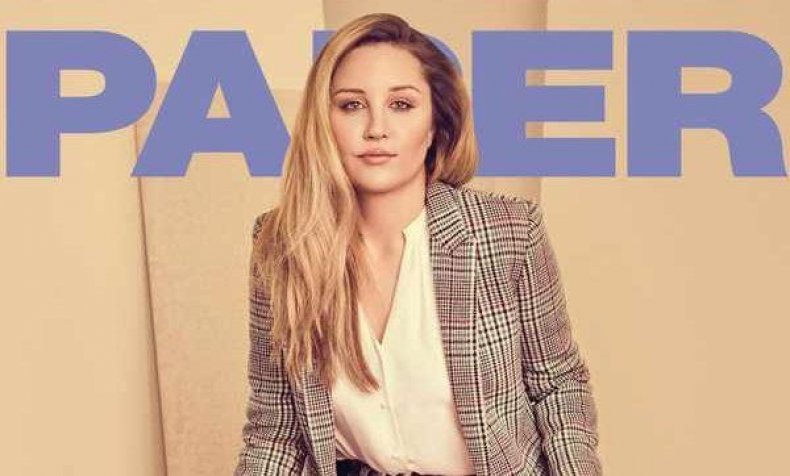 Bynes left the set and was ultimately replaced by Alexandra Daddario, who went on to star alongside Owen Wilson and Jason Sudeikis. Bynes maintained that she was not fired, but walked off because she couldn't handle the work.
For one of her final roles before her hiatus, Bynes starred in Easy A with Emma Stone. "I literally couldn't stand my appearance in that movie and I didn't like my performance. I was absolutely convinced I needed to stop acting after seeing it. I was high on marijuana when I saw that but for some reason it really started to affect me," the actress said, adding she started smoking weed when she was 16. "I don't know if it was a drug-induced psychosis or what, but it affected my brain in a different way than it affects other people. It absolutely changed my perception of things."
At 24 years old, Bynes took to Twitter to announce she was retiring from acting. It's a move she now regrets. "If I was going to retire [the right way], I should've done it in a press statement—but I did it on Twitter," she said. "Real classy!"
The former Nickelodeon star found herself in a slew of legal problems, something she didn't address in the Paper interview. She was open about her drug use, saying she would "wake and bake" and experimented with cocaine and ecstasy. She regretful of the times she took to Twitter while high.
"I'm really ashamed and embarrassed with the things I said. I can't turn back time but if I could, I would. And I'm so sorry to whoever I hurt and whoever I lied about because it truly eats away at me. It makes me feel so horrible and sick to my stomach and sad," she said. "Everything I worked my whole life to achieve, I kind of ruined it all through Twitter..."