Amanda Chase, Virginia Senator Who Accused Democrats of Treason, Leads GOP Governor Race
Amanda Chase, a controversial Virginia state senator, is voters' top pick for the Republican nomination for governor, although the majority of GOP voters have yet to make their decision.
The senator gained national attention in December when she called for President Donald Trump to invoke martial law so the military could hold a new election, a comment that was condemned by Virginia Delegate Kirk Cox, her GOP gubernatorial rival. Chase doubled down by accusing Democrats of treason, and she was later censured by the state Senate for attending Trump's January 6 rally that preceded the Capitol riot.
Despite the public outcry, Chase is leading the Republican field for governor and isn't drastically far behind former Governor Terry McAuliffe, a Democrat.
A Christopher Newport University poll released on Friday found 17 percent of Republicans polled favored Chase. It's the most any Republican candidate has received: Cox trailed behind her at 10 percent, followed by tech entrepreneur Pete Snyder. However, most Republican voters, 55 percent, are still undecided.
"The underlying friction between Chase's fervent Trumpism and Cox's Reagan Republican credentials could crack the party and open the door for Snyder or another contender," said Rebecca Bromley-Trujillo, research director at the university's Judy Wason Center for Public Policy, in a statement.
Newsweek reached out to Chase for comment but did not receive a response in time for publication.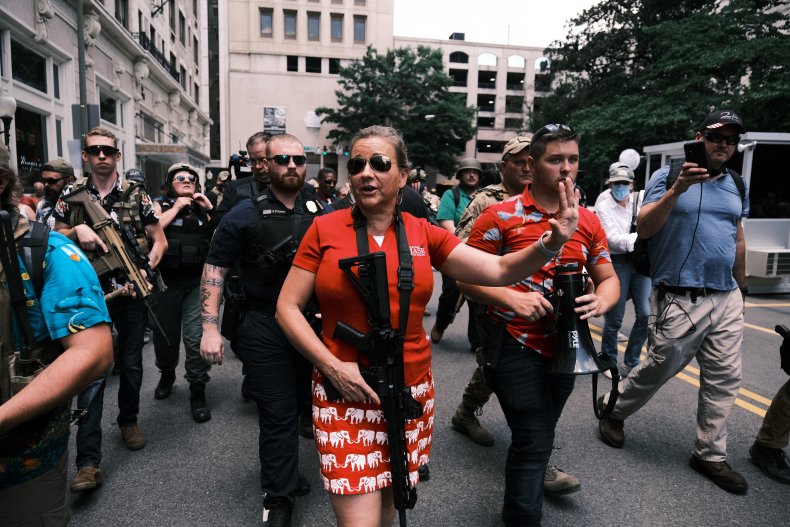 Nearly half of Democrats are also still undecided, but McAuliffe fared better than Chase at 26 percent, followed by Lieutenant Governor Justin Fairfax at 12 percent.
While the poll was a bit of good news for Chase, a judge dealt her a blow on Friday. On February 10, Chase filed a lawsuit against the Virginia Republican Party over its plans to use a convention to choose nominees instead of a statewide primary.
Her suit argued that a convention that brought thousands of people together under one roof would violate Governor Ralph Northam's executive order restricting gatherings because of the coronavirus. She previously said in a Facebook live video that a primary election would make for an "easy process" because people are familiar with how it works.
On Friday, a Richmond Circuit Court judge ruled Chase didn't have the standing to bring her claim to court, according to the Associated Press, and dismissed her case.
"We're pleased that the judge recognized our First Amendment rights to choose the method of nomination free from government intervention," said Chris Martson, the Virginia Republican Party's general counsel.
As plans stand, there will be a statewide convention on May 1 to choose the Republican nominees. However, candidates still haven't gotten details on how the process will work, as party leaders haven't come up with a plan to adjust for bans on public gatherings.
During a convention, only party-chosen delegates can participate. In a tweet, Chase called the judge's decision a loss for the people of Virginia.
Virginia is the only state that bars governors from serving consecutive terms, and voters haven't elected a Republican governor in more than 10 years. McAuliffe, who served from 2014 to 2018, is vying for his old job, and if he wins, he'll be the second governor to win a second term since the Civil War. He left office with high approval ratings, but he's been the target of corruption allegations, signaling it might not be as easy an election as Democrats would prefer.
"New Democratic faces and priorities have emerged since Terry McAuliffe was governor," Wason Center Academic Director Quentin Kidd said in a statement. "He opens with a head start, but he's a long way from closing the deal."