Amanda Chase, Who Pushed Trump for Martial Law, Vows Audit if She Loses GOP VA Gov. Nomination
Virginia state Senator Amanda Chase has said that there will be a "full audit" of votes if she doesn't emerge from the Republican nominating convention as the party's candidate for governor.
On Saturday, tens of thousands of Republican delegates in Virginia will cast ballots to determine the party's nominees for state governor, lieutenant governor and attorney general as part of the so-called "unassembled convention."
In addition to Chase, GOP candidates to replace Democratic Governor Ralph Northam include businessman Pete Snyder, former House speaker Del. Kirk Cox, retired Army Col. Sergio de la Peña, and former executive Glenn Youngkin.
In an interview on Real America's Voice, Chase, an ardent supporter of former President Donald Trump, vowed that a full audit will take place if she loses the GOP gubernatorial nomination.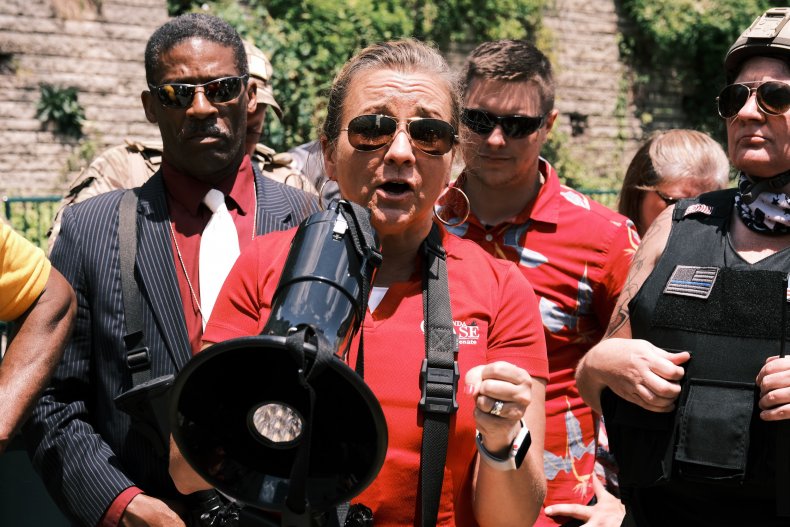 "I have been the frontrunner of all seven candidates in every single poll that has been done. Every single independent poll. There was recently one that was released several days ago and I'm still the frontrunner," she said. "So if I come out of this election as anything other than the victor, of course, we are going to have a full audit."
Chase added: "I'm hoping for the best. We have demanded a hand count vote. The state central committee initially was going to have some kind of an electronic vote and we got together several of the other campaigns, we demanded hand counting of the ballots, cameras, full transparency and did everything we could to make sure that it's a fair process so we can trust the results."
Chase, a candidate running under the Trump banner, attended the 'Stop the Steal' rally on January 6, which preceded the Capitol riot. Last December, she applauded Trump for refusing to concede the presidential election to Joe Biden and urged the Republican to declare martial law.
"Not my President and never will be. The American people aren't fools," she wrote in a since-deleted Facebook post. "We know you cheated to win and we'll never accept these results."
She added: "Fair elections we can accept but cheating to win; never. It's not over yet. So thankful President Trump has a backbone and refuses to concede. President Trump should declare martial law as recommended by General Flynn."
At the time, Cox called her support for imposing martial law "absurd and dangerous" in a statement. "I taught government for 30 years and have great respect for our constitutional republic. Per that system and the electoral college vote yesterday, Joe Biden will be the next President," he added.
Due to the ongoing coronavirus pandemic, delegates will vote at nearly 40 sites across the state. More than 52,000 people have become delegates, but actual turnout on Saturday is expected to range between 25,000 and 35,000.
Newsweek reached out to the Virginia Republican Party for comment. This story will be updated with any response.