Updated | Exoneree-turned-activist Amanda Knox, dubbed "Foxy Knoxy" during her infamous 2009 murder trial, wants to give a platform to women who were "villainized" and "objectified" in the media. Knox will be interviewing controversial female figures—like Amber Rose, Daisy Coleman, Mischa Barton, Anita Sarkeesian and Brett Rossi—on her new Broadly series, The Scarlet Letter Reports, debuting on Facebook Watch Wednesday.
Despite being acquitted of murder twice, plenty maintain Knox is guilty of Meredith Kercher's 2007 death in Perugia, Italy. She became a tabloid phenomenon, with Knox's sexuality being scrupulously investigated by Italian authorities. Tabloid and media coverage aside, there's a reason why some people don't believe Knox. She changed her story several times and exhibited unusual behavior after the murder, like reportedly doing cartwheels in the interrogation room and wearing an "All You Need is Love" T-shirt to court on Valentine's Day. She once said her behavior during the investigation trial stemmed from coercive interrogation techniques that created false memories.
Even though there was no concrete motive for Knox to kill Kercher, Italian prosecutors claimed the murder was a drug-fueled sex game gone wrong, something Knox denies. In the age of #MeToo, when women are being taken seriously at their word about abuse, would Knox have been talked about differently if the murder occurred in 2018 and not 2007?
"I could have been the kinkiest person in the world it, and it shouldn't mattered because it has nothing to do with the evidence of the case," Knox, 30, told Newsweek. "The fact that I was accused of orchestrating a rape game—it was so absurd."
"The prosecutors and police looked at me and talked about me like I reeked of sex, that I was the weird, odd one out," she said. "They took that to mean I was somehow guilty of something, instead of checking their judgment and letting the evidence speak."
Knox had already came up with her pitch for The Scarlet Letter Reports before the #MeToo movement started in October 2017, when dozens of stars came forward to accuse movie mogul Harvey Weinstein of sexual harassment, assault and rape. She said the movement gave her courage to create the series, so she could help other women who felt objectified by the media.
"MeToo happened, and then women's experiences were treated like they mattered," Knox said. "It's an incredible time to be a woman. We're redefining what it means. I'm amazed and so grateful to be a part of it. I never thought I would be there." She added, "Not too long ago, I thought I would be spending the best decades behind bars for something I didn't do…that I would forever be written off as a murderer when I wasn't."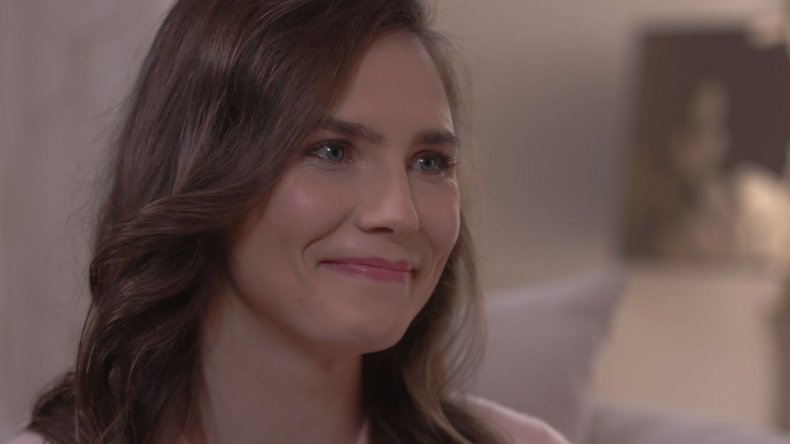 Because of how she was treated by Italian authorities and what she said was unfair media bias, Knox created The Scarlet Letter Reports to help women who had the context of their truth taken away for the sake of "a splashy headline."
"Being a wrongfully convicted person and being a person who was totally slaughtered and dissected in the media is something I've been grappling with and wrapping my mind around, still. I hope what people will see in me is not that I will be 'Foxy Knoxy,' or whatever they envisioned me to be," she said.
Even though Knox is moving forward with her life, like by hosting The Scarlet Letter Reports, it doesn't mean she's forgotten about Kercher, or Raffaele Sollecito, her ex-boyfriend who was also accused and acquitted of murdering her roommate. "That experience, a traumatic experience like that, never goes away," she said. "It became this truly defining moment in my life where I gained so much knowledge and perspective in myself."
"I was 20. I was really a kid. Meredith was 21, Raffaele 22. We were all just kids and an insane thing happened. It's insane to have survived it," Knox added. "So, yeah, it stays with you."
This story had been updated to reflect Knox's statements about her behavior during the Kercher trial.