Amanda Knox to Write Advice Column for Seattle Newspaper 'About Life, Love, Suffering and Meaning'
Amanda Knox, who was convicted and then acquitted of murdering her roommate while studying in Italy, will write an advice column in a Seattle newspaper.
She will answer questions from readers of the weekly publication Westside Seattle, which is owned by the family of her husband Christopher Robinson. Also available online, the paper is circulated in the Washington state city she is from, as well as neighboring towns, The Seattle Times reported.
In 2009, Knox, now 32, and her then boyfriend, Rafaele Sollecito, were convicted of the murder of Meredith Kercher two years previously in the Italian town of Perugia where she was studying. Her 26-year jail term was overturned in 2011 and in 2015 she was acquitted by Italy's highest appeals court.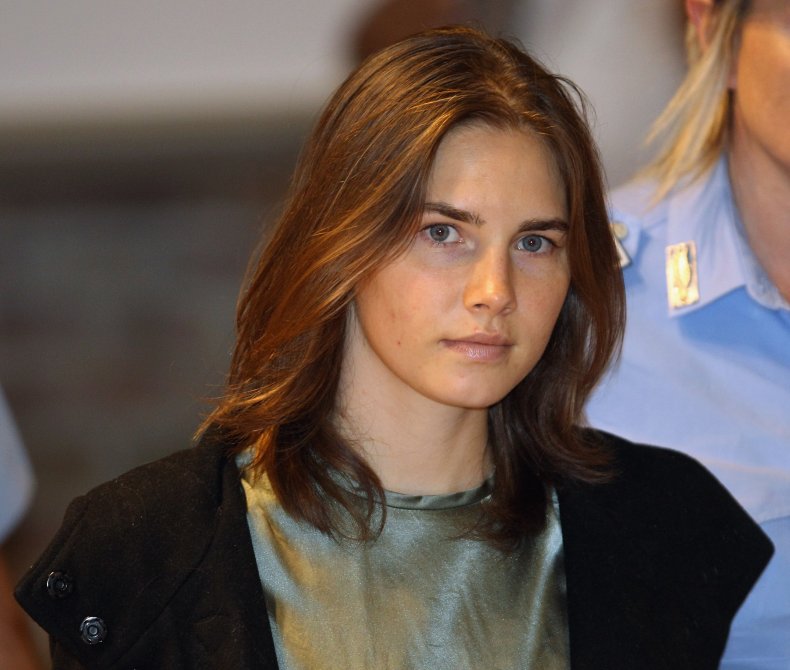 In its announcement of the launch of the column, titled "Ask Amanda Knox," the paper did not specify what kind of questions would be put to her.
The announcement read: "Amanda Knox spent four years in an Italian prison for a murder she didn't commit and it's given her a unique perspective on life.
"Now fully exonerated, this bestselling author and advocate for criminal justice reform offers her insights, such as they are, to reader questions about life, love, suffering, and meaning," The Seattle Times stated.
After posting the announcement on Westside Seattle's Facebook page, one user commented: "No. Just no. Advice from America's most infamous student killer. Must be a bad Halloween joke, surely." Another posted how it was "sickening" that the victim has been "wholly forgotten."
However, Seattle radio personality Dori Monson defended Knox and said that The Times piece was "written in kind of a snide tone."
"Everybody seems to be jumping all over her [saying] 'oh, she's just finding another way to use her fame.' She's been acquitted. Let her lead her life and make a living like everybody else," he added, on Kiro Radio.
In June, Knox returned to Italy where she took part in a debate titled "Trial by Media" at a criminal justice festival in Modena. Her appearance was criticized by the family of Kercher whose lawyer said it was only to "keep the attention on herself."
But Knox told the audience she had been demonized by the media which had portrayed her as a "dirty man eater, Foxy Knoxy."
"I wasn't innocent until proven guilty, I was a wise, drugged-up whore—it was unfounded but it awoke people's imagination... It was impossible for me to have a fair trial," she said, according to The Guardian.
After her release from jail, she has written for Vice, The LA Times and has published the best-selling memoir, Waiting to Be Heard, and featured in a critically-acclaimed Netflix documentary about the case.