Amanda Knox Signs Petition Supporting NXIVM Leader Keith Raniere
In case 2020 wasn't weird enough, Amanda Knox is now apparently connected to the NXIVM cult case. The woman who was formerly accused of killing her roommate Meredith Kercher while studying abroad in Italy signed a petition that campaigns for NXIVM leader Keith Raniere's innocence and she has an interesting reason why.
Raniere, who is also known as "Vanguard," is awaiting sentencing for his role as the leader of NXIVM, a group that claimed to be dedicated to personal improvement, but which federal prosecutors have said was a manipulative and abusive sex cult that preyed upon women.
Despite the serious allegations, and Raniere being convicted in 2019 of several crimes, including fraud, racketeering and sex trafficking, there are followers of his who believe Raniere did nothing wrong. Knox isn't necessarily one of those people, but she reportedly signed a recent petition put together by NXIVM members in support of their leader. To Knox, her signature was just a step in demanding fair justice, despite what Raniere has been convicted of.
The petition from NXIVM is "framed as an affidavit," according to the Albany Times Union newspaper, and "demands that prosecutors answer whether they tampered with evidence, suborned perjury, threatened witnesses and more."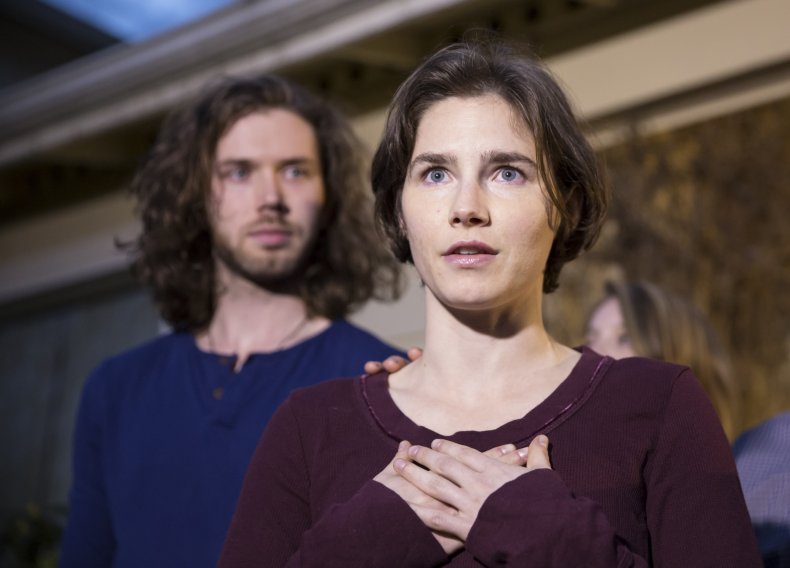 Knox explained her involvement in an email exchange with the Albany Times Union, saying it began after NXIVM members reached out to her. "I was contacted by some former members of NXIVM who claim that Mr. Raniere has been wrongfully convicted and that the story being told in the media is wrong," she said. "I personally do not know enough about the case to make any judgments about whether his conviction is wrongful or not."
She continued, writing,"These supporters of Mr. Raniere asked me to sign a petition asking the prosecutors in the case to affirm some principles of prosecutorial conduct that any prosecutor should be able to affirm, such as not engaging in perjury, not tampering with evidence, and not threatening witnesses ... I signed the petition because violation of these practices would constitute prosecutorial misconduct, regardless of Mr. Raniere's guilt or innocence."
Judging from her comments to the Albany Times Union, it seems that Knox is really supporting the idea of a fair trial, more than casting her lot with Raniere. Still, it's curious that she's choosing this particular case to be associated with. Knox, of course, has had her own set of experiences with legal systems. After being exonerated of the murder of her roommate in 2015, for which she had been wrongfully convicted of several years earlier, Knox began to advocate for wrongful convictions and start unique conversations about the true-crime industry. She currently has a podcast called The Truth About True Crime with Amanda Knox.
Knox spoke openly about her own acquittal in the Netflix documentary simply titled Amanda Knox, which was released in 2016. Raniere and other NXIVM leaders, meanwhile, are featured in HBO's new documentary series The Vow. In that series, former NXIVM members detail the alleged inner workings of the controversial group.