Amanda Knox Writes Tribute to Her Friend 10 Years After Her Murder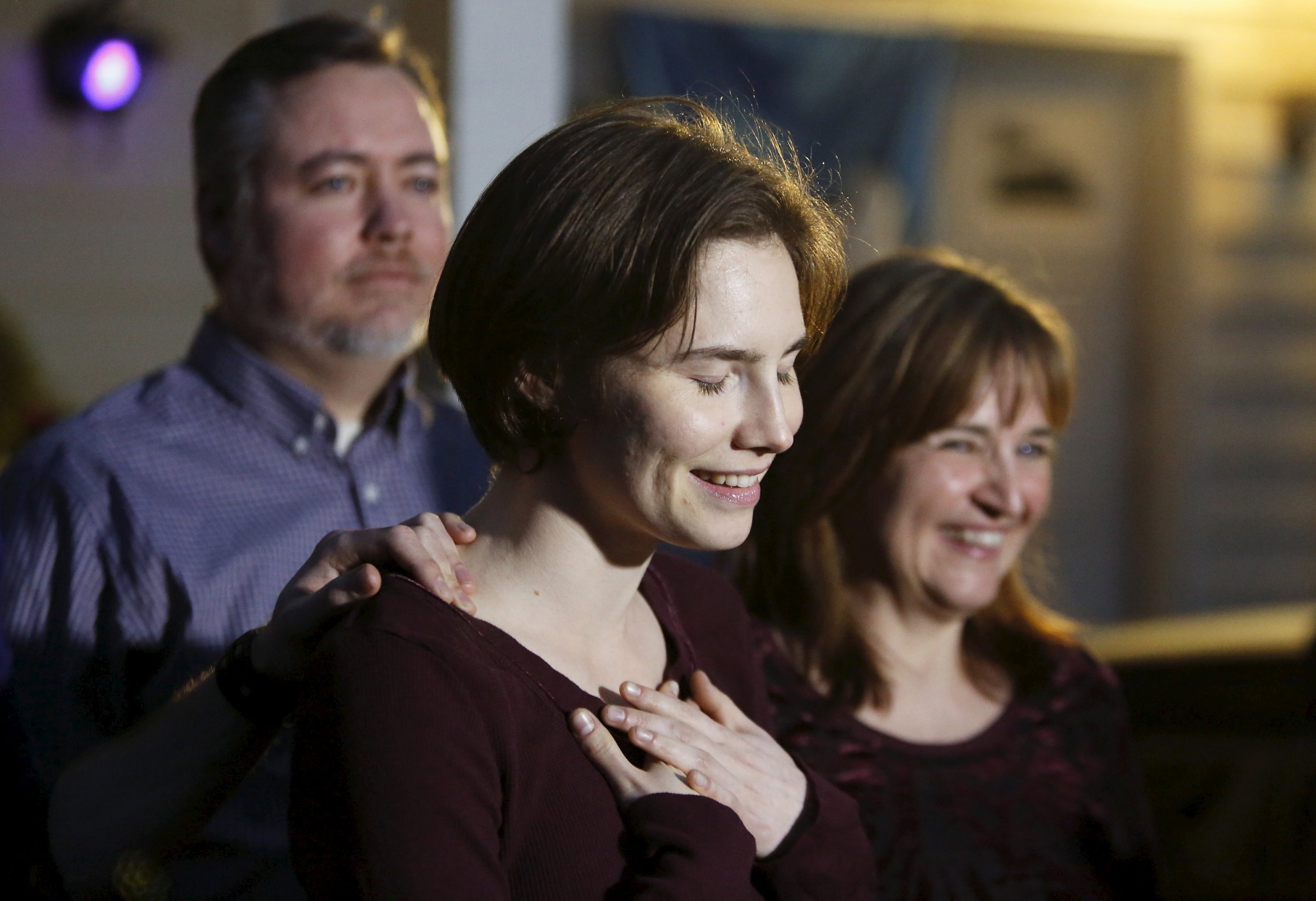 Amanda Knox is still grieving the loss of her friend, Meredith Kercher, 10 years after she was murdered.
On Wednesday's anniversary of the murder of Kercher in Perugia, Italy, Knox wrote an open letter in Westside Seattle, sharing her memories of the time they spent together. In the letter, she also expresses how she never got the chance to mourn her dead friend and said she was ridiculed for doing so.
"There are some people who believe I have no right to mourn Meredith. They believe that I had something to do with her murder—I didn't—or that Meredith has been forgotten in the wake of my own struggle for justice—she hasn't," Knox wrote.
In the letter, she remembers Kercher's love of reading mystery novels, sipping espresso together and sunbathing on the terrace. She also remembers the last time she saw her—she says the two waved goodbye to each other before Kercher went out with friends before she was killed.
"And I remember the last time I saw her, 10 years ago today, slinging her purse over her shoulder and waving goodbye to me on her way out to meet up with her British friends," Knox wrote.
The Seattle native, dubbed "Foxy Knoxy" by the tabloids, spent four years in an Italian prison for the murder of Kercher, her roommate during the semester abroad.
Knox was convicted of Kercher's murder in 2009 and was jailed until the conviction was overturned in 2011. Since her release, Knox has written a New York Times best-selling novel called Waiting to Be Heard: A Memoir and was the subject of a Netflix documentary.
In this week's essay, she wrote that remembering those times was difficult because she has to "dig through a decade of suffering just to reach them."
"My memories of Meredith are buried beneath the horrific autopsy photos and crime scene footage I saw, the slurs I was called, the death threats I received (and still receive), the false accusations I fought, the years of wrongful imprisonment I endured, the multiple trials and slanderous headlines that juxtaposed our names and faces, unfairly interlocking her death with my identity," she wrote.
Knox has been a controversial figure since the murder, as many people still believe she was involved, so many critics attacked her essay as self-serving.
"I'm sure her family would rather you didn't keep using their daughter to get attention," said Twitter user Kathleen Hammett.
But others supported Knox.
"I never doubted your innocence. Beautifully written and from the heart," said Twitter user Jack Gowen.