Amanda Seales HBO Special 'I BE KNOWIN' Is Giving Comedy Viewers a 'Perspective They Don't Typically Hear'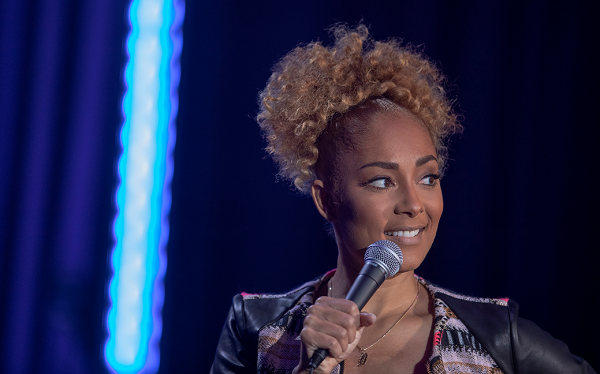 Amanda Seales is funny—really funny.
Her growing Instagram followers are already well aware of her charm and humor. It's there on the social media site where she so candidly shares slices of her life in the most authentic and hilarious of ways (please note her "F**kboys" and "Datin Youngins" Instagram Story highlights).
Her sizzling hot takes—although more geared for the ladies—are relatable, timely and thought-provoking. And while the topic of discussion may be serious on any given day, Seales's energetic charisma and wit make her perspective on the hard issues women face particularly enjoyable for all to listen to—not to mention, her over-the-top demeanor, notable facial expressions and amusing catchphrases make her one fun woman to watch.
Now everyone will become familiar with the comedian and her antics when her HBO comedy special, I BE KNOWIN, premieres on Saturday.
Seales obviously has a penchant for making people laugh, but she recently told Newsweek her foray into comedy only began about five years ago. She's no stranger to the stage, though.
Seales got her start in entertainment appearing on Nickelodeon's My Brother and Me in 1993 before becoming a VJ for MTV2's Sucker Free Countdown in the early 2000s. She also was one part of the R&B duo, Floetry, and more recently returned to the small screen as Tiffany DuBois, the ultra-sassy friend of Issa (Issa Rae) and Molly (Yvonne Orji) on HBO's hit series, Insecure. She is also the host of the podcast, Small Doses.
All of those career fronts are essentially what led Seales to where she is today—becoming only the second woman of color to helm an HBO comedy special (Wanda Sykes was the first with her standup show I'ma Be Me in 2009).
Read Newsweek's interview with Seales below and don't miss her comedy special, I BE KNOWIN, when it premieres on HBO on Saturday.
Was a career in comedy and entertainment inevitable?
Entertainment, yes. I didn't necessarily know that it was gonna be comedy, but entertainment, it was just like I'm too much of a ham and I'm too much of a rebel. I could never survive in corporate America. I'd be incarcerated.
How did you end up transitioning into a comedy space?
Basically I just—like around 30—realized that the hip hop space I had been inhabiting, it wasn't a fit anymore, and I knew there were things I wanted to say and people I wanted to reach, and I wondered how could have a valid voice. I knew I was funny, but I felt like the only way I would really be able to do that in a genuine way if I was a really good standup comedian. So I kinda just put that out into the universe and it came back one day where someone asked me, "Hey you wanna come do standup in our showcase?" and voila! I did standup and that was the tipping point I needed into pursuing standup as a craft and then realizing I wanna do this for real.
Are you nervous about how people will react to your take on hot topics included in the special?
I wouldn't say nerves. I'm pretty sure who's gonna be offended and why they're gonna be offended, and I had a conversation with myself and realized I don't care. There may be some surprises, but I'll deal with that as they come. For the most part, though, I'm a very thoughtful person and I would never willingly say something to offend anybody that didn't need to be offended.
What do you think about people who are so easily triggered by comedy?
I think they need to work on their sense of humor. I think they should not come to comedy shows.
What are you most excited for people to see or hear in the special?
I'm really excited for people to see my standup. I think, for the most part, a lot of people don't know that I have dedicated the last five years of my life to this. That's a really short amount of time compared to a lot of standups, but I came into it with 15 years of experience on the stage and on the mic talking about things. I'm excited to share what I feel is a really powerful, thought-out and honest representation of my comedic voice.
Who are your inspirations?
Dave Chappelle, Chris Rock, [Jerry] Seinfeld and just the legion of black women comedic actresses of the 90s, from Tisha [Campbell] and Tichina [Arnold], Jasmine Guy. Just the opportunity to grow up watching these women be just hilarious on television has 100 percent affected how I present myself on stage.
How do you get yourself in the zone to go out on stage?
I think I have just the right amount of narcissism to do that [laughs]. It's not the people that give you nerves, for me, it's just about making sure what I prepared is what I present and not getting caught up in the joy of the moment and then forgetting a bit. You just wanna go out there and do the routine. The gymnast in me is like, "Go out there and do the routine the way that you performed it so many times and have a blast and show them." The thing that gets me calm, which I think would get more people amped, is listening to Queen, "We Are the Champions," live at Wembley Stadium.
Is that how you prep every time? With Queen?
Yes, when I'm doing something of this nature. I don't have to listen to it when I'm just like doing a show at a comedy club or whatever, but basically, anytime I'm about to do some major s**t, Queen, "We Are the Champions." It takes you to another place. When you hear it before you go on stage, you're like, "Oh, I really am the champion."
What is the most challenging aspect as a woman of color in comedy or even a broader sense as a woman color in entertainment?
Just having to walk people through dealing with a black woman's voice, because there's so few examples for them—and this is in various places that I've worked—marketing companies, dealing with writers, PR agents, etcetera etcetera, just having to be knowledgeable in so many different spaces on how to be presented in an authentic way because there's no consistent blueprint that they can look at. It's not easy. Sometimes I'm like, "Damn, I don't wanna be on that call." But I have to be on that call because the people on that call don't really know what they're doing. And a lot of the reasons why is because there just haven't been a lot of black women presented and there aren't a lot of black women on the other side of the phone to even necessarily understand without you breaking it down in a PowerPoint presentation what needs to happen to be presented properly.
Do you think that will change within our lifetime?
If I can have anything to do with it. I think change is an open-ended word. I think it could get somewhat easier in certain spaces. But I think the biggest thing is about willingness to change.
Why should people watch I BE KNOWIN?
They should watch this special, one, because it's a perspective they may not typically get to hear from. Two, because HBO rarely puts out specials like this, so if they put it out you know it's gonna be good. And three, because it's funny.